[dropcap style="font-size:100px; color:#992211;"]B[/dropcap]
igelf returned to Britain after a long absence with a headlining appearance at the Resonance festival during the summer.
In November they returned to these shores with their first tour since 2010, and drew a sizeable crowd when the tour came to The Garage in London.
As is quite common nowadays there was not one but two support acts. There is value in giving showcases to up-and-coming bands, and giving audiences value for money, but with more that one opening act you do wonder if it might have been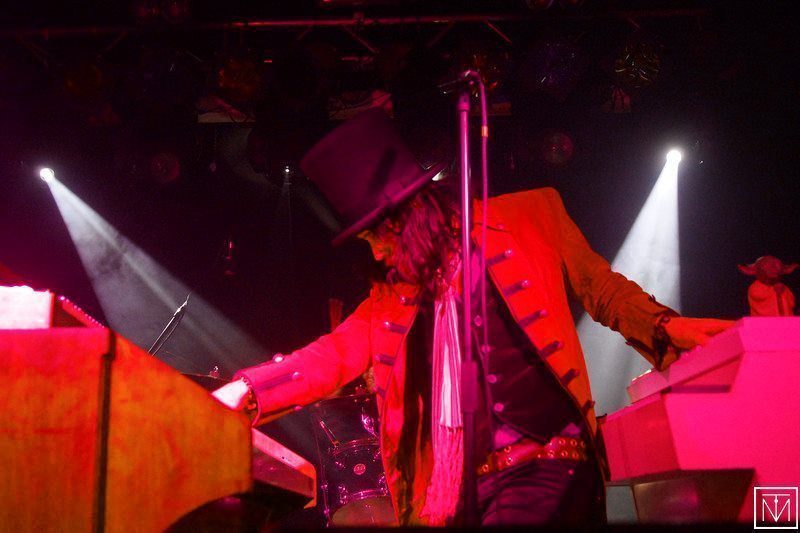 better either to have had a longer set for the headliner, or perhaps a slightly earlier finish given that the gig was on a school night.  The show began with Jolly, taking a modern approach to progressive rock with echoes of Haken and Muse, melodic in places and heavy in others, with an emphasis on angular riffs.
Bend Sinister were much more old-school, kicking off with a retro 70s rock'n'roll sound, with heavy use of Hammond organ sounds owing a heavy debt to the late Jon Lord. There was a point that sounded like Deep Purple covering Kula Shaker. They lost momentum later on with some rather less impressive ballads, but ended on a higher note with a cover of Supertramp's "The Logical Song".
Bigelf have undergone a few lineup changes of late, with frontman Damon Fox and bassist Duffy Snowhill the only members who appeared on the their most recent album. For this tour they're joined by Damon's son Baron Fox on drums, plus Porcupine Tree and Fish guitarist John Wesley.
Unlike too many progressive bands who shuffle on, play the songs, and shuffle off again (and you're lucky if you get a few stereotypical rock shapes) Bigelf understand the art of showmanship.
Their set began with an intro tape of John Williams' 'Imperial March' from Star Wars, and Damon Fox placing Yoda on top of his Mellotron when he walked on stage. He cuts an dramatic figure, dressed as a circus ringmaster in a top hat, standing between a battered vintage Hammond and a genuine Mellotron, playing one with each hand.
The title of their latest album Into the Maelstrom makes a very good description of their live sound, which owes a debt to bands as varied as The Crazy World of Arthur Brown and Queen. Damon's swirling Hammond is central, giving a strong Uriah Heep feel at times, though Duffy Snowhill's bass grooves also played an important role. Guitarist John Wesley, the quintessential unassuming sidesman best known for his role in Porcupine Tree, played more a supporting role, but did get the occasional moment in the spotlight.
The setlist drew heavily from Into the Maelstrom and the preceding album Cheat the Gallows, despite a lot of calls from the audience for the oldie "Disappear" (which prompted the band to tease by playing the opening bars). The anthemic "Money, It's Pure Evil" turned into a singalong, and the 90 minute set passed in what seemed like no time at all, with the final encore of "Blackball" turning into an extended Doors-esque jam featuring some excellent soloing from Wesley.
This was one of those gigs that prompts the usage of words like "Progtastic". But with their love of retro 70s sounds and vintage gear, and bombastic theatrical approach to performance, there is nobody else quite like Bigelf.