[dropcap style="font-size:100px; color:#992211;"]L[/dropcap]ast time we swaggered up to The Scala in King's Cross it was 1991.
We'd dropped off a large coffin to the Town and Country Club in Kentish Town and were off to take a look at the trash triple bill that had been arranged for The Cramps' day off.
Horror Party Beach, Frankenstein Meets The Space Monster and Bucket Of Blood were the order of the day on Sunday, 27th October 1991, but nearly twenty-five years on the cinema is no more and speaker stacks stand where a silver screen once hung. Other beastly things were now going on.
Well, ringa ding ding, a rather large queue had formed pretty early on for tonight's sold-out show, the kind that Grease attracted when it first screened. But there was no Danny Zucco tonight, uh-uh no sir, for tonight Beasts were playing, revving things up for Theory Of A Dead Man.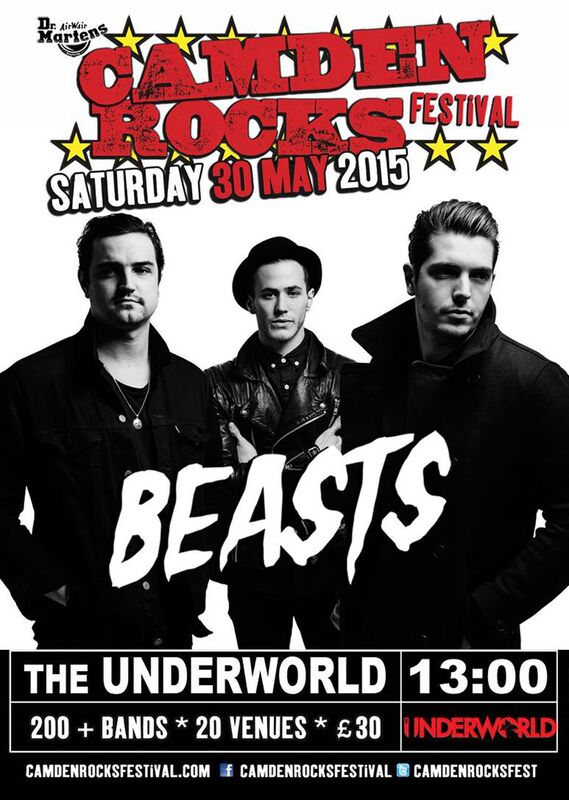 We'd heard very good things about alternative rock outfit Beasts. This London trio consisting of Joe Mallory-Skinner, Jaco Norman and Tom Wood already have the Reading/Leeds festival combo under their black leather belts and the forthcoming Camden Rocks and Download Festivals are lurking in their increasingly bulging diary.
Inhabiting the no man's land between metal and American slacker college rock, Beasts have the discordant minor melodies and double bass drum pedals of doom softened by catchy guitar riffs and shoegazer style vocals. Walking the fine line between hard rock and indie, with a nod to the 1990s, this is crunchy yet distorted melancholic grunge. Proof that you don't need long hair to headbang (although it looks better in photos).
Relentlessly pounding opening number, 'Old Bodies' started with a thunder and was the cue for their fanbase to crush themselves up against the stage barriers; the natives sure were restless for these beastie boys.
A couple of songs later, 'Annie' showed their more subdued side.
Forthcoming single, 'My Girl is a Serpent' is perhaps their most commercial sounding song, evoking memories of Nirvana and Therapy?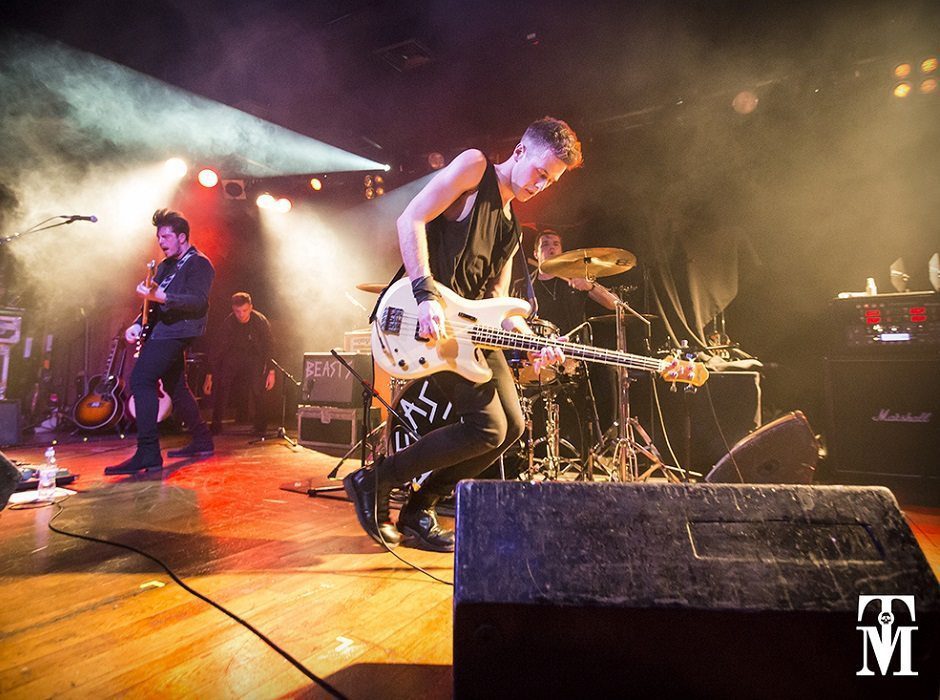 Unashamedly showboating with some boot-clad monitor stomping from Joe and a marathon amount of stage scampering from Jaco, they filled the Scala floorboards effortlessly whilst Tom kept time with a Cheshire cat grin, paving the way very nicely indeed for TOADM.
We strongly suggest you get your own taste of beastliness at the following not-to-be missed rock and roll shows.
UK Tour Dates
Thu 28th May          Lincoln, The Scene
Fri 29th May            Milton Keynes, Crauford Arms (with Black Spiders)
Sat 30th May           London, Camden Rocks Festival
Sun 14th Jun           Derby, Download Festival
Sun 12th Jul            Somerset, Nass Festival
Fri 17th Jul              Oxford, Truck Festival
Website: http://www.beastsband.com
Facebook: https://www.facebook.com/beastsband?fref=ts
Twitter:  @beastsmusic
Photo: Carl Byron Batson. Not to be reproduced without express prior permission.

Photographer, published poet, former party animal, body builder, grave robber
to the stars and renowned chainsaw juggler, Carl can often be spotted on his
Harley Davidson pretending to be in Terminator 2. He is also frequently seen in
the press pits of old London town, camera in hand, avoiding being hit by bottles
of wee and crippling his opposition with secret Kung Fu moves.