[dropcap style="font-size:100px;color:#992211;"]T[/dropcap]his Autumn, Barbican Art Gallery will stage the first ever major exhibition on the groundbreaking dancer and choreographer Michael Clark. Exploring his unique combination of classical and contemporary culture, Michael Clark: Cosmic Dancer, one of the largest surveys ever dedicated to a living choreographer, presents his development as a pioneer of dance who challenged the furthest intersections of dance, life and art.
As a young choreographer, Clark brought together his classical ballet training with London's punk, fashion and club culture to establish himself as one of the most innovative artists working in contemporary dance. These impulses are highlighted in the ambitious new commission A Prune Twin (2020) by pioneering filmmaker, video artist and long-term collaborator Charles Atlas. A section of the exhibition will be dedicated to Clark's landmark performance I Am Curious, Orange (1988) which questioned the sectarianism and conservatism that characterised not only the 1980s but Britain's social and political history. Cerith Wyn Evans' music videos for The Fall filmed on stage are presented alongside recreated elements of set design originally conceived by Clark.
 
Over his career, Clark has developed a multi-disciplinary aesthetic language that continues to be marked by a mixture of technical rigour and experimentation, fine-tuned choreography and subcultural influences. Clark has always been drawn to artists who have challenged the boundaries of gender and normative representations of sexuality, and the exhibition showcases a rare collection of Leigh Bowery's provocative costumes which proved integral to Clark's vision and radically disrupted the traditions of the dance world. These include the iconic bottomless leotards from New Puritans (1984) whose choreography was in turn inspired by The Fall's post-punk compositions and grotesque world.
 
Following Bowery's tragic death, Clark's friendship with Sarah Lucas resulted in a shared exploration of the human body and sexuality across sculpture and dance. Lucas has conceived two installations for the exhibition inspired by their friendship and collaboration on Before and After: The Fall (2001). These include a series of hand gestures, cigarette sculptures and a wanking arm as sculptural metaphors of Clark's choreography, as well as a parodic casting of Clark's body sitting on a toilet (Cnut, 2004). Elizabeth Peyton's and Wolfgang Tillmans' portraits of Clark capture the naked intimacy of the artist as a human being, whereas Peter Doig's painting, which seems to merge Clark's face with that of Le Corbusier, is a playful rendering of their shared interest in the Cité Radieuse in Marseille. Doig's portrait is exhibited alongside 16mm footage of Clark's dancers performing on the roof of the iconic modernist building in 2008, presented for the first time and resulting from a close dialogue with Clark and Michael Clark Company.
 
In 2005 Michael Clark Company became an artistic associate of the Barbican and embarked on The Stravinsky Project, a three-year collaboration to create a trilogy of works to seminal dance scores by Igor Stravinsky, which in turn inspired Silke Otto Knapp's new series of paintings commissioned for the exhibition. A section dedicated to Michael Clark Company's archive of ephemera, posters and programmes highlights the exposure of the company across Europe's most renowned theatre venues, with a vibrant graphic identity akin to the visual language of punk, rock and pop music echoing Clark's vision of his company as a band.
Michael Clark: Cosmic Dancer runs at Barbican Art Gallery from 7 October 2020 – 3 January 2021. Find further information here.
Image: Michael Clark in Because We Must, 1987 © Richard Haughton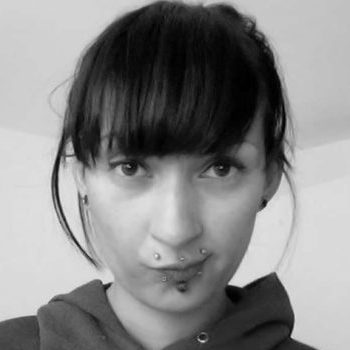 Naila Scargill is the publisher and editor of horror journal Exquisite Terror. Holding a broad editorial background, she has worked with an eclectic variety of content, ranging from film and the counterculture, to political news and finance.