It was one of the first museums that I had the privilege of visiting. While most of the museum's exhibitions have been updated, the two long corridors that host more than thirty dioramas of animals from around the world still retain the same intensity that they possessed forty years ago.
I know that I visited the museum often, so I cannot say whether it was upon my first, second, or third visit that the impressive recreations of foreign animal habitats with which I had never seen prompted my recognition that a much bigger world existed far from my immediate grasp.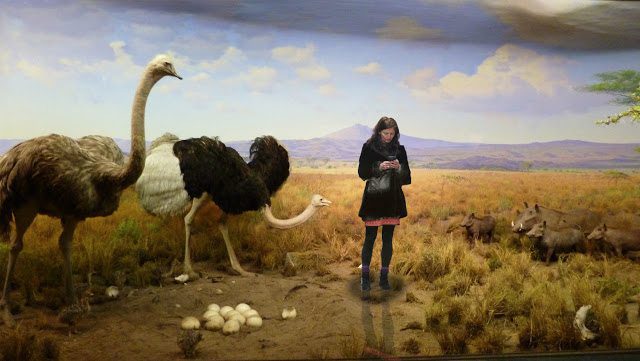 'Gobsmacked'
I have to assume that children today who visit the same institution lack the degree of inspirational awe that I felt when first faced with these creatures. Most two year olds now have been exposed to as much if not more because of the Internet. Whether such exposure will prove beneficial or detrimental is yet to be determined. All I know is that our youth sees what I envisioned as a child through a much different lens.
In his latest body of photo based works entitled Wild Kingdom, Los Angeles media artist Clayton Campbell has tapped into the uncanny yet relevant phenomenon that unveils a difference in perception between today's society and past generations'.
While viewers are apt to chuckle upon seeing Campbell's newest works, they will also find themselves questioning why we have become so obsessed with the way we appear throughout our everyday actions.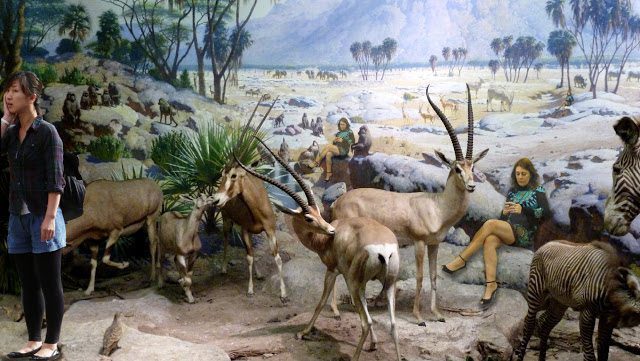 'Squaring a Circle'
For this particular series, Campbell visited numerous museums across the United States that housed similar dioramas, each of which he photographed. After acquiring a comprehensive collection of animals posed within their "natural" environs, he selected a number of stealth photographs, which he then altered by inserting images of individuals engrossed with themselves and their social media hardware to produce what remains an unique critique upon today's unprecedented preoccupation with the self.

Wild Kingdom opens on July 18 and will remain on view through August 14 at Coagula Curatorial, located at 974 Chung King Road in the heart of Chinatown, Los Angeles.
Coagula Curatorial is open Wednesdays through Saturdays, from 12 noon until 5 pm. For additional information visit the gallery's website at www.coagulacuratorial.com