[dropcap style="font-size:100px; color:#992211;"]T[/dropcap]he genre of symphonic goth-metal featuring classically-trained female vocalists is getting increasingly crowded these days.
The latest addition to the scene is Italy's Aghast Afterglow, who started as a duo comprising multi-instrumentalist Denny Di Motta and vocalist Lisa Lee, but have now expanded to become a full band.
The opening few numbers set the tone; first the musical box chimes leading into the brief power-metal instrumental "Fearless", then the swirling kaleidoscopic "You're Killing Me From Inside" and the full-on Goth of "Angels Can't Love".
Like others without access to major label budgets for recording they manage without the massed choirs, orchestras and kitchen sinks, instead relying on layers of keys and a bigger role for the lead guitar. Lisa Lee's lower-register vocals are reminiscent of Winter in Eden's Vicky Johnson, and Denny Di Motta's neo-classical guitar flourishes sound like a version of Yngwie Malmsteen with a sense of taste and restraint.
This an album where the emphasis is on straightforward songwriting rather than overblown arrangements, and they stick to four or five minute songs rather than attempting any longer epics.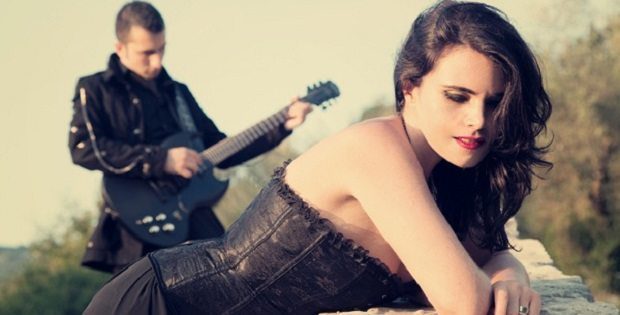 "When Will Winter Come Back?" is one standout that sounds like a potential single, the chorus of "There Is No Time" gets stuck in the head after a few plays. The soaring ballad "Stream of Awareness" is another highlight. There is the odd moment that doesn't quite work, most notably the irruption of a few bars of Bach's double violin concerto as the instrumental break of "Muto Inconscio", in a manner parodied by Spinal Tap way back in 1982. But most of the time it's solid piece of work.
The album ends with a wonderful piece of silliness, a rocked-up cover of Donna Summer's "Hot Stuff", which is yet another example of how well 70s disco standards work when re-imagined as guitar-shredding metal numbers.
While Aghast Afterglow do wear their influences on their sleeves, most notably Nightwish, there is a lot to like about this record, and they sound more than capable of giving some higher profile acts a good run for their money.
Aghast Afterglow, Imaging, available from Revalve Records.