[dropcap style="font-size:100px;colour:#46ffa5;"]A[/dropcap]my Montgomery was one of the standout performances at Cambridge Folk Festival 2019. Firmly placed in the rockier side of the genre, she has been compared to the late great Janis Joplin. She is, however, very much her own person with her own wide range of influences.
Ms Montgomery has talent, a beautiful striking appearance and fierce stage presence. This and her powerful, gravelly vocals set her apart from the crowd – I spoke with her following her set.
SCB: Congratulations on your set earlier. What does it mean to you to play Cambridge Folk Festival?
AM: It's sort of hard to say what it means to me; it's so crazy. It's a bit like a dream playing on stage here and at all the other festivals. Glastonbury was another dream-like gig. The only thing that I can say is that I'm so grateful for it all. I'm so grateful to the organisers for having me here at Cambridge.
How long have you writing and playing music?
I've been singing all my life. I started songwriting when I was about 14 maybe.
Are you from a musical family?
My dad plays a little bit of guitar but he's not that good. Sorry daddy! But he was the one who taught me the three chords that I started with, so he's the one to thank for my guitar playing and I will be forever grateful for that.
" I hope that I'm a role model for people and I want to be that"
To what extent does your Irish background come into your music? Obviously, unlike many of the acts here, your music isn't traditional folk but there is that influence.
Yes, definitely. The Celtic nature, the Celtic traditions, the strong rooted people, the strong souls – that's the part of Irish culture that comes into my music. My music has a powerful message behind it and I think that the Celtic tradition cradles that.
What did you listen to growing up?
I listened to a lot of AC/DC, Lynyrd Skynyrd, Stevie Ray Vaughan and The Eagles. As I came to know more people, then my musical taste broadened so now I listen to a little bit of everything. I listen to jazz and to dance music. I love Soulwax, the dance band. I listen to Classical, rock and country. I listen to everything.
Is there a little bit of Marc Bolan in there somewhere because your stage presence does lend itself slightly to that?
Yes, there could be a little bit, yeah.
What is the symbolism of the stripe across your face?
The stripe is a symbol to remind me of the warrior within me and when people look at it, it reminds them of the warrior within them too. It's basically just getting through tough times in life and coming out the other side, and realising that we have the ability to work through that and we don't have to stay in that negative place.
 Tell us about your outfit – is it something that you customised yourself?
I would love to say that I customised this myself but I'm not going to be a liar!  This top half of my outfit was made by a lovely girl in Ireland called Becky Hamilton and she has a little business called Re Stitches  . She's a friend of mine now. She put all of her hard work into this. The sleeve is macramé and the whole top half is made from upcycled materials and charity shop materials.
 Tell us about your persona on stage. It appears very natural and not contrived.
It's not rehearsed at all. Some people say to me that my stage persona seems really angry and then they meet me and it's the opposite. I suppose that's what a stage persona is, I don't mean to have it.  It's something that comes naturally and that's one way for me to get any anger that's in me out in a positive way.
Do you find it quite cathartic?
I find it completely cathartic, yeah. After I come off stage, I feel like I've been sitting in meditation for a year. It's a nice type of tired, it's like when you go to the spa and you come out and you're relaxed but you're pretty tired but it's good, I wouldn't have it any other way.
"I think that before it gets to the point where we have mental health problems, we need to do things that help us as humans"
You seem a very positive person – would it be fair to say that you look for the positive in life?
Yes, I definitely do, yeah.  When you go through some things in life, when you go though hard times, you think at the time that is all that there is ever going to be. It's a really easy misconception to have. When you come out the other side of that and you realise that you're even more than what you were before, you recognise the personal growth that can be present in one's life. When you start to recognise that and you start to recognise that you don't actually have to carry all of the negative stuff that's happened to you on your back, you realise that you can acknowledge it but it doesn't have to be you. I think that's where my positivity comes from. I think it's the way that we should all be. It's something that I would love to make other people realise in themselves too, just to recognise the growth that's possible in us all.
Do you think that you could serve as a role model to young women in that respect?
Yeah, that's what I want to be, I really do. Because it can be tough, life can be tough for everyone and all people, it doesn't matter what age. Life can be tough when you're three years old and someone takes your crayon away from you. At that moment in life, that's the most horrible thing that can ever happen. Then as you grow older, the situations get different but at the end of it all, it's still the same emotions that everyone feels. So yes, I hope that I'm a role model for people and I want to be that.
Tell us about your song, Dangerous.
The video is related to a dream. The guy who made the video came to us and told us that he had this dream and I showed him the song Dangerous and he said, well that's totally like my dreams, so we made that work together in the video.
The song was written in the perspective of letting yourself go and just having your thought pattern and for it to be so distant sometimes. We can think things a certain way and it's totally unfamiliar to us, even to yourself. So the first verse is, 'I went walking to help the little girl I heard screaming,' and in the second verse it says, 'lie there, lie there wondering, was I the little girl I heard screaming?' It's just to convey a sense of confusion in our thought processes.
That was written during a time when I was going through a hard time. In a way it was relating not only to my own thought processes but more to my mum's. About three years ago, my mum passed away. I've learned now that it's a natural life process. But she died in a tragic way. She struggled with depression for maybe ten or twenty years. I think that when you take the time to want to understand what's going on, you don't just label it as a horrible thing. That's something that's involved in Dangerous, all the thought processes in her mind before she died.
It seems quite sad but I'm in a really good place right now. That's what I mean, from going through events like that, you start to recognise the good in everything around you and how special every moment is and how fast moments can be taken away from us. I'm just grateful that I've gained this wisdom, and I definitely didn't have this before my mum passed away, so I'm grateful that I've gained that from it, you know.
I think that before it gets to the point where we have mental health problems, we need to do things that help us as humans. It seems that humans get to a point where they are down and depressed and then they take action with what they should be doing with their minds and their mindsets, but it shouldn't be like that. We should be doing these things all the time, no matter whether we're feeling good or bad. Writing our thoughts down or going for a walk, it's just really important to be in touch with the person within yourself and not to forget about that. Just sitting doing nothing really helps me to relax. I really like being alone. I really enjoy being with people too, of course, but I really enjoy me time. I like to sit in meditation for a while.
What are your plans for the next few months?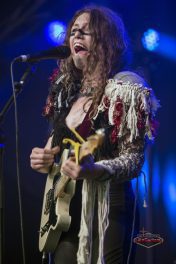 Tomorrow we will play in Powderham Castle in Exeter. Then we will head back to Ireland for a few weeks, which is one of the biggest gaps where we'll have no gigs. Then on 16thAugust we play in Switzerland, outside Zurich at a festival called H2U Openair. That will be cool, lots of great Swiss and German bands. The following day we'll played in Limavady in Ireland at a festival called Stendahl and I love that to pieces.
In September we'll be playing at Looe festival in Cornwall with lots of cool acts playing like Newton Faulkner and many others. Also in September we've got three headline shows. On 25thSeptember we're playing in London, at Paper Dress Vintage in Hackney. On 26this Whelans in Dublin and the 27this McHughs Basement Bar in Belfast.
Then the following day we'll be flying out to Australia because we have a little run of dates there, I think it's about six dates. The one that's announced is Dashville Festival and I'm super excited to go to Australia, I can't believe it, it's great.
You say 'we' – you have your backing band but essentially you are a solo artist. To what extent is it a collaboration or do they simply play what you've written?
The heart of the songs are there, the bones are there, so in a sense they are playing what I've written but most of the songs you hear are written by me and my drummer Michael Mormecha so we're a little team. I always like to say 'we' because I feel like the guys are really important, it's not just me and I couldn't make all that sound by myself. I started with just my acoustic guitar and me playing in tiny, tiny bars that nobody will know the names of.
It's crazy; it's actually been going quite fast for the last couple of years. Michael and I started writing together and he also produces my music, we started recording some songs, then we put a band together and it's just naturally, intrinsically happened. It just feels really right, what we're doing. Again, I can't believe that we're playing so many great festivals. It's the most amazing thing to realise – going from just playing your acoustic guitar in the corner of a bar to playing Glastonbury and Cambridge, it's just crazy. There is some magic in the air helping me out and I don't know where it is and I don't know what it is but it's there somewhere.
What are your next recording plans?
At the minute we are sitting on a lot of tracks, probably enough tracks to make an album but I think that for the meantime, we're going to keep releasing them track-by-track. Our latest single is Tree Song (Branch Out and Nourish My Veins) and I think that we'll probably be releasing a song in September to tie in with the headline shows. We're just waiting until all these gigs are finished up for this summer run and maybe seeing if there's any interest from labels. If there is, that's great and if there's not, the we'll keep ploughing on through gigs and we'll keep recording and hopefully it will come together at some point. But there will be an album on the way, I promise you that.
Amy Montgomery played Cambridge Folk Festival 2019 on Saturday, 3rd August.
Latest Amy Montgomery news here
Interview by Sarah Corbett-Batson
Photographs copyright Carl Byron Batson – not to be reproduced or used without express prior written permission