[dropcap style="font-size:100px; color:#992211;"]P[/dropcap]ress materials lay it on thick, studding hyperbole with wayward superlatives and exotic noun-phrases.
For Gideon Wolf's Near Dark LP, in amongst the references to event horizons and analog impresarios, names such as Max Richter and Nils Frahm snuggle up to JG Ballard, Stanley Kubrick and Oren Ambarchi (most of whom have garnered Trebuchet's fulsome praises at one point or other, so this is neither the time nor place to banish Near Dark to pseud's corner).
These are hard acts to follow though, and in introducing the album with reference to such a stellar cast, the danger of coming out of the comparison a touch the worse is almost inevitable. Gideon Wolf's music: at times a muscular form of ambient; at others a haunting metallic techno reminiscent of Ben Klock, touches upon some of the same ground as the aforementioned influences, though rarely with more than glancing footfall.
Opening track, 'Control' features a (rare in the context of this album) vocal, overdubbed and sparse, underlined by a repeated string motif and synthesised drones. The effect, particularly as the song closes with an ever-decaying distorted drum figure, aims for the distopia of Richter, but owes more in tone and scope to Frahm's friend and collaborator Peter Broderick.
That Frahm reference, if it must be made, is more appropriate to the following track 'The Hunt' (insofar as it starts with a slow piano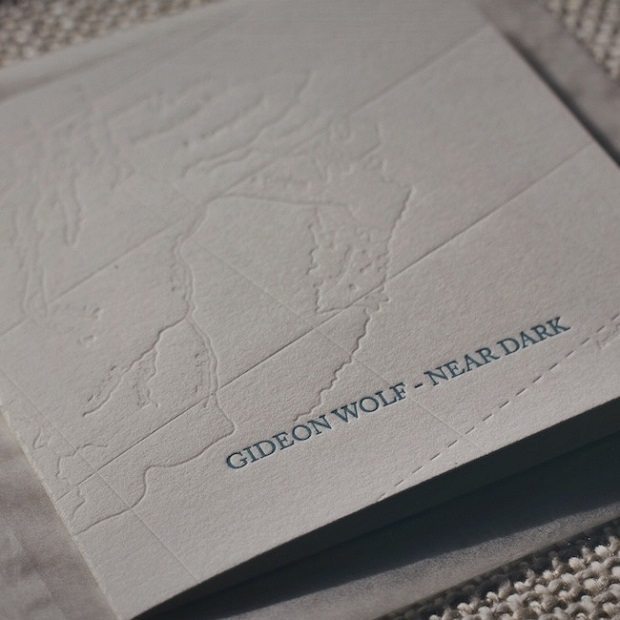 movement, as much silence as keystroke, with some relay effects on the notes). Fading out into processed minor-key stringwash then semi-industrial loops of ambience, the Richter influence is once again apparent as the song reaches its midpoint. At which stage the track takes off in another direction, towards mitteleurope with a two-part violin motif pulsed generously with the Ableton ray for rhythmic compression.
What's been missing so far is beats. Not that every album of tortured ambience should nail its flag to the dancefloor, but some kicks would be nice. 'Passenger One' delivers, as does the extended drone ambience of 'Near Dark', with the aimless tendencies of layered soundscapes given some direction by the welcome domesticity of 4/4. On the latter, the percussive element fades in and out of the soundfield, is joined by complementary rhythms, is distorted, embellished and occasionally smothered by additional sonic elements flitting in and out of the 14-plus minutes of its length. It is on this track that the techno allusions become apparent, as well as a nagging hint of The Orb's 'Blue Room' (to be fair, almost all rhythmic ambient music has moments of 'Blue Room').
The track is a bold statement of artistic intent though, with enough variation over the course to suggest a narrative to go with the imaginary landscapes ambient music is so adept at conjuring in the listener's mind.
With a definite tonal core established to the album, Wolf carries the momentum into 'Wrong Turn' – a muscular industrial rhythm enough to propel the short track along with little more than an undulating plaintive topline in the upper mids.
'Hunger' loses that momentum, (perhaps squandering it, depending on whether the album's rhythmic or symphonic qualities are your preference) with a looping series of overdubbed vocal lyrics exploring the theme of being hungry/being prey against the backdrop of string-section swells in a now-signature stacatto manner (those jabbing chorus notes of Vivaldi, sharpened in sonic tone, but diminished in depth. Aldi-Vivaldi, if you will.), think discord, not terror.
'Passenger Two' sees Wolf's take on Abisynth and Ableton electro-house stylings in a short piece of double-time beats coming quickly to a crescendo of decaying trance effects and looped vocal. It's erudite stuff, fine-boned and filigree, and stops at just over three and a half minutes lest it run out of ideas.
'The Road', following, depends for its impact upon whether the listener still retains tolerance for the signature discordant, staccato string interweavings which deliver much of Wolf's sonic ambience. The effect is certainly notable – plaintive, discordant, tense – but is used repeatedly over the course of the album. In this case, it forms the central third of a track which opens and closes with a more interesting series of processed (reverse-looped?) vocals and rhythmic compressions.
Closing track 'On the Run' is a gem of Fender Rhodes piano trilling alongside atmospheric (literally – thunder and rain noises) effects in a slow, clean composition which builds in intensity – the oscillating drones of a secondary keyboard, vocal topline and clave-like rhythms of a percussion track all coming together, distorting into a compelling peak and sudden silence with which to finish an album of intense emotional complexity and implied narrative.
If a trifle sluggish at times, Near Dark makes up for its moments of wandering indulgence with an overall triumph of drive and emphatic, directed discordant symphony. Which is something of an oxymoron, but sits well alongside event horizons and analog impresarios.
Near Dark will be released in early October 2015 through Fluid Audio on CD and digital download. Limited Edition version includes 16 minute live bonus track.


Sean Keenan used to write. Now he edits, and gets very annoyed about the word 'ethereal'. Likely to bite anyone using the form 'I'm loving….'. Don't start him on the misuse of three-dot ellipses.
Divides his time between mid-Spain and South-West France, like one of those bucktoothed, fur-clad minor-aristocracy ogresses you see in Hello magazine, only without the naff chandeliers.
Twitter: @seaninspain