The new album by the thoughtful Barcelona artist and label head 30drop, The Time of Cruel Miracles boldly claims to follow in the footsteps of the legendary X-102 release Discovers the Rings of Saturn (which is now 25 years old).
It is a science-fiction influenced techno concept album in this grand tradition, inspired not just by techno but by writers including Stanislaw Lem, author of Solaris. The concept in this case is a vision of how humans might communicate with other civilizations.
Much thought has gone into this unapologetically futuristic attitude, which the artist claims is driven by the "ambition to go beyond, to discover, to understand and to reach the place where we have not yet been able to reach." The album's concept is explicitly present for those who choose to engage with it but in any case it functions well as a bold, coherent techno album with a linear narrative. Released in the wake of NASA's annoucement of the discovery of new planets, its space agenda has perhaps gained new relevance.
Codex Europa spoke to 30drop about the background to the project and the state of techno.
What do you add to the cosmic techno form developed in the 1990s by pioneering artists such as Jeff Mills and Vapourspace?
My ambition is not to bring something new. It is simply experimenting and showing my conclusions in music format. If someone sees a relationship or an evolution with the sound of pioneers like the ones you name, for me it is a [source of] pride and encourages me to continue experimenting with my music.
How do you see the future of techno? Will it be driven primarily by new technologies and techniques or by artistic visions?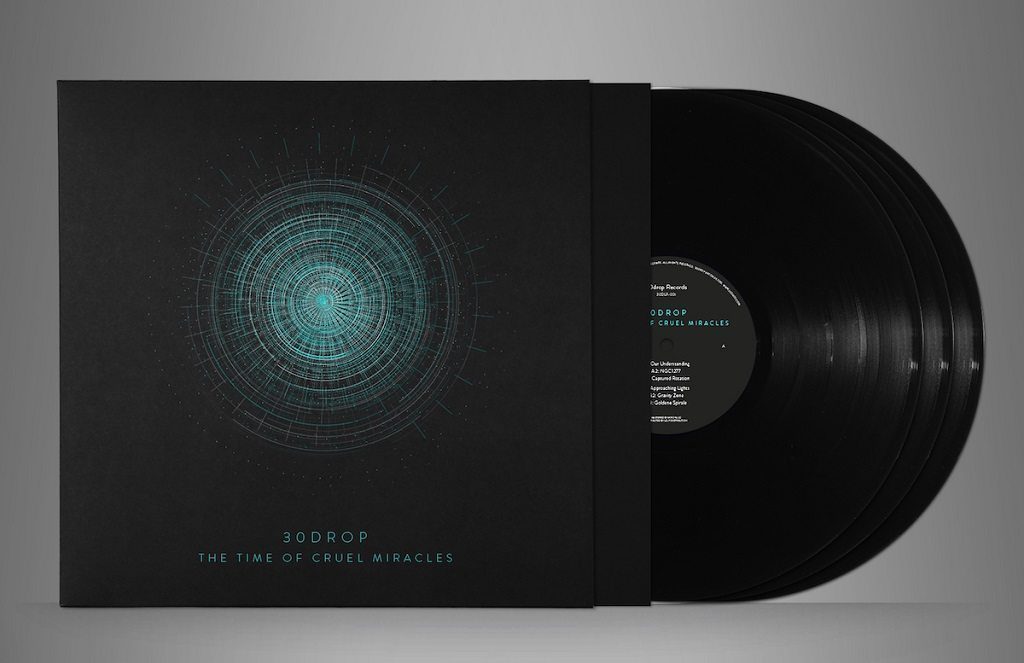 In my view, the problem of musical styles following a cyclical temporality is that there comes a time when they get stuck. For me, a basic premise in music is experimentation and Techno is one of the styles, within the genre of electronic music, in which [there] has been more experimentation and in which you can continue experimenting.
Currently I think we are somewhat stuck in this new cycle that has revived Techno. In order to continue having an important presence within the scene in the future it will be necessary to take a step further in that experimentation.
I believe that neither technology nor techniques will bring this new evolution. It is something that has to arise from the artistic side and from the nonconformity of the artists, which is something that from the beginning has been synonymous with Techno.
We must all contribute to this. As for the 30drop project, from this album we will try to take a step forward with our eyes on the future. We will see that we are able to contribute to the music format.
How do you achieve the sound your label describes as "classic and futuristic at the same time"?
In essence, Techno is that. The definition of Techno carries implicitly the word "Futurist" since its creation in Detroit. Currently Techno is not something new, that's why it is tagged with the label "classic" but it is still futuristic because otherwise we won't talk about Techno. An equivalent in architectural terms could be Modernism, which implies the word "Modern" but that does not mean that it is something new.
What does it mean for a techno producer operating in 2017 to be futuristic?
"To be futuristic" is an attitude. It is a way of thinking, a way of making art, an attitude towards life. "To be futuristic" shows the need to experiment, non-conformism and to venture into the unknown to take a step further. Humans had a futuristic vision from the beginning but now we have lethargy and movements like Techno are those in charge of keeping it alive.
Your music often has an optimistic spirit that seems connected to the Detroit heritage you reference. Is this an artistic/stylistic optimism or do you have some genuine optimism about our technological future?
Our technological future will be the only way to take a step forward in our evolution. It will be the only way for us to be able to return to an era of light and creation in the same way that happened with Renaissance. Technology will be the vehicle that leads us to that new revolution that will not only be at an artistic level but will be at all levels that we can imagine as human beings.
The future is optimistic by definition, otherwise there would be no future.
30drop The Time of Cruel Miracles 
featuring remixes by Substance, Architectural, Rivet and Zero Mass

March 17th 2017
3xLP / Digital Download
30DLP-001