COUNTDOWN TO BLOODSTOCK!!
JUST THREE WEEKS TO GO!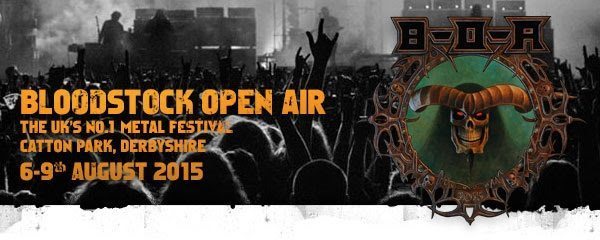 BLOODSTOCK HQ is a-buzz with activity with just over three weeks to go!
There's still more bands to announce and we also welcome the return of the brutal-yet-amazing 'Battle Of The Nations UK' historical fighting team!
 The New Blood stage on Friday sees a brace of additions; Hertfordshire melodic death metal outfit and Luton 'Metal 2 The Masses' finals winner, COUNTLESS SKIES (www.facebook.com/countlessskies) and Gothenburg, Sweden's WE ARE THE CATALYST (www.facebook.com/WATCofficial) – who also won DELAIN's competition with Metal Hammer magazine to win a support slot on the Dutch symphonic rockers' UK tour.  Joining the New Blood bill on Saturday are Midlands-based prog metallers, MARTYR DE MONA (www.facebook.com/martyrdemona, groove metal outfit and Norwich M2TM winners, SOULBORN (www.facebook.com/soulborn) and self-proclaimed 'hobo sludge' gang and Reading's M2TM winners, VICTORIAN WHORE DOGS (www.facebook.com/VWDBAND).
Sunday welcomes London death metallers SKARTHIA (www.facebook.com/skarthia), hard rock funk/schplunk metal men and London final M2TM winners, WRETCHED TOAD (www.facebook.com/wretchedtoad) and lastly, the winners of the 'Metal To The Masses' Hobgoblin online video upload competition, Newcastle groove metal beasts, TOMBSTONE CROW (www.facebook.com/tombstonecrowofficial).
 Over on the Jagermeister Stage on Friday, hard rock four-piece CITY OF THIEVES (www.facebook.com/cityofthievesuk) join the fray.  On Saturday, the blues-based rockers PIG IRON (www.facebook.com/pigironmc) grab a slot, as well as stoner/sludge squad, MORASS OF MOLLASSES (www.facebook.com/MorassOfMolasses) and straight out of Valhalla, the truest of true cover bands, HANOWAR (www.facebook.com/Hanowartruemetal); a bit like Manowar, but…well, you do the math!  Lastly for this announcement, Sunday sees horror-metal punksters, THE HELL PUPPETS (www.facebook.com/hellpuppets) join the Jager bill.  Final additions to all stages will be announced next week.
 BATTLE OF THE NATIONS DRAW FIRST BLOOD
There's plenty more on site to see and do besides the awesome bill!  Returning this year for Friday–Sunday are the very popular BATTLE OF THE NATIONS UK historical fighting team!  These guys have to be seen to be believed.  Catch their regular 'demonstrations' (read: 'full-on', no-holds-barred fighting with broadswords, maces and plenty of other historical weaponry) in their designated pen in the main arena.
 TRAVEL TO B.O.A BY BIG GREEN COACH
If you're travelling to BLOODSTOCK by train, don't forget to book your Big Green Coach shuttle bus tickets to get you & your camping gear from Lichfield City rail station to the festival site.  There's also still time to book coach travel from 26 different locations around the country or a coach & festival ticket package to the heart of Bloodstock Festival
BIRKENHEAD, BOURNEMOUTH, BRIDGEND, BRISTOL, CARDIFF, CARLISLE, CHESTER, GLASGOW, GLOUCESTER, LANCASTER, LEEDS, LIVERPOOL, LONDON, MANCHESTER, MIDDLESBROUGH, NEWCASTLE, NEWPORT, OXFORD, PRESTON, SHEFFIELD, SOUTHAMPTON, STOCKPORT, SUNDERLAND, SWANSEA, WARRINGTON and WORCESTER.
All coaches arrive at the Official coach park at the festival site on Thursday 6th and return for home on Monday 10th August 2015
Check out all the info and ticket options at http://goo.gl/23pfik.
FOR THIS YEAR'S  FULL LINE UP CLICK HERE
Pick up your Bloodstock tickets or call our 24 hour ticket hotline on 0871 230 5584
6th to 9th August 2015
CATTON PARK, WALTON ON TRENT, DERBYSHIRE, DE12 8LN
 Join us on FACEBOOK, follow us on TWITTER,  why not ask the organisers questions on the Bloodstock FORUM
The aim of art is to represent not the outward appearance of things, but their inward significance. – Aristotle