Slacker pop returns.
Yuck hail from London with a sound that comes directly from 1990s. As much Pavement as Dinosaur Jnr, as much Yo La Tengo as Teenage Fanclub, as much tribute as triumph. A lot of you may well think 'As much been there as done that' and yet despite the obvious forebearic nods the album is satisfying, we haven't heard this sound or had these aphasically 'meh' teenage feelings expressed anew for a while.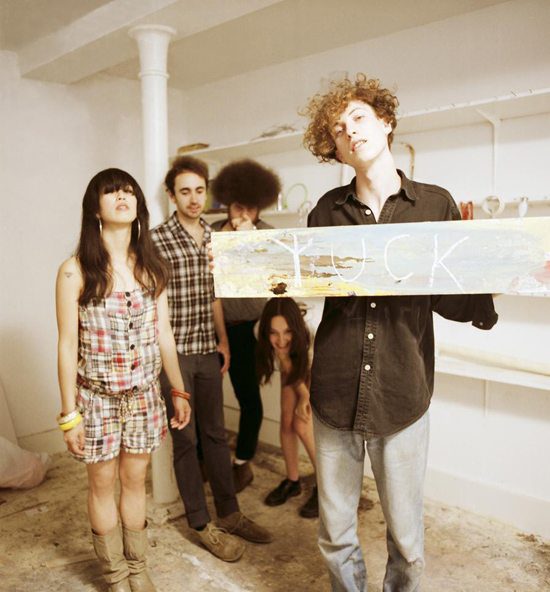 The tracks that feature bandleader Daniel Blumberg's sister on background vocals are strongly reminiscent of Matthew Sweet and have the same earnestness that reminds you of summer evenings spent driving to high school parties. It's hard to consider this album outside of a movement to canonise an authorised version of the 90s experience. A vision where Yuck's music is the soundtrack to a Sophia Coppola film where disaffected middle class Midwest American teens dealing with an accidental overdose watch horses canter around a reservoir. Either that or a commercial for checked shirts and skate shoes.
Blumberg's homage to the 90s is complete, accurate and unashamed; 'Operation' is so Sonic Youth that Thurston Moore would have to try hard to not remember writing it. A cast is even taken of Buffalo Tom's Taillights fade on 'Sunday' and a list of comparable Yuck songs to their exact genetic fathers would run the length of their album.
Yuck are, in effect, to the 90s what Oasis was to the Beatles, filling in the gaps made by the past's more indulgent material with undeniable hooks. Plundering the successful singles over album material is a wise choice, after all there's no reason to venture down all the dead ends of one's idols. This isn't to say that Blumberg and Co. are unfamiliar with both the material and the feelings of aimless searching that typified brand 'Generation X', due obeisance is paid on the Red House Painters-esque sadcore workout 'Rose gives a Lily' and the My Bloody Valentine wall-of-noise epic 'Rubber'. However, even these are respectively given a topcoat and rewritten neatly to appeal to a new generation with more apps than angst.
Yuck by Yuck is a good album, Blumberg knows how to write solid songs that draw you in and raise you up, it gets wild but not too wild, it's sweet but not saccharin, it's pop but not commercial, it's punk but not political. The 90s might have been the end of a millennium but they felt like the middle of an era. A liminal road leading to somewhere vaguely called the future. In the 90s the kids had a cynical foreboding that this future would probably be more of the same. Of course, they were right but Yuck remind us that the good parts aren't that bad.
(out now on Mercury Records)