Is originality everything? I only ask because, throughout contemporary music history, there is very little that has been created without some sort of precedent.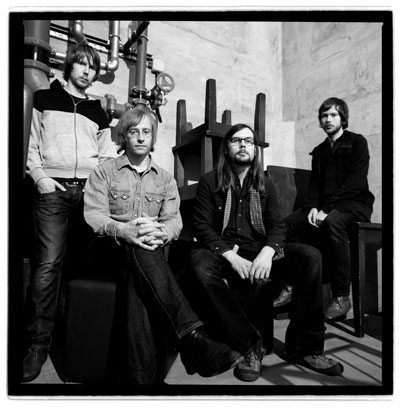 This is not to say that the quality of the music is in any way depleted, but it certainly seems like music moves cyclically, revisiting the same territory and subtly adapting and evolving as it goes. Recently, it's happened on a massive scale with the so-called '80's revival', with every man, his dog and his keyboardist unable to resist revisiting the era of shoulder pads, hairspray and the baffling popularity of Emilio Estevez. You can't help but feel that there's only so much of worth to be gleaned, however, and in light of the supposed critical rehabilitation of Duran Duran, it's quite obviously gone way too far. No, if it really is necessary to loot the past, surely it's best to stake a claim on an era that's not already teeming with other similarly-disposed prospectors. On that subject, congratulations are in order for Wolf People, who have opened their history books on a seldom-read page and made sure to do their homework.
yes, it's verging on prog rock, but it steams along with such purpose as to be utterly thrilling.
Steeple, the debut LP from Wolf People, may have only been released last year, but it sounds like an authentic slice of late 60's/early 70's heavy British folk-rock. The sense of time and place is staggering- it's like getting a music history lesson from my Dad ('You call that real music? In my day…'etc), demonstrated with choice cuts from his mouldering vinyl collection. This doesn't mean to say, however, that Wolf People are merely some kind of musical historical re-enactment society, attempting period re-constructions of their chosen era. They throw enough of their own flavour into the stew to keep it from simply seeming like reheated 40-year-old broth.
It has to be said, this is very beardy music.
Still, in the current musical climate, you might think it were a gamble on the part of Jagjaguwar, their label, in promoting something that is so proudly, resolutely, well, uncool. The more rockist approach isn't really de rigueur in the modern era, especially for a label that prides itself in informing the zeitgeist when it comes to most things folk or Americana. That said, though, this is the same label who scored a surprise hit with the heavy, hoary retrophiles Black Mountain. Not only this, but Wolf People also ably cover many more pastoral bases, essentially injecting a shot of testosterone into the folk-rock blueprint laid down by Fairport Convention.
It has to be said, this is very beardy music. This is no bad thing. Yes, there's chin-stroking 'proper' musicianship, complex arrangements and a general air of hirsute, denim-clad obsession, but not in a snobbish look-how-intelligent-we-are prog dinosaur kind of way. When Wolf People alight upon a monstrous riff, they work it for all it's worth, rather than descending into reams of self-congratulatory widdling. Part of this may be their age- the period atmosphere they evoke sounds so authentic you'd never guess that Steeple's authors were only in their early 20's. By the looks of the press shots, though, they do possess some rather luxuriant face-fuzz. They sound not entirely unlike Scandinavian men-of-the-woods acts Witchcraft and Graveyard, but minus the overt Sabbath reverence and bong-bound bygone blues aura, giving Steeple a more contemporary edge.
Steeple gets off to a roaring start with the thunderous maelstrom of 'Silbury Sands'. Opening with a breezy, intricate intro, it wastes no time in getting down to the business of serious riffage, a perfect example of four instruments locking completely into a gargantuan groove. Needless to say, it's huge. This is leavened, however, by a complex arrangement that visits mellow verses, vocal harmonies, jazzy segments, wild solos, percussive breaks and more besides. In case you hadn't guessed by now, yes, it's verging on prog rock, but it steams along with such purpose as to be utterly thrilling.
Just when the spectre of Jethro Tull begins to hove in my mind's eye, Wolf People get funky. 'Tiny Circle' is a monolithic slab of pure, fluid groove, the kind of riff that could roll on to the ends of the earth and still sound exciting. Before the visions of Ian Anderson and co vanish completely, though, it's worth noting that it's absolutely coated in flute, but less the 'I'm a wood sprite charming pixies from the trees' kind and more raging Ron Burgundy-approved jazz-flute freakout. Nice. Beneath this, the rhythm section of drummer Tom Watt and bassist Dan Davies are so damn tight you imagine they probably even breathe and blink in synchronisation with each other. 'Tiny Circle' is one of those tunes that are excruciatingly embarrassing to listen to through headphones because, no matter where you are, you end up drumming on your lap, nodding your head violently and indulging in uncontrollable air guitar, sending old ladies shuffling away from you like scattering pigeons. Basically, it's bloody great.
Completing the astounding opening triumvirate in fine style is 'Painted Cross'. Slightly more straightforward and modern than most other tracks on Steeple, it could almost be Queens of the Stone Age if they were a) still any good, b) a lot hairier and c) fortified by real ale. The laid-back, rolling rhythm is juxtaposed brilliantly with choppy guitars, and ghostly harmonies appear from the ether. Yet another outright triumph.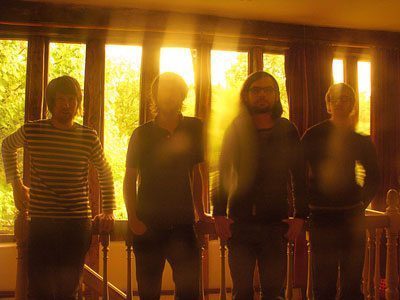 In case you hadn't figured from the album and song titles so far, there's a thread of ancient British folk mythology running through Steeple. Titles such as 'Silbury Sands', 'Cromlech', 'Castle Keep' and the closing re-arranged traditional ballad 'Banks of Sweet Dundee' allude to frontman Jack Sharp's lyrical preoccupations, which involve duelling, drunken pastors, prehistoric sites, wars and the passage of time from ancient to modern. Warhammer fans begone, though, as it's not dungeons and dragons territory, taking more from imagined historical fact than magical fantasy. Though Sharp's voice may often seem a bit breathy and underpowered for some of the album's heavier moments, this only serves to bring the band's more bucolic aspects to the fore.
After such a rollicking start, you'd think Steeple might struggle to maintain the same momentum. Though it appears the first three tracks may well comprise Wolf People's very best work, everything here is of a consistently superior standard. The rest of the album contains much of wonder, and it's clear that not only is Steeple towering, it also has a point to it. Despite being something of a period piece, each song has an individual personality, with the band showing versatility, variety and originality, not least in the prodigious guitar interplay between Sharp and lead axe-wielder Joe Hollick.
Though Sharp's voice may often seem a bit breathy and underpowered for some of the album's heavier moments, this only serves to bring the band's more bucolic aspects to the fore.
The mellower tones of 'Morning Born' still find space for some blazing lead guitar and plenty of muscular manoeuvres, especially the frenzied drumming, before segueing seamlessly into the exhilarating, thunderous psychedelic instrumental segment of 'Cromlech', squalling guitars riding a galloping rhythm and wildly oscillating bass drone. 'One By One From Dorney' crashes in devastatingly, all barely-restrained feedback and serious drum-skin abuse, before zeroing in with microscopic precision on a brilliantly bastardised blues riff, rhythmically tweaked to almost danceable fluidity. The syncopated playing and hurtling pace are impressive enough, but the skilled arrangement takes the song to a far higher level of rock mastery.
The labyrinthine 'Castle Keep' is slightly more reserved, beginning with atmospheric guitar that owes a clear debt to the Saharan players, before morphing into a smouldering blues workout. The best of the song is saved until the middle section of the song, where a hypnotic, almost Stone Roses-like baggy groove is laid down, setting the scene for more astounding guitar pyrotechnics.
Special mention must be made of the closing two-part epic 'Banks of Sweet Dundee'. More than any other song on Steeple, it illustrates Wolf People's ethos. An adaptation of an old Scottish folk ballad, it spins a yarn involving an orphaned heiress, a ploughboy, a greedy uncle, a randy squire, lost love, and, eventually, multiple murder. The guitars on part one are less incendiary than elsewhere, encompassing finger-picked folky flourishes and clean, immaculate lead lines. Part two starts even more subtly, little more than a reedy organ and Sharp's voice, creating a tone of reverence to the story itself. At the first death, the music erupts into beautiful fluttering guitar, before the bullets really start flying and everything gets satisfyingly heavy. There's just enough time before the denouement for some rather apt fretwork duelling, before the tale ends and the song recedes into sweet guitar oblivion. Amazing.
I must confess, Wolf people, and Steeple, have claimed a rather special place in my affections. This album represents the best of British guitar rock, not only from a historical perspective but in relevance to the contemporary era. It's a perfect balance- musicianly, but never pompous, aware of the past but never simply retro, heavy but never overbearing. I can't remember the last time I heard a record that so capably demonstrated the skill, vitality and sheer joy of guitar playing, and music making in general. I'm sure my Dad would disagree, but he'd probably thrust something obscure from 1971 under my nose and declare it mankind's greatest achievement. Steeple is a glorious testament to the Big Riff, but has enough flair and intrigue otherwise to ensure that Wolf People make history themselves. Long may their lupine majesties reign.

Steeple is out now on Jagjaguwar
Photos by Simon Fernandez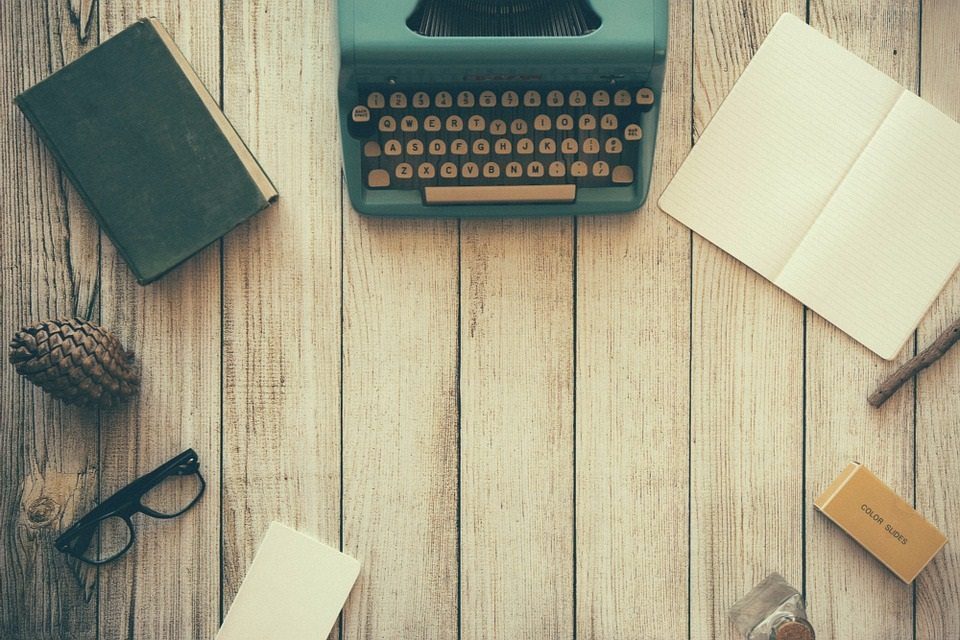 The aim of art is to represent not the outward appearance of things, but their inward significance. – Aristotle