Acoustic unions in an electric chapel, I beheld the evolution of folk music and it was divine. Rocking it was not.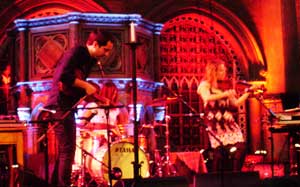 Communion. A series of flashbacks occurred as I walked down an aisle of the Highbury and Islington Union Chapel. These secondary memories arose as I took a seat on the hard wooden pews, looking up to flying buttresses and gazing through stained glass. My Roman Catholic schooling came flooding back to me when I attended King Creosote and Jon Hopkins' gig. All that forgiveness and sin, prayer and fear, faith and wonder. As a music venue, the Union Chapel donates some of these attributes to the performers. You have an instant religiosity, readymade for the musical masses. The general theatricality of such a place, with the red lit pulpit and darkened archways, was like Hammer horror and Mel Gibson got together to design a gig space.
Everyone sat neatly in their places, indoctrination clearly residual. Admiring the beautifully stained glass windows, I couldn't help but partially regret the impending distraction of the bands. That is until Geese began to play. They were not a distraction, but abstraction.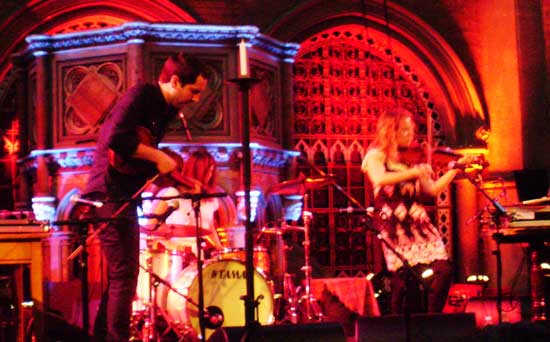 Two violins sang to one another in a Capoeira style battle. They balanced a fine edge between soft indie folk and progressive classical. What I thought was them plucking the strings with their teeth, were actually musicians singing into the violin mikes. An interesting preference, considering the ample supply of free standing mikes. It works all the same, giving an extra rock 'n' roll charm to the set. A synth choral ambience echoes around the chapel chamber. If this gig were indeed a Hammer horror movie, then this music would signify the tragic end.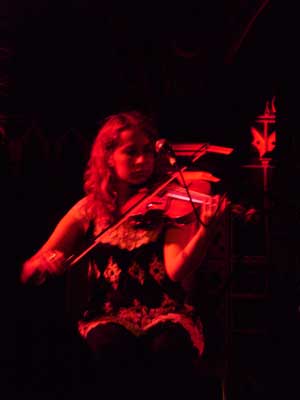 An attack of drums, a loop of soft vocal, the violin plucked like it's the dirtiest Fender. Geese may sound a little dated, but by God did I like their style. They built not to crescendos but to a continual knife edge. People tried to clap after songs, but that just became part of the cacophony of synth. I feel more than hear the tempo change into something that could fit a Disney soundscape, if Walt had been hooked on peyote. The harsh red lighting makes the spectacle all the more macabre.
The third track is inpatient. Considering it's taken so long to get to the third number, patience is obviously a virtue Geese have in abundance. Now the drums have a more dramatic presence. I loved watching the dynamic between the two violinists, a fierce violin turf war on stage. The fourth and final song is one of those complex dark waves that are used to accompany strange monochrome movies. Echoing, shadowy and distance, yet somehow the instruments matched the audience's heartbeat. Then Geese took it to a higher desolation. A faster, adrenaline pitched fixation, made all the more delightful by the male violinists quirky dancing. When brought to a close, the lack of strings weighed heavily on the crowd.
As I wrote up my notes and observed the nearest exit for the bar, I witnessed another phenomenon. There is something both oddly comforting and really disquieting about selling ice cream and hot chocolate at a rock gig. I want to yell;
Man Up! You are a London audience for crying out loud!! Where are the booze, piss and vomit I know and love?
The setting of this gig adds a whole new level of drama to the atmosphere. Yet a chattering had built up due to the sudden onset of sugar rush from all the ice cream and cocoa. Therefore when the next act began, most didn't even notice. Obviously one has to hail from East London to recognise the authority of a bloke in a large knit cardigan on a stage playing with a Mac Book.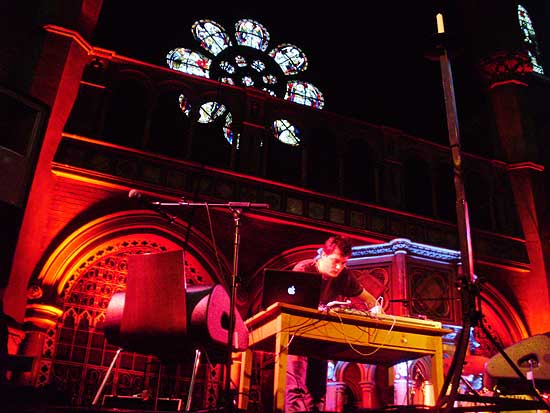 To be fair though, the complex twinkling of a dozen synthesized sounds weren't too compelling. Only when the slow bass line came to the fore did a gradual (and I mean snail slow) hush descend. The lighting started to pulse, as did Luke Abbott's shoulders. But transfixed we were not. Clearly it took a lot more than plugs and wires to thrall this crowd. I liked it though. Brought me back to Boom Festival, where the music lives, breathes and survives through its dancers. An ambience that is unsettling and wise.
As the cardigan came off, so did the metaphorical gloves. Luke Abbott was taking no prisoners, determined to awe. He may not have achieved that, but his light industrial machinations did catch our attention. With gentle tweaks and twists of his electrodes, fastidious and evolved sound flows forth. The chapel was crowded at this point, the rafters and pews thick with very still people. By the continual chatter, I deduced that most must are here for the King and not to indulge a chap with his laptop.
However I was struck but the alchemical mastery he had accomplished. Not too twinkly, dusted lightly with darkness. The structure around him fit his music perfectly. I wish the audience could have felt this magic too. The saints solemnly regarded him working, the flickering of candles on sconces and his melodic trance made me think church was awe inspiring again. I wanted to dance! But stuck in my narrow pew, I was caught in rave chastity. So I bounced in my wooden prison, knowing the fever pitch was coming. What sounded like the intro to Blake 7 began to rhythmically wander over our heads. Then it was spun into something much larger and more transcendental. Where is a techno tent when you need one? Sadly all good things come to an end, and this was better than most. I make a mental note to track Luke Abbott down, when he does a performance near any semblance of dance floor.
After a few minutes of interval, a charge electrified the air and a palpable calm spread through the audience. Conversations lulled into silence as whispers of the piano were heard. The violinists of Geese join a lone guitarist, King Creosote and the hidden from view pianist, Jon Hopkins. Hidden by a keyboard, a laptop, a synthesizer and an accordion, it's a safe bet that Jon Hopkins is a multi-talented musician. An ethereal female vocalist sits opposite King Creosote. There are no introductions. As King Creosote sang a lilting sea shanty, Geese treated their violins just as mischievously as before and the song solidified into an empowering opening number.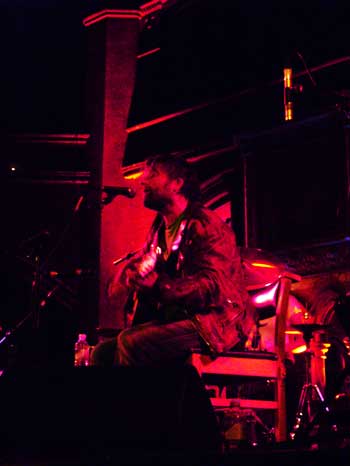 Shadows encroached on the fresh lit stage candles, developing a thickly laid atmosphere that was very unnerving. The pulpit up-lighting would flicker, inciting a ghostly presence within the resonant harmonies of the song. This was folk gone trance, equally delicious and bad for you. Jon Hopkins piano chimed in again, as King Creosote recited ancient but novel poetry. However King Creosote looked elsewhere, not in the distance but fixed to the floor, spoiling some of the emotion portrayed through such beautiful and fragile music. Yet how can you go wrong, with the repetition of verses the likes of "such a waste, all we have". Magnificent and poignant.
I saw chest clutching, throat holding and shock standing. The crowd were physically bursting at the seams with feeling. The person experiencing the least emotion appeared to be King Creosote himself. All that skill and drama, but he remained unconnected to the listener. A situation not helped by the number of I Phone flashes going off, snapping red hued images just waiting for their Facebook upload.
Despite any boundaries placed by the artist, I took delight in the 'oh so' careful guitar playing, his foot twitching the only symptom of the music's candescence. At one point I was pretty sure a song got interrupted by the crowd's applause. Sometimes audiences just don't get 'progressive'. King Creosote persevered, with Jon Hopkins switching to his laptop, producing solid beats to accompany a graceful, whiskey induced number. Bringing the violins in here was genius, as it bound vocal, spiritual and electrical together with sadness and sanctity. The orchestration of such a song isn't about pleasing or whipping anyone into frenzy. It's about a communion with the music. The subtleties pervade every sense.
I don't think I will ever get bored of my church analogies.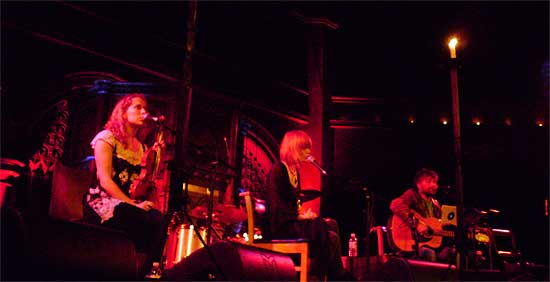 The lyrics contained themes of judgment, impossible love and long borne loss. Folk at its best. But added to this is Hopkins' 'cathedral ambience', the synth architecture establishing a religiosity in the almost quaint set list. Eventually all leave the stage but Jon Hopkins and King Creosote. Despite the tragic themes in the songs, the light echoing presence of Hopkins' technological wizardry means the songs have warmth and hope. Impressive falsettos also aid in this. Finally I caught the full frontal force of King Creosote's emotions. At the end of the song he stands and walks away from the mike and the stage, still singing the last lines. A humorous and efficient display of theatrics.
Not nearly the end however, as the first encore had no preamble and all return to the stage. The scarlet lighting reaches fever pitch, so much so I fear the band would come off their set with Essex like tans. My only other complaint was the occasionally clichéd lyrics. Beautifully continued in harmony but the metaphors used were mildly infantile. A great contrast to the inventive work of the exceptional multi-instrumentalist, Jon Hopkins.
The penultimate encore featured King Creosote and Jon Hopkins switching to accordions, playing a depressing melody. No, not depressing but suicidal. All the musicians closed their eyes, like sailors filling their ears with wax while sirens sing. If they looked too closely, the maudlin musical waves would crash them all to the stage. The heartbreak continued as Hopkins transferred to the keyboard. I liked his gloomy style. Because even if you feel like killing yourself, you'll do it swaying to the caress of synthesized sound.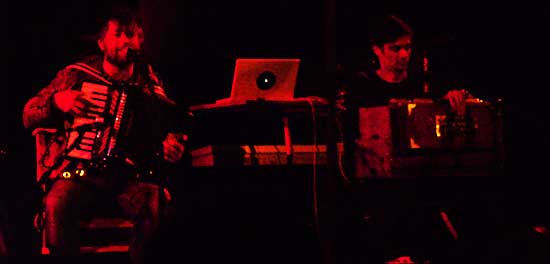 The finale was more commercial than I expected the artists capable of, but was well received by the audience. Performing a cover of Sinead O'Connor's 'Nothing Compares To You', King Creosote added a masculine lilt and Hopkins' accordion skills to reinvent the song. Personally, it would have been better and more original to combine it with the industrial trance they were working with earlier. Instead they performed an overdone and gimmicky version of a classic, when I wanted a respawning of it. As the audience sang along, I yearned for a remix. Bring back your laptop Hopkins!!
When the set was done, the emotionally charged audience fled, taking harried glances at watches. Well it was a weeknight after all. I felt very un-rock n roll. I decided to speak to several of the artists to find out what they thought of their set, the venue and each other.

The male violinist of Geese, Vince Sipprell seemed energised and he had reason to be. This rather fledgling band (barely a year old) had played an amazing set and has an exciting summer ahead of them. Of course, Geese had already worked with the likes of Hot Chip and Robert Wyatt, so performing with King Creosote and Jon Hopkins to a sell out crowd is an easy progression. What's more Sarah Jones, Geese's drummer is better known for her work with Bat for Lashes and New Young Pony Club. They certainly made my six degrees of separation with fun, summer indie bands. Vince Sipprell was chuffed still (that's the best word for it really) and thought the venue was "amazing yet weird".
Luke Abbott also enjoyed the set but "felt that he didn't fit in", something I myself had ascertained;
My style is developed into dance floor, tonight was opposite to that. The aim was to lull people in, not announce yourself. That said, the venue is incredible… it's a privilege to play here. Yet the physicality of the sound has become massively significant in my sets, and you can't explore it in this venue. But it's ok, good to see the difference.
Even though Luke Abbott stated that he was "terrible at describing music", he pulls it off with a flair I just had to share with all.
Jon Hopkins is one of those people that encapsulate a huge area of music, intimate and polite to massively aggressive and confrontational

I'm a big fan of Sarah Jones; she played really tight and interestingly.

King Creosote was magical. He held the room… he has massive power and was totally right for venue. I really liked it when it came down to the simplest elements.
I caught King Creosote displaying a much more muted energy. He explained that he loved the venue and he had even played it once before, but he "shat it first time round". His nerves still troubled him this time, describing it as "an emotional rollercoaster… to get over the nerves". Otherwise it was "pretty cool… and great seeing lots of faces". When asked about his collaboration with Jon Hopkins, he told me that;
I've always been a fan… we worked together for years. Our earlier stuff side tracked into remixes… but we both seemed truly impassioned about the partnership.
His ears burning, Jon Hopkins decided to share his thoughts;
The gig was extremely intense and I was very nervous. This is a whole new band line up, so unsure of its reception… but I was completely bowled over by the response. Our record is new, it suddenly appeared and everyone just knew it. Really amazing. We only had one day of rehearsal with this line up, but we're really good friends so… It's based on the love of that music, there's purity. And when we thought of a venue, we all thought- it's got to be the Chapel.
Asking more about the line up, Hopkins explained;
I only wanted one singer the whole night, so the only voice is Kenny (King Creosote). Everything else is a diversion and his voice crosses that plane.
The pair are playing a few venues over the next few months but Hopkins said;
none will equal this though, due to our fear and adrenaline. That end sequence frightened me, with King Creosote fading I was like 'What the fuck am I supposed to do now?' And with KC walking off singing, his voice cracking. Unbeatable.
There you have it, an innovative gig in a relic of a venue, with a fresh and exciting line up. Most of the audience had gathered for this folk evolution, King Creosote demonstrating the craft with obvious soul. But to me the night was truly owned by the electronic maestros. All the evening was lacking was a dance floor. Next time my folk lovelies, next time.
---
King Creosote, Jon Hopkins and Geese played the Union Chapel on 25th May 2011.
Geese are performing at the Insider Festival on the 19th of June
Luke Abbott:
http://lukeabbottmusic.blogspot.com/
www.myspace.com/lukeabbottmusic
King Creosote and Jon Hopkins released their collaboration album Diamond Mine in March 2011 (Domino Records) and will perform together at Summer Sundae 12th -14th August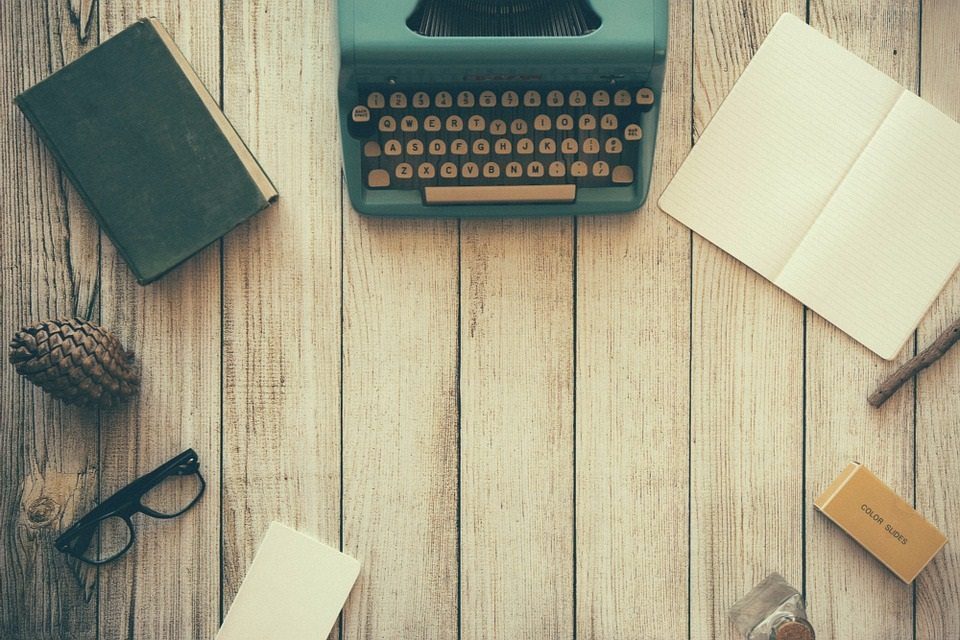 The aim of art is to represent not the outward appearance of things, but their inward significance. – Aristotle