Life, like wet paint, is messy. It's painful, it's colourful too. Sometimes it comes in one colour. Sometimes it's black.
We all have our ups and downs. It seems Wet Paint have had a little bad luck of late. On February 27th they played a fundraiser show to claw back some of the royalties they lost when singer Babak Ganjei's Hackney flat was broken into. I'd be pretty pissed too. I'd want to channel my rage, my fury and make something better than ever to get that cash back. Woe is their revenge – and it sounds good.
This sense of loss and dislocation continues through to the closing track, Lynchstrumental
Formed from the ashes of cult alt-country band Absentee in 2008, Wet Paint's well-received debut album "It Rots" ("an excitingly messy sound and some frankly excellent tunes", The Times) seemed to single-handedly get east London listening to its old Sonic Youth, Pavement and Husker Du records all over again.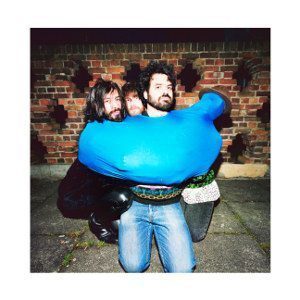 In true indie-rock style, the album was followed by a split 7 featuring a cover of A side "Save The Whale" by Lightspeed Champion and second single "Hug It Out". They toured with friends Bloc Party and The Rumble Strips.
The themes of despair, regret and fear crop up in just about every track of Woe. The album opens with Gone So Long: a great number, flooding back memories of Pavement, Sebadoh and Dinosaur Jr. I can't follow the lyric, but I don't care. The drums, the guitars, the solid beat have me.
'Uptight Clouds' keeps the pace up. A little slower, but just as steady and arresting as the opener. Babak's New York drawl steps up too, as does the lyricism with lines like, "Started early, before it began."
'Distant Memory' slows the pace down, and loses focus. The guitars become a wall, filling space rather than leading, reacting or dancing. Like the memories of its title, it goes round and round, and with nothing to grab me my interest fades.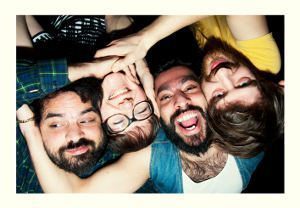 My ears prick at the sound of Aim Low. A simple vocal, guitar and drum, almost demo-style. "If I was your friend, would you talk to me most?" A playground melody, as catchy as it is short. It's different, but I'm beginning to feel that Wet Paint is one colour. Where are the reds and greens? The soft tones and stark contrasts? And then I remember the label: Woe. This is black, and we're getting black. Or grey. Or whatever colour Woe is. And the next track, Dead Night, (a black if ever a track had a colour) only confirms this. It's steady, it's black and its guitars crash and shriek.
"There ain't no stars in the sky to spy" starts Shadow's Secret Lies. This sense of loss and dislocation continues through to the closing track, Lynchstrumental. It's a loss made-up for through sounds you'd happily hear in a basement venue at midnight. One you searched out on a city's edge. A place where only those in the know go. A crowd ready to take this particular medicine. For we can't laugh all the time, and like the Greeks knew when the soul needed tragedy, Wet Paint, are here to deliver us Woe.
It might make you feel a little black, but you're nodding, dancing even. Wet Paint might claim to be aiming low, but they have their sights set higher. They're revelling in a sound they love and are ready to share with a world willing to listen.
"Woe" is released on Records Records Records records (CD/download) on 23rd May 2011.

"There are too many Andrew Southerns in the world. I've checked. There's a whole bunch of us. It's kind of annoying. In an over-populated world it's humbling to realise there are multiple versions of you. Maitland, on the other hand, is a name you don't see.
Like any writer, I need to make my mark. So I can sink into the Andrew Southern soup or go the Maitland way. It's a name my ego loves and humility shies away from. I can't sink into the soup. It's not my style. So grandiosity it is. You can call me Andrew, though. Not Andy. There are too many of those too.