As promised, part two of Alexei Monroe's Wave Gotik Treffen review. Part one is here.
---
By tradition the industrial action on Saturday shifts to the Anker venue, a charming old hall and pub that for the rest of the year hosts community events and rock and roll gigs. Due to the pace of events and the fact that the venue is further out, the first act I see is a rare performance by French industrial veteran Cent Ans De Solitudes (a.k.a. Jean-Yves Millet, owner of Les Nouvelles Propagandes label). In terms of materials, Millet is resolutely "old school".
He deploys an ever-changing array of Tesla coils and assorted metallic objects and devices, adding painstaking live elements to the unfolding soundscapes. His set veers unevenly between harsh and dramatic tracks and more run of the mill swirly ambient tracks that keep breaking up the tension. The cheap, first generation website fonts used on the video titles were also a bit alienating. Nevertheless, at times it was extremely powerful and it was great to see the performer coax and beat all manner of sounds from his collection of objects.

Next came an eagerly-awaited but slightly underwhelming show by  Thorofon, the German Power Electronics group originally founded by Anton Knilpert in 1995 and featuring Genevieve Pasquier, one of the most respected female performers on the scene. The group was inactive from 2005-10 but has returned with a new album. Politically, Thorofon were always more radical and anti-globalist than many of their peers and their backing films still contain some harsh social commentary.
Another massive visual and conceptual difference from their peers and their audience is that they appeared all in white. This was a nicely provocative touch but it soon became clear that it also signalled a softening of Thorofon's sound. Their raw analogue sounds are still present but diluted by surprisingly sincere and even poppy vocals and the incongrous addition of a live drummer. It's a little too slick and showy and doesn't fully convince. It builds up power towards the end as reliable old crowd-pleasers like Riot Dictator get the crowd moshing but ultimately it feels like a lost opportunity.
Last and least we (eventually) get Brighter Death Now. The Swedish industrial legend is apparently a little the worse for wear and seems to be having some sound problems: this could be because he's had to borrow equipment from one of the other acts. Although Brighter Death Now's noisescapes can sound deadly serious, in the live arena there's always been an absurd, party-like atmosphere and nobody expects anything too serious. What some of us do expect though is that he'll be able to play more than one track before retiring to the back of the stage, first to sit staring into space and then to (pretend to?) lie passed out for several minutes while the noise plays merrily on.
a harsh-vocal led assault
Every so often he returns to the front of the stage but then slumps behind the desk, adjusting the equipment distractedly. At one point he plays what was probably some Swedish folk music and stands transfixed until the stage manager comes on to stage and shakes him from his reverie. This does the trick and on realising his slot is almost finished he focuses enough to rouse the audience with a harsh-vocal led assault before the curfew. It's hard to tell how much this (admittedly amusing) shambles was inebriation, how much boredom and how much playful provocation, but for whatever reasons it was memorable mostly for the wrong reasons.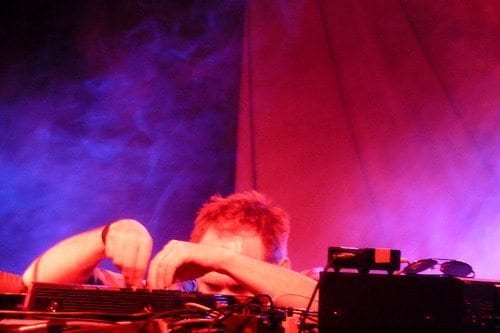 The next day drew us to the very different location of the Völkerschlachtdenkmal, the colossal 300 000 tonne monument to a victory over Napoleon in 1813. It's impossible to over-state the strangeness of this other-worldly structure which when seen from a distance towering above a sea of trees looks like a relic of a lost but unknown civilisation. There are Germanic elements to the design, but it seems deeply pagan and alien. It has hosted WGT concerts before, with performances taking place both in front of and within the structure. The circular crypt was chosen especially for the first performance in 25 years by the legendary act Autopsia, which originated in provinicial Serbia in 1980 and now operates from Prague.
Autopsia's music can be epic, monumental and tragic, making this the ideal location for its return to live performance. Autopsia appears on its own suitably-cryptic terms, playing from behind a black curtain while the audience sit on the cold steps and gaze up into the dark vault above as twilight falls. Musically the performance takes in both  grandiose older works such as 1991's Palladium (one of the greatest and most tragic works to emerge from the end of Yugoslavia) and more recent works such as the Autopsia and Achtar collaboration Radical Machines, Night Landscapes. This work marries Autopsia's icy symphonic elements with Achtar's post-dubstep textures to great effect.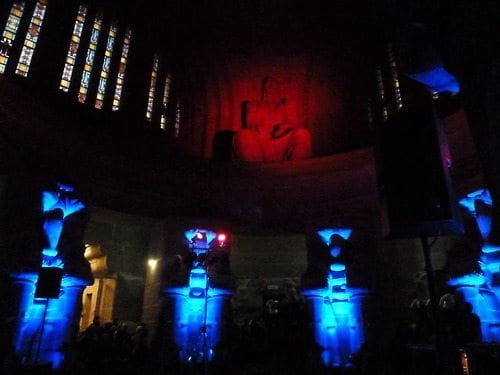 Hearing such monumental works which few imagined would every be played live in such a location was a powerful and even emotional experience, although Autopsia had expected a much more powerful sound system. Even at a reduced volume it filled the space and kept most of the audience fascinated. With no visual element to the performance, drama came from the interaction of sound and architecture. Played as a continuous mix, the set contained a wide range of material, often in new or re-structured forms. Recognisable snatches of older material would appear and recede within a surprisingly percussive and fluid soundscape, perhaps closer to a DJ set than a typical live performance, rounded off with a provocative blast of ragga to signal the end of the performance.
a suitably dramatic and epic context
Autopsia's creative philosophy is quite different to most indusustrial and especially to Gothic, but WGT provided it with a suitably dramatic and epic context. While walking back through the grounds of the monument afterwards bats flitted through the darkness to suitably Gothic effect.
From there we headed to the WGT party headquarters, the labyrinthine subterranean venue Moritzbastei, home to four nights of DJs and live acts hosted by the Global Noise Movement organisation, promoters of hard "rhythm and noise". Attending the daytime events plus these parties every night demands serious stamina but it's well worth the effort. The main attraction on the Sunday was the Hands label act S.K.E.T., purveyors of harshly rhythmic laptop noise with an overtly political edge (their last album was entitled Depleted Uranium Weapons and their latest track is optimistically entitled 'Reform Europe!'). Yet they are no dour politicos. The trio visibly enjoy laying down the beats and create an intense energy among the late-night crowd, warming them up for the full-on final night party.
By Monday the casualties are mounting: people appear at the gigs later (or not at all) and it's clear that the preceding days are (inevitably) taking their toll on some. Returning to the Volkspalast I catch the set by Legion, British producer Andrew Lagowski. Legion produces well-crafted electronic textures in a post-ambient vein. This was a very smooth and fluent performance, well-received by the audience, if slightly let down by some surprisingly crude background visuals. Moving next door to the Kantine venue the atmosphere changes radically with a powerful performance by Italian producer Massimo Magrini's long-standing project Bad Sector.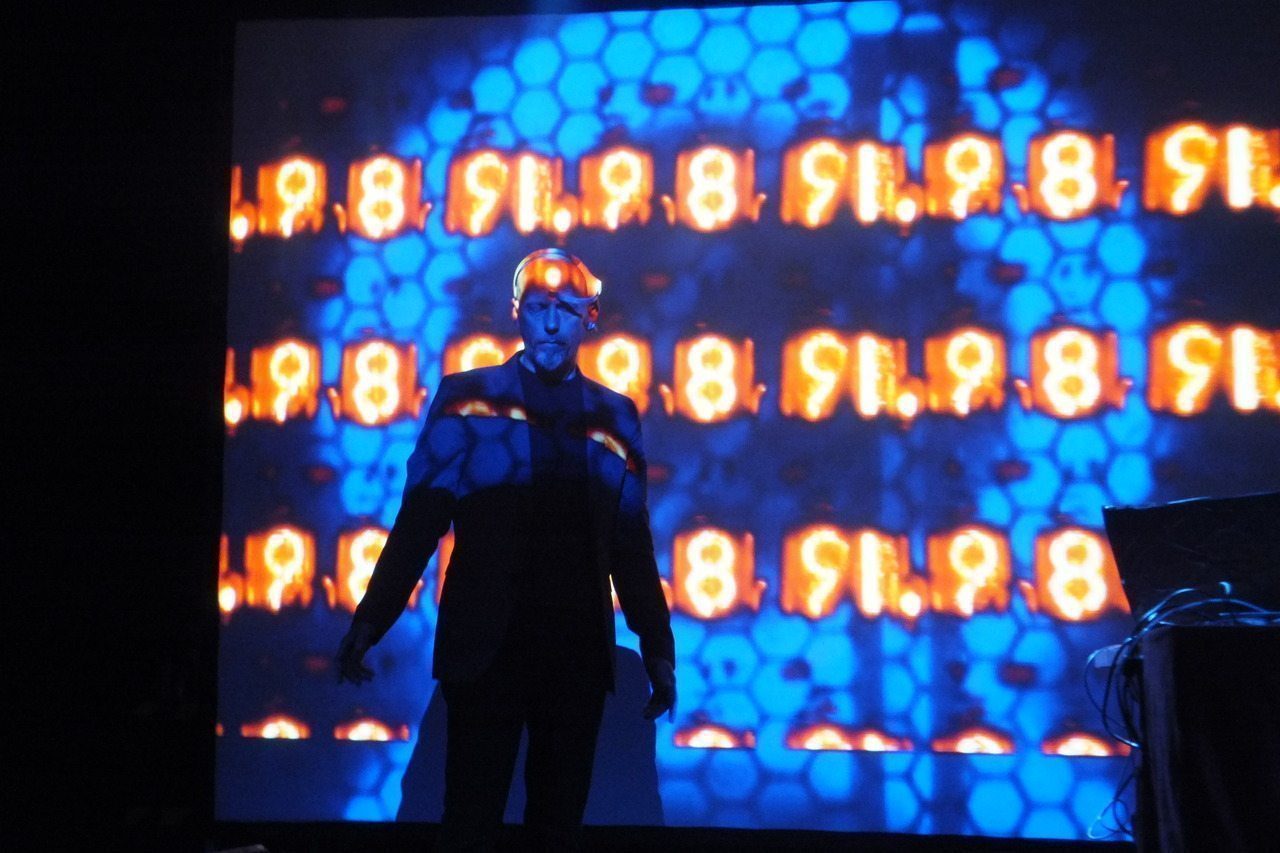 Magrini has some advanced sound devices including what seems to be a theremin and a futuristic headset with which he controls sounds by gestures. The volume is probably the loudest of the weekend, especially at the front and much of the set is cold and uncompromising. It is enhanced by extremely high-quality and memorable visuals showing numeric sequences, cell structures and other abstract forms. The show is obviously the result of a great deal of thought and preparation and is rapturously received. Ultimately there's a certain formality in Bad Sector that demands respect but which I can't fully relate to, even if I admire it greatly but this was very memorable.
Returning to the Volkspalast it's visible that as so often at WGT a change of acts has brought a change of audience. In my experience the last act on the Monday night at the Volkspalast has often been bad. In 2008 I endured several centuries' worth of Psychic TV and in 2010 Nurse with Wound lapsed into caricature free jazz regression. This year is not as catastrophically bad but the French trio Näo do manage to drive me away within under a minute which is an achievement of sorts, but probably not one to boast about. Despite their percussion-led sound and fury signifying nothing, a nasty, Coldplay-like layer of smugness prevailed and I left them and their audience to mutual self-congratulation.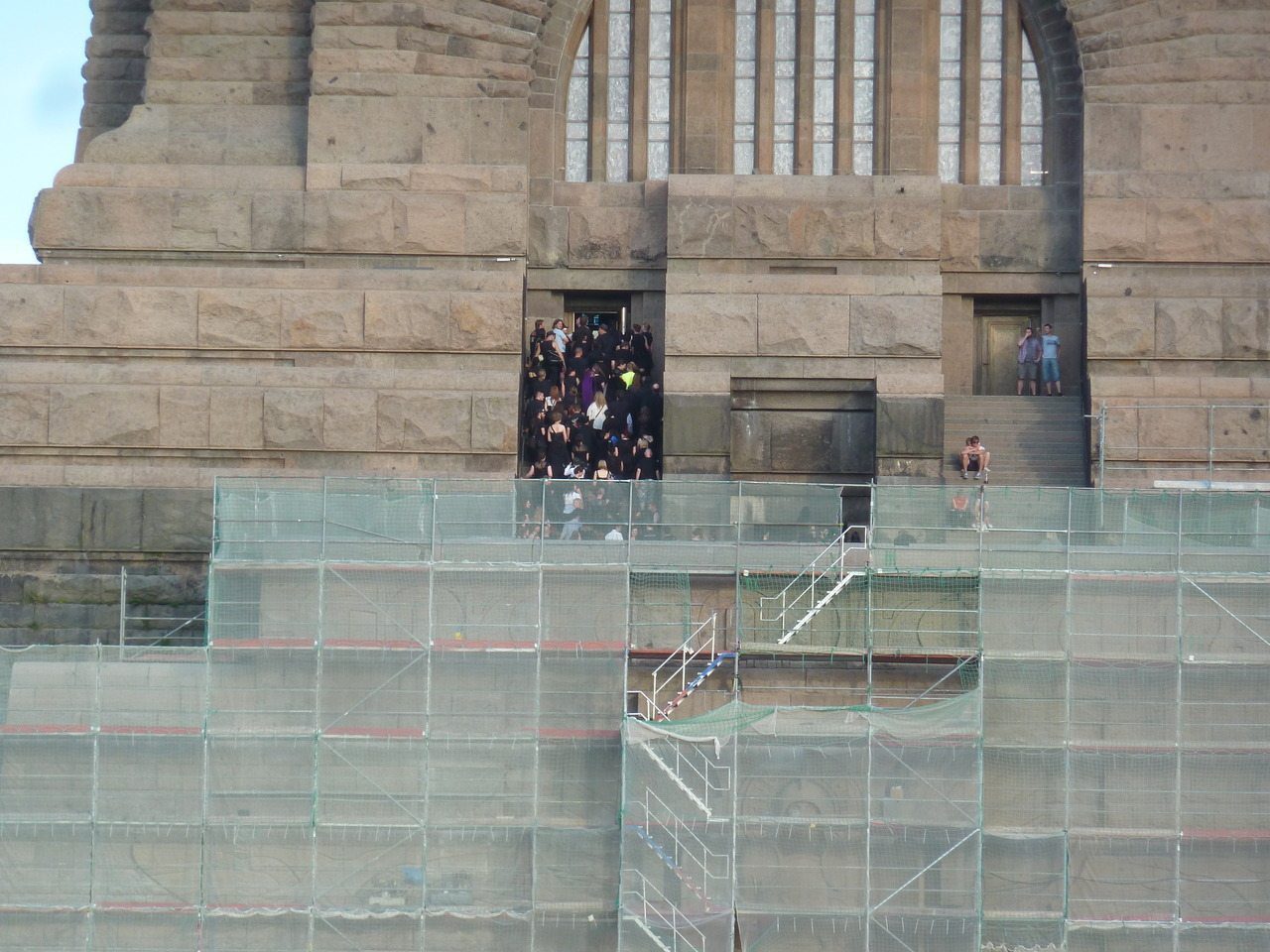 This would have been a low note to end on but luckily I knew that Hands label owner Udo Wiessmann would be DJ'ing at the Mortizbastei at 2AM. This proved to be well worth the wait as
Wiessmann lay down heavy but danceable beats that temporarily re-energised us and ended WGT on a high note.
the black tide recedes
At midday on Tuesday the WGT campsite closes and the black tide recedes. The train station and airport are inundated by the retreating hordes returning to everyday realities where they're more grudgingly tolerated and sometimes despised. The last stragglers linger for a day or two to recover but by the end of the week there are few traces of the dark invasion left. For some it's a way of life and their annual social highlight, others attend once purely for the experience and others come because even if there'll be plenty of acts they dislike (pagan metal fans generally don't get much from rhythm and noise), there's always just enough to make it worth it, as much for the surreal nature of the experience as for the gigs themselves.
---
Photos: Alexei Monroe except penultimate photo (Bad Sector) by Vera Bremerton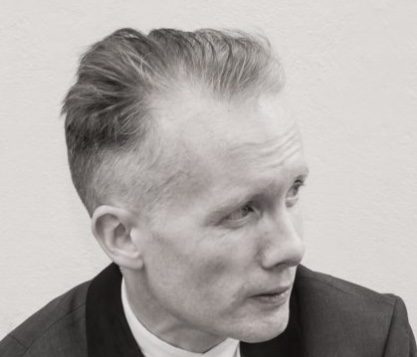 From Speak and Spell to Laibach.