When you look back the careers of 'big' bands there's usually a point where they step out from behind their influences, or the scene which spawned them, and they stand on their own.
From that point on they call their own shots and pretty much do whatever they choose. The reason is probably because the band (and their record company) know that enough people will buy their albums regardless and that it would take a monumental cock-up to prevent that happening. The results range from the terrible to the astoundingly brilliant. Iron Maiden announced themselves globally with Number of Beast, then went on to make Seventh Son of Seventh Son.
[quote]It's anyone's guess
where Volbeat will
go next time
around, but this
album does mark
a watershed moment
where they have
notably developed their
sound into something
more than an
unusual collection
of influences[/quote]
Metallica put out their self-titled album, then came the Load era: St. Anger and Lulu. Faith No More cobbled together The Real Thing then blew everyone's minds on Angel Dust. There are numerous examples. Only hindsight will be able to show if this album is a similar turning point for Danish rockers Volbeat and allow them to progress to doing whatever the hell they want next time, but I'm willing to bet it will be.
Following the worldwide success of their previous, fourth, album Beyond Hell/Above Heaven, which demonstrated the band's mastery of combining heavy metal, rockabilly and country music (which may come as a shock if you've not had the pleasure of hearing Volbeat yet), new album Outlaw Gentlemen and Shady Ladies sees Volbeat growing into more than just a sublime collection of their influences and generating their own, unique, identity.
While the influences are still clear, the strides the band have made in the song writing department have fused them in such a way that the music can only be described as "Volbeat".
Lead single, "Cape of Our Hero," is the perfect example with it's almost country like guitar refrain, the not-quite metal riffs and the catchy, aspirational, chorus hook. Singer, guitarist and main songwriter Michael Poulsen has continued to expand his singing range and has now fully stepped out from the James Hetfield/Buddy Holly mash sung in a Danish accent to find his own voice and nuances.
"The Nameless One" and "Dead But Rising" are the closest fit to the Volbeat sound of previous albums but the songs are given extra room to breathe and grow inside the listener's head with more subtle melodies and beats in evidence.
"Room 24" strongly indicates that Volbeat are not willing to completely give up the metal just yet and is probably their heaviest, densest and, doomiest track to date. That they've roped in fellow Danish legend King Diamond to provide guest vocals only goes to reinforce this message. The track also provides a showcase for newly acquired lead guitarist Rob Caggiano after leaving Anthrax earlier this year, as he adds a number of tasteful and distinctive lead breaks.
The midpoint of the album is marked by a re-imagining of "My Body" (originally by Young the Giant) and its inclusion does seem a bit strange as it doesn't seem to sit very well with the rest of the album, despite being a fairly solid cover. "Lola Montez" showcases Poulsen's great ability to sing believably about his feelings towards another individual, whether true or not. The song has a great bounce and feel-good vibe that epitomises the approach of the new album – use the same influences as previously, but in a way that can only be described as Volbeat.
The remainder of the album continues to show off all the aspects of the Volbeat sound, with some slower and cleaner bits ("The Sinner is You") along with faster more metal moments ("Black Bart", "Doc Holliday"), but all showing off the new found song writing confidence that the band now possess.
Outlaw Gentlemen and Shady Ladies is definitely a triumph for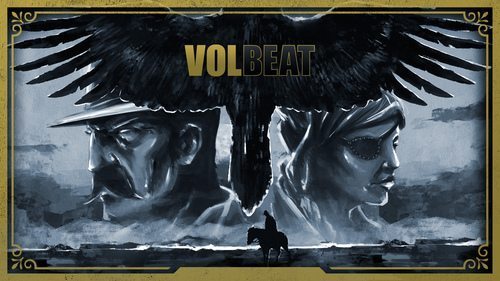 Volbeat and exhibits an underlying confidence and joy in writing good songs. The standard Volbeat influences can still be discerned but they are no long as obvious and up-front as on previous albums, the band have most definitely defined their own sound.
It's anyone's guess where Volbeat will go next time around, but this album does mark a watershed moment where they have notably developed their sound into something more than an unusual collection of influences. Whether they reach the stratospheric levels of success and freedom that Iron Maiden and Metallica have is unlikely, but Volbeat have most definitely earned the right amongst their fans to try different things out should they wish to, and still be given the time of day.
Out now on Spinefarm Records
[button link="http://www.spinefarmrecords.com" newwindow="yes"] Spinefarm Records[/button]