[dropcap style="font-size:100px; color:#992211;"]S[/dropcap]tanding in front of a backdrop of ever changing Lichtenstein-esque pop art images, Marc Almond looks invigorated and energetic, belying his age.
Joined by guitarist Neal X, formerly of Sigue Sigue Sputnik, it was as if the past 30 years had just been a bad dream.
Primarily a showcase for new album, The Velvet Trail, rather than a greatest hits set, he opened the gig with the gorgeously dreamy Minotaur. A brave number to start with given the minimal musical backing, this is a song that would expose any vocal weaknesses but there are none to expose. He is on form.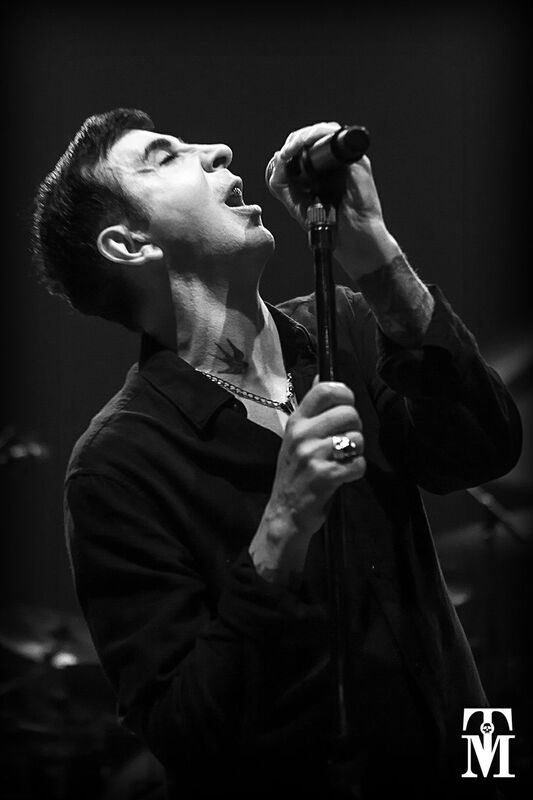 A few songs in, he asks if we are waiting for the hits and toys with us, warning that they won't be coming until near the end. The audience collectively gives up their plans to run for the last tube and resigns themselves to the night bus.
There were few of the solo chart hits – no Tears Run Rings, no A Lover Spurned nor chart topper, Something's Gotten Hold of My Heart although there were a smattering of Soft Cell numbers, including Soul Inside and the ever popular Bedsitter.
Past glories aside, the focus was on the new material, which held its own alongside the classics.
Bad to Me had the trademark searing yet catchy melodies and toe tapping rhythms that he combines so well. Zipped Black Leather Jacket was effortless cool while Scar demonstrated that his ability to produce the heartbroken diva performance is undiminished.
"What has happened to England?" he lamented to the crowd while discussing the decline of seaside towns before launching into The Velvet Trail, a song of melancholy and memories.
Finally it was time for the encore and Marc was joined onstage by a pseudo Marc – Danielz the "Marc Bolan" from T Rex tribute band, T.Rextasy, for covers of Hot Love and The Death of a Dandy.
Then it was the one that everyone had been waiting for. Soft Cell's version of Tainted Love is one of those covers better known than the original, the too often overlooked Northern Soul dancefloor filler by Gloria Jones, who of course was the girlfriend of Marc Bolan.
To my mind, even better than the stark electronic bleeps of Tainted Love was the sweeping tearstained emotion of torchlight farewell anthem Say Hello, Wave Goodbye, a break-up song more triumphant than I Will Survive, and just as camp. As the crowd sang along at the top of their voices, it was the perfect ending to a night of old friends, fond memories and new beginnings.
Copyright Sarah Corbett-Batson
Photos: Carl Byron Batson. Not to be reproduced without express prior permission.