[dropcap style="font-size:100px; color:#992211;"]T[/dropcap]ransatlantic, the Prog-with-a-capital-P supergroup made up from past and present members of Spock's Beard, Dream Theater, Marillion and The Flower Kings, don't do things by halves.
Not that such is the fashion nowadays, but you won't catch them releasing a live album as a single disk of edited highlights. Nothing less than a triple CD containing the full three and a half hour show will do.[quote]Even frontman Neal Morse makes
references to testing the audience's stamina
and bladder capacity after the opening 27-minute song[/quote]
Despite the unashamed self-indulgence of the music, it's difficult to attend a Transatlantic gig and not get caught up in the enthusiasm and exuberance of the band's performance. The band clearly enjoy every minute of their always lengthy sets. Recorded at a sold-out show in Tilburg in The Netherlands, this recording manages to capture some of that energy and excitement.
This is not a record for the faint of heart. Even frontman Neal Morse makes references to testing the audience's stamina and bladder capacity after the opening 27-minute song. Despite the lengthy tracks, with several songs of well over 20 minutes and two passing the 30 minute mark, Transatlantic don't really do jams with extended soloing. This is uncompromising symphonic prog, all swirling cinematic soundscapes, soaring melodies and stately instrumental passages.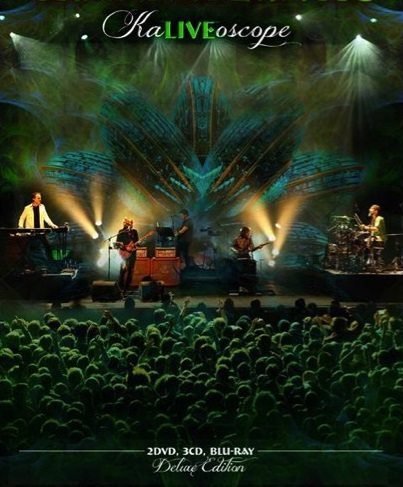 "Into The Blue" and "Kaleidoscope", the two epics from their most recent album are both present, though their even longer opus "The Whirlwind" has to be cut back to a 30 minute medley of highlights. Even in three hours it's not quite possible to include everything.
But it's not all bladder-busting epics, and some of the standouts are actually the shorter songs. The raw stripped-back ballad "Beyond the Sun" is a gem, and "Black As The Sky" sees them rock out with a great propulsive bass riff from Pete Trewavas. There's also an acoustic instrumental improvisation from Roine Stolt and Neal Morse featuring a brief burst of Hendrix.
The encores include several covers; a superb take on The Moody Blues "Nights in White Satin", and playful runs through Focus' classic hits "Sylvia" and "Hocus Pocus" complete with yodelling and a guest appearance from Thijs Van Leer, performed with more enthusiasm and energy that you often get from Focus nowadays.
As every live album ought to do, this album captures what it must have been like to have been there that night in Tilburg, they've also left in all the stage banter between the songs, which adds to the experience. The sound quality is excellent, and if the performance is occasionally a little rough around the edges, it more than makes up for it in intensity.
For all the fabled self-indulgence of their sprawling studio albums, this recording gives a taste of just why Transatlantic are held in such high regard as a live act.
[button link="http://www.transatlanticweb.com/" newwindow="yes"] Transatlantic[/button]