1. Arthur Jermyn is a short story by H.P. Lovecraft dealing with the hero's terrifying discovery that his father had sex with a gorilla, and that he himself is the result of this unusual crime against nature.
2.Crash Corrigan, the blunt faced stuntman and star of the 1930's chapter serial Undersea Kingdom, was always first choice for movie producers seeking a realistic ape in thrillers/horrors and broad comedies. He co-starred with luminaries such as Boris Karloff and Laurel and Hardy, wearing the hairy suit with pride in movies such as Ape!, Gorilla! and numerous Tarzan films.
3.Lord Greystoke himself was famously raised by apes. In the Tarzan series of films he was always accompanied by the mischievous chimp Cheetah, whose posthumous autobiography Me Cheetah from Fourth Estate Publishing is a delicious read.
4.The 'locked room' mystery Murders of the Rue Morgue by Edgar Allen Poe features a trained Gorilla whose handler commands him to climb down chimneys in order to commit a series of gruesome murders.
5.The well known blonde-fondler King Kong was originally brought to the screen by stop-motion expert Ray Harryhausen. Not only was KK the first non human to star in a feature length live-action film, but his detailed accompanying music, composed by Max Steiner, is considered to be the first true movie score.
6.Elton John's album track 'Song for Guy' about London Zoo's famously morose captive ape was later re-worked and re-titled 'Song for Diana' as a mawkish tribute to the late Diana Spencer.
7.The superb Hollywood composer Howard Shore was fired from the dreary 2005 remake of King Kong and replaced by Harry Gregson Williams. In recent years many talented composers have been fired from expensive flops, as someone must suffer, and it's too late to fire the Director.
8.Gorrilla Grodd has been, for many years, a recurring nemesis for DC comics' The Flash. This brilliant ape with a highly evolved brain rules a hidden futuristic city somewhere in the African jungle.
9.Jerry Goldsmith composed a 12 tone scale masterpiece for the original version of Planet of the Apes utilising orchestra and exotically-tuned percussion to chilling effect. The Oscar-winning prosthetics created for the film allowed name actors such as Kim Hunter, Roddy McDowell and John Huston a range of facial expressions previously denied to the aforementioned Crash Corrigan.
10.Rowan Atkinson's breakthrough role was as Gerald the Gorrilla in the BBC comedy series Not the 9 O'Clock News.

10. The Kinks scored a novelty hit with their, presumably ironic, 'I am an Ape Man'. Mr. Davies' dubious lyrics and use of a Caribbean-style musical setting push the song close to the edge of racial sensitivity.
11. The Marx Brothers film Monkey Business contains no monkeys at all, but does feature an hysterical routine involving peanuts.
All of these thoughts, and more, surged through my head as I watched hundreds of participants in customised ape suits set off on The Great Gorilla Run under a crisp blue September sky. This annual event raises money for conservation and 'biodiversity' projects in Africa.
Having known a few extremely affluent charity workers I am always dubious about how much cash actually makes it through to the hard end of the 'good cause' pipeline. What is not in doubt is how much pleasure this 7km lope across Tower Bridge brings to both participants and spectators alike.
Great Gorilla Run 2011 from Delete on Vimeo.
The apes whooped, hollered, screeched and banged their chests along the route. Tourists and passers-by cheered, took pictures, laughed out loud and applauded the gaudily-costumed runners. There were Viking apes, numerous grass skirts, Polo players, cricketers and even a large ape with a tiny dog on a lead.
Around 400 men women and children paid £80 a head to participate. The suits are supplied by the organisers and you get to keep them for fancy dress parties and stylised bedroom entertainment.
Highly recommended
STOP PRESS: Just after finishing this post I discovered that the latest Rolling Stones compilation is entitled GRRR! It is being promoted by a shot of a huge gorilla hanging from Big Ben.
Happy fiftieth birthday boys
[button link="http://www.greatgorillarun.org/" newwindow="yes"] Great Gorilla Run[/button]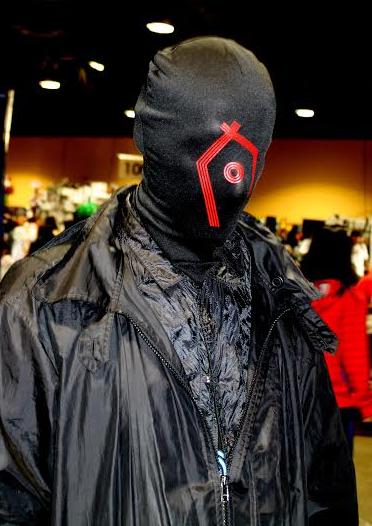 Having completed principal photography on phase one of the Sharks revival SWP is now preparing to edit the One Last Thrill feature documentary. Sharks themselves are 'dropping a big one' by releasing a double album Dark Beatles/White Temptations in April 2018.
In his spare time the author kayaks the muddy river Ouse and walks the South Downs which gently enfold his home town of Lewes.