[dropcap style="font-size:100px; color:#992211;"]W[/dropcap]hile there are probably plenty of rock musicians who would rather not work with an Axl Rose, a Tarja or a Mark E Smith, fully instrumental rock bands rock bands remain comparatively rare.
Even those artists known for instrumental virtuosity and extended jams tend to incorporate at least some vocals into their music. Which makes London four-piece The Fierce and The Dead one of a rare breed.
After the successful "Stabbing a Dead Horse" tour with Trojan Horse and Knifeworld at the end of 2012, the band have now recorded their second full-length album Spooky Action.
From the opener "Part 4" onwards, one thing soon becomes clear; this is an album of instrumental compositions rather than a showcase for instrumental chops. Most of the eleven tracks clock in at no more than three or four minutes yet seem to pack in a lot of music in a short time. Despite the lack of vocals the tracks feel closer to songs that to most bands' typical token instrumental numbers.
There's little in the way of conventional soloing; the guitar lines vary between repeating circular patterns and thrashing riffs, with the occasional ambient interlude. There are times where the music centres on a massive dirty-sounding bass riff as around which the twin guitars orbit.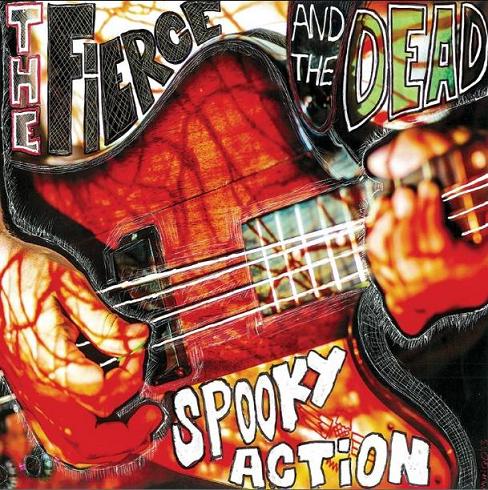 In other places it feels like Matt Stevens' solo work writ large, arranged for a full electric band rather than looped acoustic guitar, but there are all kinds of other things in there.
The interlocking guitars of Matt Stevens and Steve Cleaton sometimes recall the mid-70s and early 80s incarnations of King Crimson. The rhythm section of Kevin Feazey and Stuart Marshall often evokes a punky feel, compounded by a raw and live-sounding production that gives the whole thing a lot of energy.
Although few punk bands ever attempted the sort of time signatures found on this record.
This is not an easy record to categorise. There are elements of progressive rock, post-punk, indie/alternative and metal in the music, resulting in a record that is both all of those things and none of them. But this a record that has feet in many camps, rather than one that risks falling between stools.
If you're looking for genuinely adventurous music that's not willing to conform to the conventions or clichés of any one genre, then Spooky Action is a record that's well worth paying some attention to.
[button link="http://www.fierceandthedead.com/" newwindow="yes"] The Fierce and the Dead[/button]