[dropcap style="font-size:100px;color:#992211;"]A[/dropcap]rts Council Collection's new touring exhibition, The Printed Line, showcases the work of nearly 60 artists who have used a variety of printmaking techniques to exploit the potential of the printed line, from the thick velvety line of drypoint and the heavy cross-hatching of etching to delicate wood engraving and boldly coloured screen prints. The use of colour will be explored in screen prints by Bridget Riley and Kenneth Martin, as well as Simon Patterson's witty lithograph, which reworks the lines of the London tube map.
Included in this exhibition is Henri Matisse's Le Grand Bois, the largest and most important of four woodcuts which he made in 1906-07 and was one of the three Fauve woodcuts shown at Matisse's second solo exhibition in 1906. Le Grand Bois, based on a preparatory brush and ink study, illustrates Matisse's interest in an expressive counterpoint of ornamental patterns resulting from the use of a variety of brushstrokes.
While at the Royal College of Art, David Hockney discovered the poems of the Greek poet Cavafy (1863-1933). He admired them for their clear language and matter-of-fact way of talking about homosexuality. From this he created fourteen etchings which portrayed the visual interpretation of the mood and sensuality of the verse. The work included in this exhibition is based on a photograph of Hockney's friends, the artists Mo McDermott and Dale Chisman. The striking bed cover was created using aquatint, an etching process that gives areas of softer tone to an image.
The Vollard Suite is one of Pablo Picasso's most important series of prints. It comprises 100 works produced between 1930 and 1937 at a critical time in Picasso's career, and also when he was involved in a passionate affair with his muse and model Marie-Thérèse Walter, whose classical features are a recurrent presence in the series. Included in this exhibition is the drypoint Two Women Resting; the classical linearity and repose in this work alternate with the darker, more violent prints in the series.
Bridget Riley's Firebird, featured in this exhibition, is her first print to use colour and reflects the new developments in her painting at the time. Vertical twisting bars of red, blue and green are separated by equal areas of uncoloured space, generating a powerful optical array of imagined colours for the viewer.
Jill Constantine, director of the Arts Council Collection said: "The Arts Council Collection has an outstanding collection of prints which encompasses work by a number of international artists. Sometimes seen as a 'lesser' art form, this exhibition shows how wrong that assumption is and what an important part of many artist's practice printmaking remains. It is one of our most accessible art forms and we hope this exhibition will encourage people to take up printmaking and perhaps join one of the many courses or studios up and down the country."
The Printed Line opens at Torre Abbey Museum, Torquay, 6 April – 2 June 2019, then tours throughout the UK. For further information, visit the Arts Council Collection site here.
Featured image: Norman Stevens, Clapboard House with Fronds (set of 6 – edition of 50), 1972. Arts Council Collection, Southbank Centre, London © Norman Stevens R.A.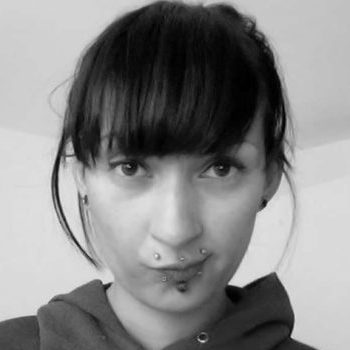 Naila Scargill is the publisher and editor of horror journal Exquisite Terror. Holding a broad editorial background, she has worked with an eclectic variety of content, ranging from film and the counterculture, to political news and finance.