[dropcap style="font-size:100px; color:#992211;"]A[/dropcap]s a writer and occasional reviewer of Things Blues, I've always been conscious that I am partaking in a Minority Sport.
I started young and like most addicts I never give up on the idea that, given time, we will Take Over the World.
I have written a good few times before about the nature of the Blues Broadchurch and how it comfortably embraces so many styles and shapes and sounds and – despite the occasional outburst from the definition and genre purists – it still manages to bring joy to thousands in the UK every day of the year. From major bands, (now sometimes with even four front line guitars!) to the gritty solo acoustic guitarist; from the soul shifting saxophone to those singers and song-writers who take you to another place – clubs, festivals and radio stations capture our ear and feed our habit. It is, quite frankly, Quite Big.
Yep. That sounds good and if you go and watch live music you may think that is not a bad situation for the blues and its offshoots. Actually, move outside the gig and it's terrible. It's almost invisible; it has no national presence; it has no national representatives; nobody speaks up for it. Give me a wall, and I will Bash My Head against it.
As I write, Country Music, for years the butt of unfunny jokes about broken Relationships, dead dogs and pick-up trucks, had just taken over Radio 2 for three days of 'Country 2 Country'. We are not talking here about American country imports, this is the UK Country Music scene. It has gathered a huge following, stages national events, packs out national awards and festivals, and not infrequently crosses over into the mainstream charts.
So, blues people, as Pete and Dud used to say – "Who do you turn to? Who do you get in touch with?" I dunno mate….
Well, your first port of call could possibly be the IBBA, The Independent Blues Broadcasters Association. At my last glance there were about 130 British Blues Radio stations operating at various times during the week. However, only 42 of them are members of the IBBA and of those only about half have any visible profile. Their first strap-line – on a less than exciting website – is 'Promoting blues radio across the UK and worldwide'.
Well that's a good start and certainly bands and tuned-in promoters know all about the active and informed radio presenters. These guys stick out a mile, run terrific programmes and would be out there doing it with or without the IBBA. Does this 'national' organisation mean anything to anybody outside the active few? Is it not amazing that only last month, years after the IBBA was established, some enterprising soul has finally set up a busy Facebook page for 'The Best of British Blues Broadcasters' where you can now see current radio show listings and posts from radio disc-jockeys across the country all in one place for access by a wider public?
But as well meaning as the IBBA may be, have the blues-going public ever heard of them? I doubt it. They pop up with a playlist once a month but generally their profile is so low you would need a very expensive Blues Detector to find them.
OK, where do we go next to run up the National Blues Flag? Unlike the IBBA, The British Blues Awards does have a public profile – er, but, only Once A Year. The BBA is run by a handful of dedicated and hard-working blues enthusiasts, with a zero budget and, against all the odds, they have managed to build up an annual event, which attracts tens of thousands of votes and not a little controversy with the yearly Blues Awards. Every year, I write a piece in support of this event, not least because of its tangible and very public encouragement to young, new and independent artists.
Despite the naysayers – those who would pick a fight in an empty awards room – the BB awards still carry kudos and are received with pride. They are very happily taken away after the photograph and appear prominently on every nominated artists' website and CV. Show me an award winner who thinks his or her award is valueless.
But, where is the BBA for the rest of the year? Despite all the work that goes in to it, this one off event last for barely an hour; is usually a bolt-on to a festival; attracts a very low attendance and then disappears for another year. If this is the national face of the blues, don't blink, you will miss it. Even the festival where it was held last year, didn't manage to send a representative to attend the event.
There are some national moments – of course there are. The unfairly reviled Paul Jones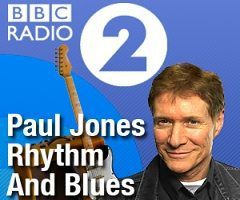 Radio show is world famous and yet still gets into trouble for not being seventeen hours long and including some favoured musicians. Similarly Jools Holland, himself no slouch in bluesology, can only find time to slot in the occasional national moment for blues fans. You will probably know of other rare national fleeting moments.
Then, a few years ago, some wily promoters finally came up with the notion of holding a London 'Blues Fest'. However, using a high-cost central London venue, this has meant inevitably that the event has to be commercially driven. In consequence, the connection between some of those on the major bill and the UK blues scene gets a bit stretched – to the other side of tenuous.
What has never been beyond dispute is that the UK blues world has some stupendous talent that should be playing both nationally and internationally. Those that do make it across the seas – east or west – do it on their own. Outside the MU there is no national help or guidance available. If they are lucky, they gather good people around them: smart and sassy PR people who are interested in them and their music; managers who want them to succeed because of their talent; people who can sort transport, venues, visas, food and somewhere to sleep. Not many gather the full house. One very successful musician said to me many years ago "I play guitar, I tend to forget what happens after that". That still happens and it has national repercussions.
I was listening to the much respected fast-talking blues DJ Dave Raven recently. He was talking about the huge Blues Foundation 'International Blues Challenge' which has just taken place in the USA. There were no British musicians at this major affair. Why? Not because we do not have dozens of worthy candidates. Simply because a band or soloist has to be nominated by a properly constituted 'affiliated and attributed blues society'.
The national British Blues scene does not have such a thing – there is no single body in the UK that can nominate an artist to compete in this event. There's a song in there somewhere – 'so no one goes and nobody knows'. I gather that some members of the IBBA have talked about the possibility of establishing such a body, that can seek out and support an artist for such a venture, but the questions of funding, organisation and above all, the will and determination to succeed are still pretty daunting to the faint-hearted.
The British blues festival and club scene is dynamic and organic. From Bristol to Newcastle, from Norfolk to Keighley, from Edinburgh to Ealing via Lincoln, Derby, Sutton, Richmond and Colne and dozens of other cracking clubs and venues, stuff happens because determined individuals make it happen. There is no pay. They work their socks off, they do it for their love of the music and for the undoubted pleasure it brings to others. Without them, and the too-few-to-number daft and dedicated radio DJs, some quite brilliant musicians would go unheard.
I like to hear people stand up for what they believe in. I also happen to quite like Dolly Parton. I think she is one smart cookie. So, let's listen to Dolly Parton putting up her verbal dukes on behalf of her music….
"If you talk bad about country music, it's like saying bad things about my Moma. Them's fighting words."
Who is standing up and fighting for the blues? Is it too much to ask that the British Blues Broadchurch got a national voice – so that the rest of the world can hear something we are pretty damn good at?