[dropcap style="font-size:100px; color:#992211;"]H[/dropcap]eart Space Studios is a lively and unusual gem in North Bristol with a variety of textile classes on offer.
Peyote stitch beaded jewellery, pincushion hearts and beautiful paper cut pictures are offered alongside weekend corset-making classes. Artists from Bristol and Bath lead these workshops and collaborate with the Studios on a variety of events or regular textile clubs, including a popular 'Knit & Stitch' club.
Janet Haigh, the founder of the Studios, ex-Senior Research Fellow at UWE, Bristol, was involved with developing textile techniques for vitreous enamel and other materials. She has also written various books on crazy patchwork and embroidery design, and likes to concentrate on drawing and stitching by hand. As a consequence the workshops are detailed and thorough, with a focus on good design.
Celebrating the arrival of spring, Heart Space Studios' current exhibition (until 7 April) is appropriately entitled 'Spring Love'. Supporting the making of meaningful things 'with hand, heart and eye' the exhibition puts an eclectic array of textile art on display, including fresh pastel coloured corsets and bold enamel hearts. Heart Space explores 'love' from many angles including making craft with love, and the love of materials and techniques.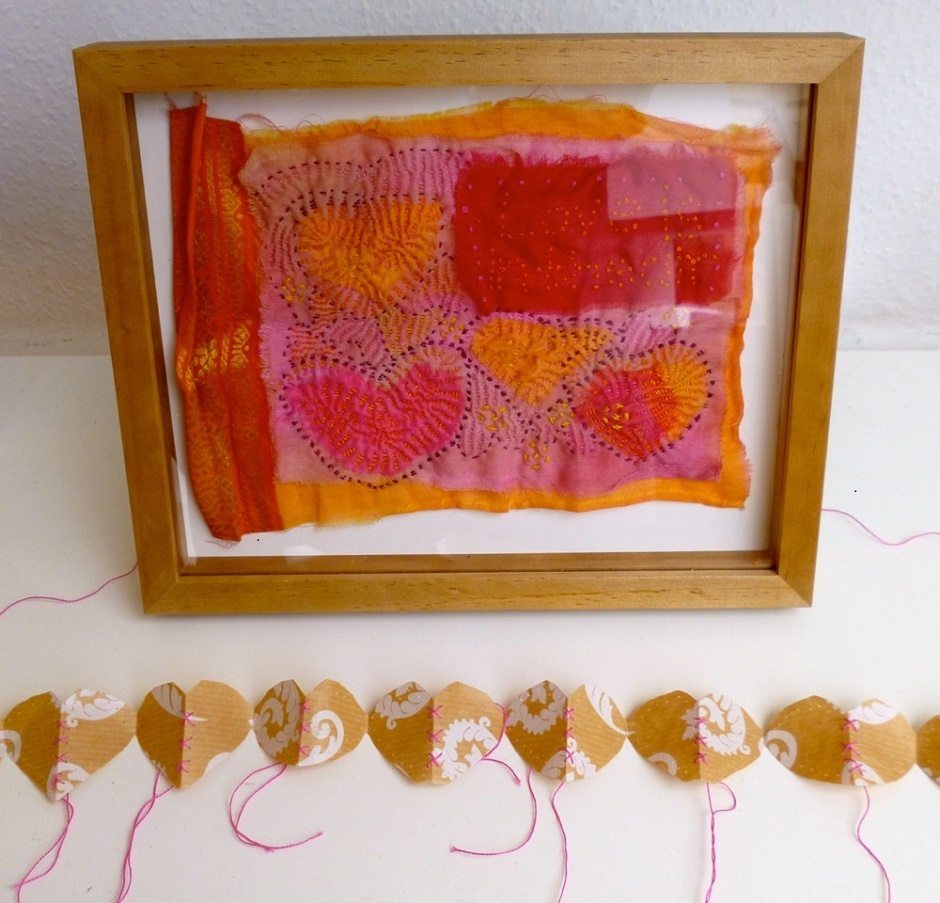 Susi Bancroft
The petite Kantha-stitched works by artist and tutor Susi Bancroft epitomise the idea, composed as they are of many tiny, labour-intensive hand stitches. There is also a suggestion of love of material because this running stitch creates rippling textured cloth surfaces and patterns. Kantha is a decorative quilting method and part of the rich heritage of Indian textile techniques.
'Love' is also drawn upon by a nod towards the many weddings taking place in spring. The highly intricate paper cut pictures by the young artist Sarah Dennis particularly capture this idea – and not only because one of them is called 'The Proposal'! This work also embraces the essence of Spring through its uplifting colour scheme and romantic subject matter. The pumpkins dancing round the sides of this paper cut add an element of the Cinderella fairytale.
Lisa Keating's corsets, with their flirty and fun embroidered details also echo the theme of spring weddings.
Exhibition detail, with Lisa Keating corset in foreground
There are, of course, many hearts on display too. Mixed media brooches in the shape of hearts by artist Debby Bird abound. Each one has been embroidered with free machine stitching, creating little cameos or liberating lines of shimmering thread. The highly decorated pincushion hearts also on show complement her work. These pincushions were made by several of Heart Space's artists and by Janet Haigh herself. They are modern transformations of Victorian pincushion hearts, which sailors and soldiers often made for their loved ones.
Haigh also has some of her textile and enamel work in this exhibition, which similarly draws upon traditions in terms of both themes and techniques. Each of her six fairly large pieces has a narrative threading through it, as well as a bold red colour scheme.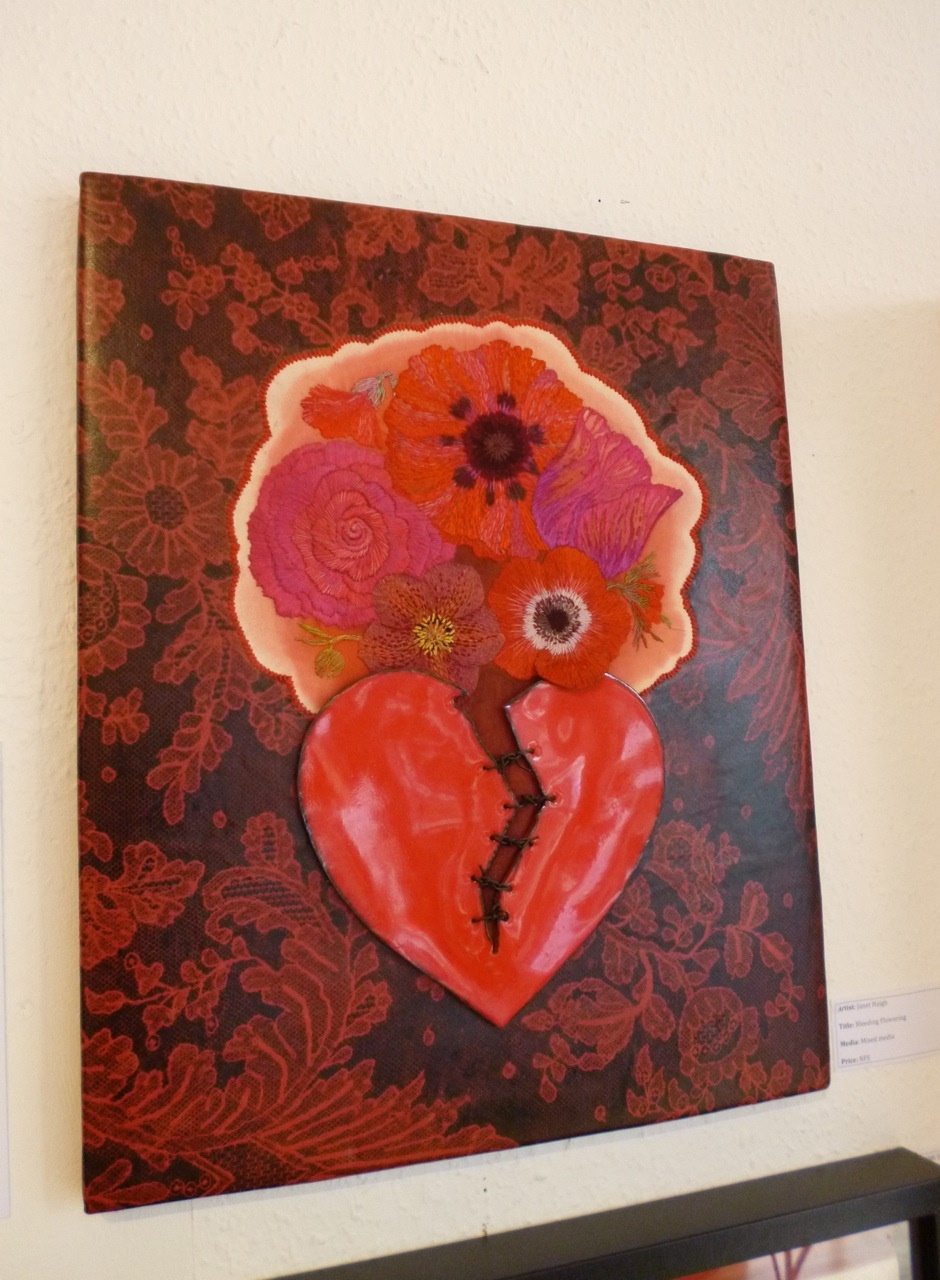 Janet Haigh
'Love' in a much more abstract sense is embodied by Ilsa Fatt's organic beaded necklaces. Ilsa made her jewellery with two themes in mind: the love of spring and the love of water. Both themes are celebratory and look towards life-giving sources or new life. The pendant hearts on the necklaces comprise of handmade glass with delicate floating forms of flowers and sea life inside them. An intricate beadwork fringe and a ribbon yarn strap set off each of the hearts.
Overall, this small exhibition has much to offer. It provides an insight into the great diversity of textiles and the variety of techniques this art form demands.
Intricately crafted, 'Spring Love' will inspire and delight, as well as adding to the celebration of – and craze for – textiles and stitching, which has been re-created by the latest whirlwind of The Great British Sewing Bee.
[button link="http://www.heartspacestudios.co.uk " newwindow="yes"] Heart Space Studios Homepage[/button] [button link="https://twitter.com/heartspacebrist" newwindow="yes"] Heart Space Twitter[/button]

Helen is an independent art critic and curator with an MA in The History of Art from UCL. Her research interests include nineteenth-century French art and ephemeral objects, Rodin's sculpture and his developments in photography, and contemporary studio craft. She also keeps a blog – helencobby.wordpress.com and a Twitter account: @HelenCobby