[dropcap style="font-size:100px; color:#992211;"]A[/dropcap] finale amongst many, Swans have called it quits many times before.
This time it comes at a peak where they could easily have continued. Michael Gira is calling time time on a lineup that has produced seminal albums that are already affecting many listeners. The Swans and Gira will continue, however not in this particular incarnation.
As such, this conglomerate of inestimable talent's final concert (at the Roundhouse) burned as brightly as could be hoped. A booming set from one of the great bands of our era.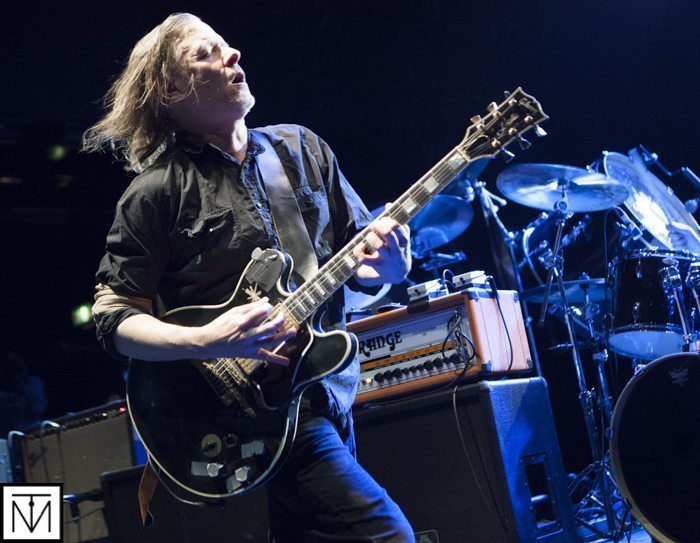 Without unearned hyperbole, a Swans gig is beyond the normal confines of a rock concert. Using repetition and harmonic volume with the added vigour of Michael Gira's shamanistic and electric vocal delivery, a Swans concert is an evangelical musical experience.
Gira cajoles the audience with lyrics ranging from absurd to sarcastic, life affirming and heartworn. However, it's his delivery that captures the most fevered imagination. It's often nasty, dirty stuff: abrasive, snarling and vicious, but within those rusty edges there is an imposing beauty that reveals itself over time.
Swans may have built a career on noise, anger and power, but they've managed to not only investigate beauty but to enhance our appreciation of it. Choral overtones ring out in the repetition of jarring chords. Sonically continual loud noise builds a pressure where such harmonics became increasingly evident. While it could be argued that this wasn't the greatest Swans show London has seen in recent years, there is something so unique, powerful and urgent about this band that this farewell show was in its own right monumental, breathtaking and radical.
There is some expectation that the next Swans incarnation will not follow this level of musicianship and intensity. However, as with everything Gira touches, there will always be insistent soul raging amongst the noise, dust and disaster.
Setlist
1. The Knot
2. Screen Shot
3. Cloud of Unknowing
4. The Man Who Refused to Be Unhappy
5. The Glowing Man
May 27th 2017, Roundhouse London.
Support: Thurston Moore, Little Annie
Image by Kailas. Not to be reproduced without express prior permission. Depicts earlier performance.