[dropcap style="font-size:100px; color:#992211;"]A[/dropcap]rchitectural design, the good stuff, has the power to improve lives.
We spend our time in built spaces, should we not demand that they not only be safe and healthy, but also inspiring, meaningful and fit not only for the purpose of existing, but for living?
Coetzee Steyn of London's Steyn Studios is clear on the point that architecture has a remit that goes beyond creating what is, at any given point in time, considered merely beautiful. Architecture has a two-way relationship with the user, demanding engagement as well as, hopefully, offering it. It takes time, deliberation and a firm relationship with the immediate environment in which it stands.
Bespoke answers to questions which change with every project. Trebuchet puts some questions his way.
---
Can you describe the first moment architecture captured your imagination?
I can't recall a defining moment, however I can strongly recall the first time I actively engaged with the concept of architecture which must have been when I was around five years old. I spent my 'formation years' growing up on a farm, and apart from playing cars, building miniature dirt roads, dams and farm in the soil, etc.,  I remember this 'structure' of stacked timber pallets. The random way in which it was stacked exposed a crevice which lead to a larger chamber which was opening to the sky. It was quite a magical place and I adapted into some sort of temporary den until it was dismantled for use in harvesting. It awakened almost all my senses, which I can still remember to this day.
How do you judge great architecture?
Sometime the greatest architectures happens through the smallest things which directly influences the betterment of man. However if you are talking in the conventional 'Taj Mahal' sense… for me it is architecture which asks you to engage with it, sometimes emotionally. Makes you wonder or makes you awe. At the same time which then have tectonic purpose and sensibility. Clarity too. I'm not a big fan of 'random' ness. There needs to be a reason, and whether this reason(s) is obvious or revealed, eventually the answer needs to be clear and readable to the reader, not necessarily to someone else.
Some architects consider light as an intrinsic material in their designs is this the case in your work?
Light shapes space, your experience, as well as perception of it. One only has to look at the way the appearance of a mountain changes as the sun moves over it; with the shadows and colour bringing out different features of it. This is quite evident in the Bosjes Chapel (right).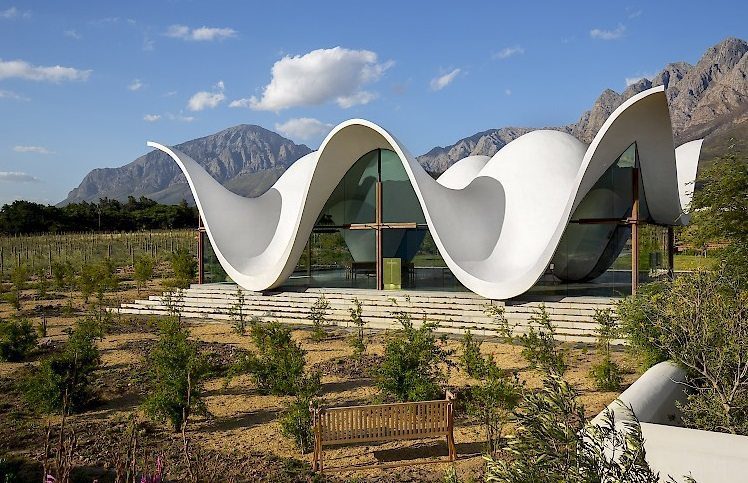 What do you still adhere to from your time studying architecture, and what have you rejected?
Hmmm. You are carving into my deep consciousness. The things I've held onto is to always have a strong concept or narrative to string your idea together in all aspects. For me the magic number three in everything, in terms of primary finishes pallets, proportions, etc.
….
The full version of this interview will appear in the printed edition of Trebuchet Magazine available to pre-order here.

Sean Keenan used to write. Now he edits, and gets very annoyed about the word 'ethereal'. Likely to bite anyone using the form 'I'm loving….'. Don't start him on the misuse of three-dot ellipses.
Divides his time between mid-Spain and South-West France, like one of those bucktoothed, fur-clad minor-aristocracy ogresses you see in Hello magazine, only without the naff chandeliers.
Twitter: @seaninspain