[dropcap style="font-size:100px; color:#992211;"]S[/dropcap]teve Rothery's distinctive guitar work has always been Marillion's secret weapon right from the very early days of the band.
With a less-is-more approach that doesn't believe in wasting notes and an evocative tone, it's his playing that's been the cornerstone of their sound for more than thirty years.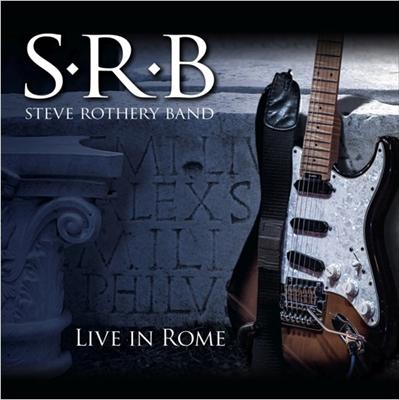 Rothery's previous side-project was the collaboration with vocalist Hannah Stobart, The Wishing Tree, resulting in two semi-acoustic albums with an ethereal All About Eve vibe about them. The Steve Rothery Band is something altogether different. With fellow-guitarist Dave Foster (Mr So and So) and a rhythm section of bassist Yatim Halimi (Panic Room) and drummer Leon Parr, it's a guitar-led rock instrumental project.
The whole thing began life with Rothery's appearance at a guitar festival in Poland, documented in the earlier Live in Plovdiv, which in turn led to a successful Kickstarter project for an album The Ghosts of Pripyat, due in September.
Live in Rome records the band's second live appearance, and presents an intriguing snapshot of the work in progress on the album. Instrumental guitar music can bring back memories of those 1980s shred-metal albums released on Mike Varney's shrapnel records, but this record has little in common with those. Rothery's playing has always been about melody and textures rather than technical showing off, and the first half of this record is Steve Rothery doing exactly what he does best, backed by an excellent supporting cast.
Many of the instrumental pieces follow a similar form; a slow-burning opening that gradually builds in intensity over ten minutes or more. They're neither overly rigid compositions nor loose unstructured jams, but manage to hit the sweet spot between the two, and despite being tight there's a raw intensity to the playing from the whole band. It feels like the gig must have been something very special to have been present at. This is far, far more than just an hour's worth of guitar solos.
The second disk sees the band joined by vocalists Manuela Milanese and Alessandro Carmassi plus keyboard player Riccardo Romano for a run through some highlights from the Marillion back catalogue, featuring the likes of "Easter", "Sugar Mice" and even the very early B-side "Cinderella Search". They're close to the originals instrumentally, completely with Rothery's magnificent solos, but with some interestingly different takes on the vocals.
As a taster for the forthcoming studio album and as a recording in its own right this is an excellent record, and it will be very interesting to hear how these live takes of the songs compare with the finished results in the studio.
Available from August 25th at Inside Out Music.
[button link="http://www.insideoutshop.de/Item/Steve_Rothery_Band_-_Live_In_Rome_-2CD_-_DVD_Digipak-/15988″] Inside Out Music[/button]