Symphonic electronica and beguiling voices – 'I'm on Fire' feeds the spirit.
There really is a lot of range on this five-track EP. Hell, there's more range in each one of the songs than on many albums. There's Chris James' Manics-esque vocal on 'Blue Fire' playing straightman to Amenta's witchy cross-pollination of Kate Bush and Erykah Badu; there are the huge, gaunt sonic assaults of the title track; the blistering epic drama of the Blue Daisy Flammable mix of the same song; and the tight, spare, scalpel-sharpness of piano, voice and string quartet on 'Bloodstream'. And there's not a single stinker in the EP, not one.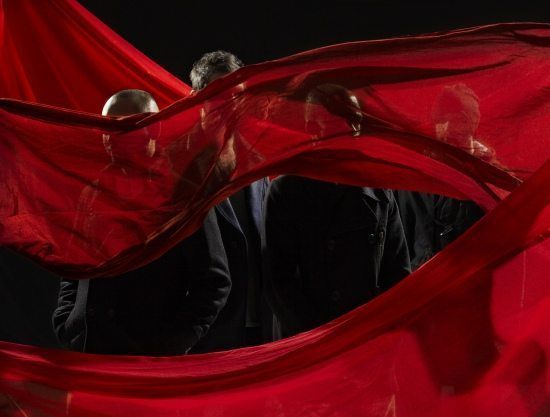 'I'm on Fire' starts out as a depression-era waltz, yearning and poignant, proving that it is possible to evoke that mood without having to add yet another cover version of 'Somewhere Over the Rainbow' to the ever-growing pile. The vocals are a little syrupy at the outset, particularly where both vocalists sing simultaneously. However, this is merely the first scene – the song builds and warps through two or three more movements to end in a huge and cinematic set-piece. The crescendo is a sonic build of contemporary electronica voices, piling on dram and movement without ever overpowering the song. Great panoramas of sound build and throb with the same orchestral dynamic that we're all used to hearing on the soundtracks of cinematic epics. Shara Worden's vocals rise and rise in intensity, Chris James counters them with brooding solidity. Is this vocabulary verging a little towards the erotic? The music certainly is.
The throbbing, lush sensuality of the original is echoed in the Blue Daisy Flammable mix. At last, here is a fitting use for all those post-dubstep techniques and tropes which have been looking for a valid artistic framework away from the dancefloor. Echoed, accentuated and made deliciously dirty, the original is made even more epic with the layering-on of heroin-fuzzy feedback, reverb, liquid basslines, arrhythmic textures and whomping compressed bass-bombs. If the original is art-house, this is pure porn. Breathtaking.
Slugabed's remix is, as should be expected from Slugabed, a bass-heavy electro rework. A pounding, percussive floor is embellished with glassy synth chords, skittering high-hat beats and modulated vocal samples. Worden's climactic alto phrasing of the title phrase is left unchanged though, which displays a fitting restraint from the remixer – the original phrase is clean, clear and needs no trickery.
'Blue Fire' is another male/female duet, this time featuring the Toronto-based Amenta in the female role. A comparatively simple song structure set above some vaguely tribal beats, the production is bold and lavish – bringing Propaganda-era ZTT to mind.
Finishing the EP though, is the remarkable lovesong, 'Bloodstream'. The song is not a new one, having been released previously in 2006 and featuring in the soundtrack of the Vampire Diaries series. This Daniel Keane-produced version features a well-drilled string quartet and piano swapping between sparse clarity and multi-layered complexity.
I think I might have inhaled you
I can feel you behind my eyes
You've gotten into my bloodstream
I can feel you flowing in me
There is genuine virtuosity to be heard here, not the more usual and predictable trait of having the strings simply harmonise the main melody. Of particular note is the interplay between violin and Chris James' own supporting vocal on the final crescendo: both elements complementary without simply echoing each other. It's so deftly done that it would be very easy to miss it in the general effect, but this is detailed composition, with each instrument bringing a voice of its own to the piece. Very beautiful indeed.
Stateless play the Union Chapel, London on Friday 16th September, alongside the Balanescu Quartet.
Stateless – I'm on Fire EP out now on Ninja Tune.

Sean Keenan used to write. Now he edits, and gets very annoyed about the word 'ethereal'. Likely to bite anyone using the form 'I'm loving….'. Don't start him on the misuse of three-dot ellipses.
Divides his time between mid-Spain and South-West France, like one of those bucktoothed, fur-clad minor-aristocracy ogresses you see in Hello magazine, only without the naff chandeliers.
Twitter: @seaninspain