An alt-indie group seems like a pretty unlikely choice for the Ninja Tune roster but with their talent for structured orchestration you wonder why Spokes weren't snapped up sooner.
Since winning the Amazing Tunes Sound08 Unsigned Act in 2008, things have moved at a steady pace for this Preston born five piece, culminating in the release of an LP 'People Like People Like You in 2009 and We Can Make It Out in 2010. Their debut album Everyone I Ever Met offers a much needed alternative to all the various derivations of 'core' associated with the bass heavy sound we're all listening to. It is refreshing to come across some well thought out soft music, dare I say 'softcore'. Spokes however, are not a band resigned to fit into one musical genre or to claim originality, instead they effortlessly float from folk, post rock, indie and provide some light relief with some well produced and intelligent music. You get the feeling with Spokes that they have done all the hard work and now you, their favoured listener, can sit back with a guilty expression as you enjoy the fruits of their talent.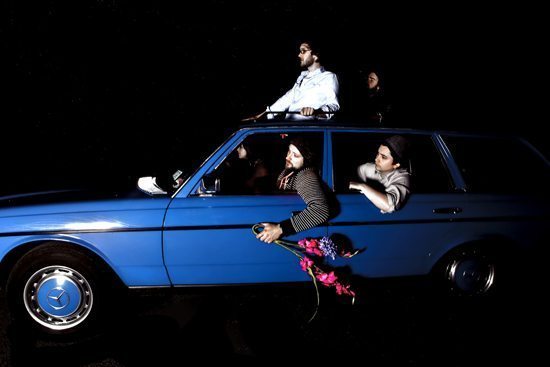 3, 4, 5 is the first single released from their new album and showcases the band's capabilities. It starts stripped and wistful, with vague lyrics keeping your attention fixed on the folk, creating and holding a cloying intimacy with the listener. Lasting a long minute this quiet entrance demands our patience but shows their confidence in the genre.
Overall, the single sits at a high tempo with a lot of top hats and crashing cymbals. These are reworked with some force on the remix by Hiatus (my favourite) who adds some heavy bass giving the track some extra gravity. The inevitable crescendo is well placed and builds up to an ecstatic release with sweet violins and guitar, orchestrated together with crushing style. In the background a low voice can be heard screaming the lyrics and is a subtle addition to the choral section in the latter part of the song which adds a rock edge to the initially lilting single.

As these sounds come together you soon realise you're lost in the world of Spokes, where normally conflicting sounds sit peacefully aligned. This accumulation of instruments sets them apart from the standard indie band and you're excited at the thought of seeing them live. The five active heads that make up Spokes obviously benefit from each other and their music expresses this harmony.
Spokes cite Keiran Hebden (Four Tet) as one of their influences and sonically they offer the same highly textured and layered sound which makes the listener feel there is more than one track going on at a time. This mild but organised chaos may sound potentially opposing and fraught with decadence and excess but listening to how they fit things together you're struck by how effortless they make it seem. The Spokes are on a fairyland journey and I'm happy to be taken on this musical journey with them.
3, 4, 5 is being released on Ninja Tune/Counter Records on 18th April.
3, 4, 5 from the album Everyone I Ever Met.
Spokes are next playing at O2 academy in Oxford 29th April.
Their next London date is on 3rd May in the intimate venue which is the Hoxton Bar and Kitchen.
The aim of art is to represent not the outward appearance of things, but their inward significance. – Aristotle