Can Slugabed's quirky beats and basslines inject new life into pre-packed dancefloor anthem hooks? Perhaps.
Slugabed's Moonbeam Rider EP comes from the mind of a musician who has spent a lot of time getting people onto dancefloors. Certainly, it is replete with the squeaks, warbles and compression tricks that now seem compulsory fare in progressive dance/electronica, but beneath everything, there are basslines and grooves providing a rhythmic foundation to the music that can only really be learned after spending a lot of time in dj booths filling (and clearing) dancefloors. That movement in the music – that squelchy, propulsive, filtered bass – rescues the EP from being the vanity project of yet another dj with a laptop believing that Music 2.0 has removed all the gatekeepers, and that all that stands between him and world domination is a Facebook campaign and a premium Soundcloud account.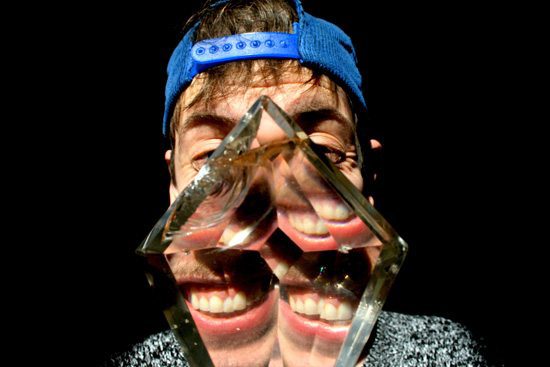 Slugabed's Greg Feldwick is certainly more experienced and adept a musician than the hordes of kids splicing together mixtapes on Garageband, but is not without flaws either. The title track 'Moonbeam Rider' bumbles along with an irritating asiatic flute motif recurring throughout, which, whilst giving the track something of a melodic hook to recognize it by, really does very little to enhance the experience. Dancefloor-destined tracks depend upon repetition of key musical phrases, often sampled, usually floating around the top end of the track's dynamic range.
The beats and basslines keep everyone moving, the shrieking lady feeds the euphoria. Tried and trusted, but it hasn't been new since Pink Floyd released 'The Great Gig in the Sky' in 1973. No points docked for adhering to a musical form, but innovation should come from bona fide musical elements, not from toying with a dropdown menu of sonic effects. At times (specifically during 'My Sense of Smell Comes and Goes') the EP brings to mind those 1980s episodes of Tomorrow's World where Maggie Philbin is suitably awed by new Japanese synthesizers in a 'Golly! It can even do helicopter sounds!' way. Beyond the beats and b-lines, the rest often seems overcluttered and clings too tightly to the tropes of previous decades' dance music.
'Heck Flex' wanders dangerously into Laurent Garnier territory on its harmonic motif, sounding worryingly like an advert for an Ibiza Trance Anthems compilation until a quirky Caribbean bassline and high-hat scatter rescues the track from the 1990s. Does 'trancehall' exist yet? Sure it does, this might even be an example. The sonic equivalent of a White Dove chased down with a bottle of Red Stripe, and, to be fair, damned good fun.

On 'Tomorrow Morning' it becomes apparent that it is in those aforementioned production effects that Slugabed has something original to express. Initially, the track comes across as an ill-advised mashup of Leftfield, Enigma and Vangelis, but the cutting, glitching, compression and whomping bass do, on this occasion, bring an urgency to the track that is more than a mere exhibition of software presets.
'Nu Krak Swing' closes the EP on a completely different vibe, going all 80s funk, and with a keyboard solo reminiscent of Steve Winwood's 'Valerie' (nobody mention Eric Prydz or the whole thing's blown). It's clunky, catchy and a little bit cheesy. And there's the rub, because it would be great on a dancefloor. The same goes for the rest of the EP. What sounds a bit hackneyed on headphones in an office can often turn a dancefloor into a writhing pulse of bodies, despite the sneering cries of 'cheese' from the cool people. The EP's basslines are perfect. The beats are pristine too. Fans of Flying Lotus or Teebs will doubtless find all kinds of wonderful high-hat patterns in 'Moonbeam Rider' and 'Tomorrow Morning'. It's not something to put on a hi-fi and be inspired to insights of great cultural and philosophical worth, it's for filling dancefloors with blissed-up kids. Fit for purpose.

Slugabed's Moonbeam Rider EP is released on Ninja Tune June 6th.


Sean Keenan used to write. Now he edits, and gets very annoyed about the word 'ethereal'. Likely to bite anyone using the form 'I'm loving….'. Don't start him on the misuse of three-dot ellipses.
Divides his time between mid-Spain and South-West France, like one of those bucktoothed, fur-clad minor-aristocracy ogresses you see in Hello magazine, only without the naff chandeliers.
Twitter: @seaninspain