[dropcap style="font-size:100px; color:#992211;"]I[/dropcap]t's easy to forget how far we've come since Skunk Anansie burst onto the indie scene in the mid 1990s.
The age of consent was still unequal; gay marriage and adoption were beyond the imagination of many. While of course there is still work to do, these days nobody raises an eyebrow when a bearded lady wins Eurovision and a boxing promoter changes gender. Back then many of the check shirted, floppy fringed indie boys weren't quite sure how to take a statuesque beautiful black lesbian with opinions.
Frontwoman Skin was a role model not just to young woman questioning their sexuality but also to anyone who didn't fit the mold of a Britain as bland as then Prime Minister, John Major. A nation where late night youth television told teenagers that female rebellion could be reduced to out-drinking, rather than out-thinking, the lads.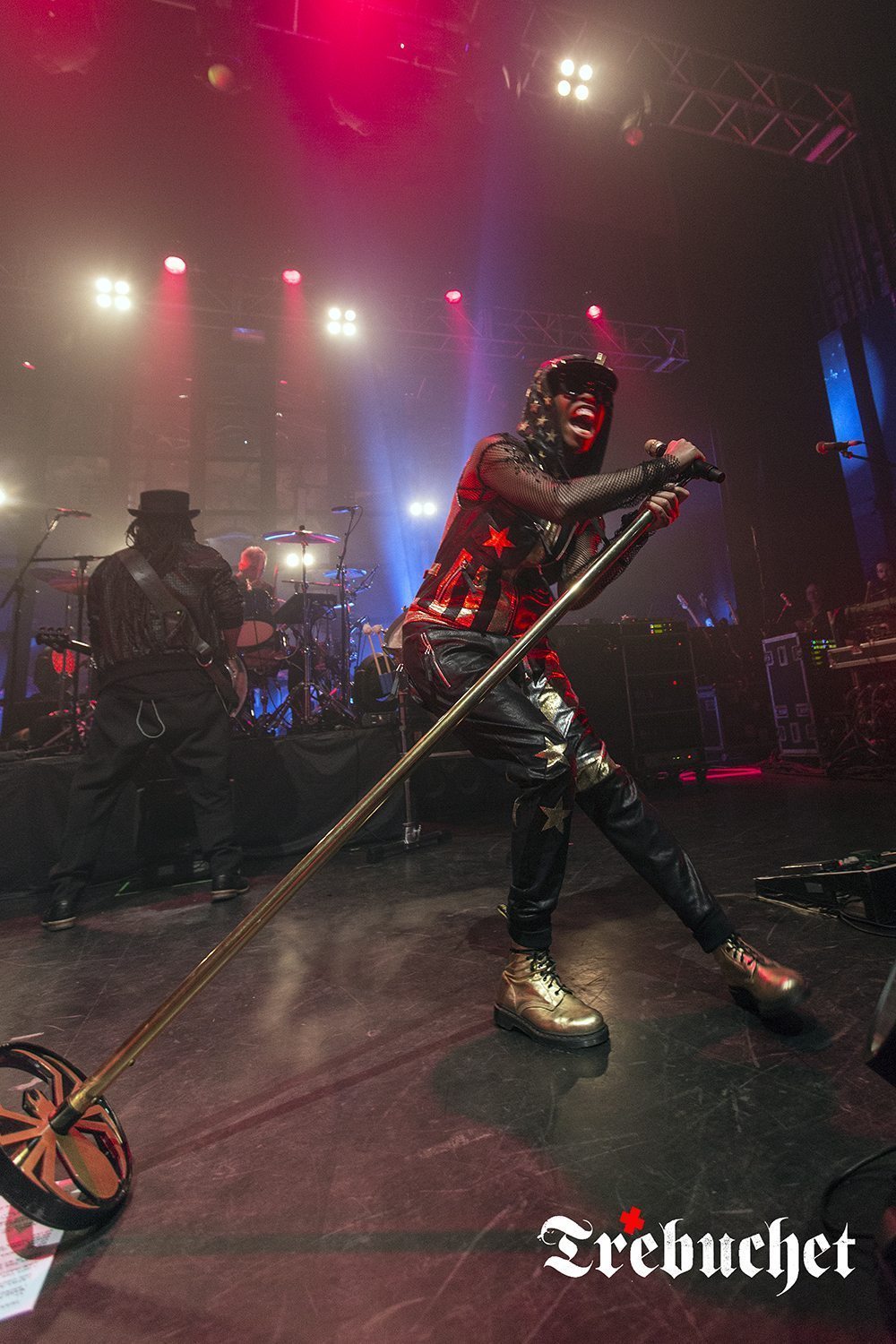 Standing out from the crowd was a double edged sword to the band then – initially they grabbed NME column inches and ratcheted up the record sales but ultimately were a step too far for the football shirted masses. A point not lost on a band with a track titled, It Takes Blood And Guts To Be This Cool But I'm Still Just a Cliché. Maybe the world wasn't ready for them yet.
But far more than a nod to diversity or a novelty act, there are two facets to vocalist, Skin that make her more of a national treasure than Terry Wogan. Firstly, she can sing – really sing. She can carry off fronting a hard rocking chugging band with the sweetest, most angelic vocals that soar over throbbing chords as if it were the most natural thing in the world.
Secondly, she possesses a stage presence and unstoppable energy which time has done nothing to diminish. You have to feel for the rest of the band – they could be playing the gig of their lives but all eyes are on Skin. She forces you to watch her; all eyes follow her every move as she bounds around the stage for the rock numbers and melts into the microphone for the ballads.
Still a showstopper, she takes the stage with her model looks shrouded in a star-studded designer hooded outfit and baseball cap but nevertheless instantly connects with the faithful, and a not insubstantial number of younger faces, at this long sold-out London homecoming.
Tracks from the new album, Anarchytecture had a diversity that showcased her inimitable vocal flexibility. From clubby dance number, Love Someone Else to emotional slush fest, Death to the Lovers, the range of styles was proof if proof were needed that Skunk Anansie were far more than last century Britrock.
However it was the old favourites that really raised the roof. As the opening lines of Weak floated across The Forum, mouths were open in song and arms were aloft. The track epitomises classic first album Skunk Anansie – rock guitars and pounding drums combined with vocals and lyrics that are at once vulnerable, defiant, provocative and questioning. Like a latter day Messiah, she strode across these outstretched palms into the throng before falling back in a straight line without a glance behind her, confident that her sea of followers would be ready to catch her. They did. Maybe the world has finally caught up with Skunk Anansie.
Photos by Carl Byron Batson. Not to be repriduced without express prior permission.