[dropcap style="font-size:100px; color:#992211;"]I[/dropcap]llustrations from our emerging future, rooted in the craftsman's practised hand, and techniques of patience, Simon Fowler has forged the beginnings of a very distinctive and collectible portfolio.
Using a style reminiscent of Renaissance artist Albrecht Dürer, Fowler's labour intensive work has complemented the avant garde work of Dub and Bass group The Bug, doom sonicists Sunn O))), Jap-rock evangelists Boris, and the much-lauded Granta magazine.
Looking at his catalogue via website, his piece for Ensemble Pearl stands out for particular mention. Showcasing his penchant for extreme detail, you can note the pointillist highlights in the detailed shot as well as his sense of eco-abstraction; natural forms 'heightened' for the viewer by geometry and an artistic style that captures the elemental force of nature without copping out to photorealism or cartoonish essentialisms.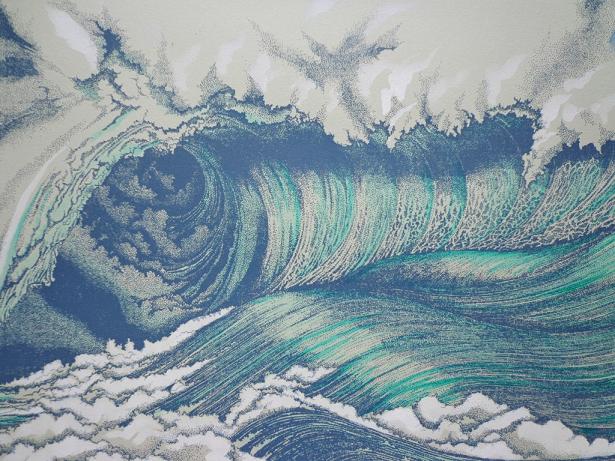 Ensemble Pearl – Archival Print
It's strong work that speaks to a broad spectrum without the gratuitous cultural nods common to sleeve art. Fowler draws his ink from older wells.
Trekking into Dalston to talk illustration on a warm evening,
we'd left it pretty loose regarding what the other person looked like. Who really wants to tread into the territory of either '(I think) I'm a normal looking guy' self definition or worse still – accessory (I'll be eating a radish)? So as it was, the interview started with scanning a restaurant looking for a likely candidate.
Given Fowler's associations you'd be forgiven for expecting a younger Alan Moore, be-ringed and bearded, but he's a regular chap with the bookish nerviness that comes from working in close quarters with your passion.
As we settled into a Turkish meal we started in on how someone can make art to order:
"Balancing where I want to take my work independently as an artist and commercially is an interesting antagonism. While I get given a lot more freedom and scale than is usual for music illustration, generally the more you do it the more of that style people want. So especially if it's for an iconic band like Sunn O))) sometimes you get asked to do more 'like that'. Everyone says 'we don't want you to repeat yourself but…' so you have to push them a bit '…but what?'
With Master Musicians of Bukkake/Randall Dunn (he's such a character) he's got such a vivid imagination that pretty much the entire composition of the front cover was given to me. The organ structure inside the mountain, the tree branches coming out that are the valves of the organ turning into palm trees on the mountain, he literally told me all this  in a pub before a gig (when Sunn O))) played at Koko two years ago).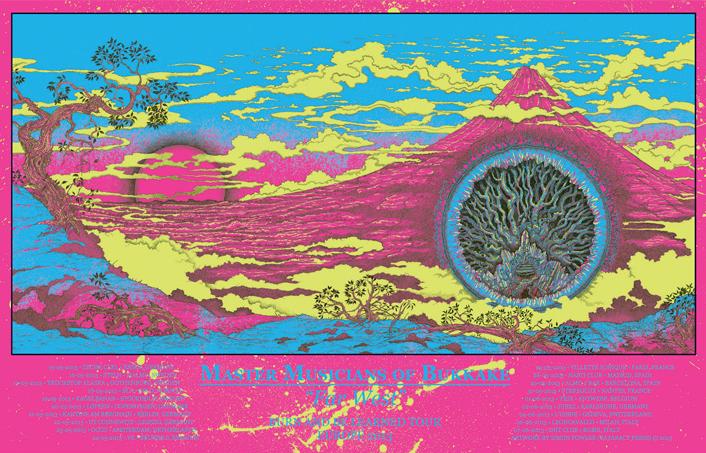 I still have this scrap of paper from the pub before the show. It's the funniest preparation sketch. I had some freedom to play around with the project though, eventually turning it into a landscape thing that extends around the sleeve. In a lot of ways this sort of treatment was a new direction for me to explore.
The fluorescent print (24″ w x 15 3/4″ h) I produced for Master Musicians came from Randall calling me and saying that he wanted to do a 70s black light psychedelic version, which I didn't understand at first.
It took me four or five emails to work out what he meant. Eventually I was messing about in Photoshop and it worked out. The poster itself is made with phosphorescent inks so if you put a black light on it it'll light up the entire room – it's THAT pink."
—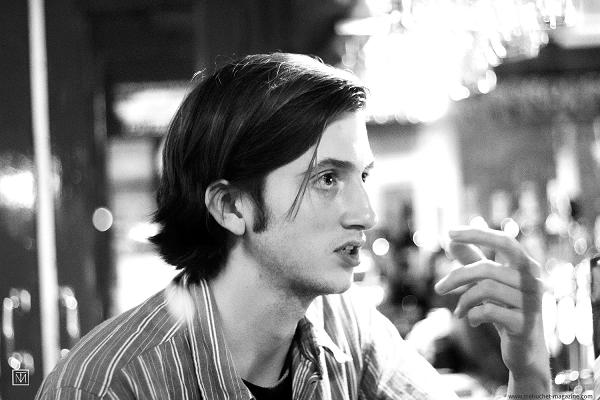 The limited set of black light prints available are for a very particular audience. They're incredibly lurid and show a solid amalgam of not just the album's ethos but that of Master Musicians of Bukkake themselves. In the area that highlights the European dates there are some garish yellow Pollock-ish 'splatters'. A tasteful addition to the band's colourful name made possible though computers?
—-
"Tasteful!? Yeah there was a subtle nod to that. Nobody has mentioned that actually. I'm sure they realised though.
Developing a colour palette for this poster was a quite a step forward. I hardly use a computer at all to do much. However, for doing the black light work for the poster and for screen printing Photoshop is an invaluable tool.  But if I had all the time in the world I wouldn't use a computer at all, I'd much rather use my hands in an organic fashion, getting to grips with the materials.
The work that I'm doing at the moment is about bringing in inks and brushwork, and layering colours before applying the same technique over the top "
—
Given that Fowler seems to exhibit a quite pronounced formal style to his work, one expects that he'd spent years under strict tutelage. However the case is quite the opposite.
—
"I don't really have any formal training in the arts at all. I don't have a degree. I did a year in narrative illustration which was bullshit. As well as that I did a year learning print technique so my approach to drawing with ink is quite heavily informed by print processes: the layering, etching etc.
It's about building up the tone in systematic approach. I hadn't really approached colour in such a regimental way until Steven O'Malley commissioned me to do the Earth cover."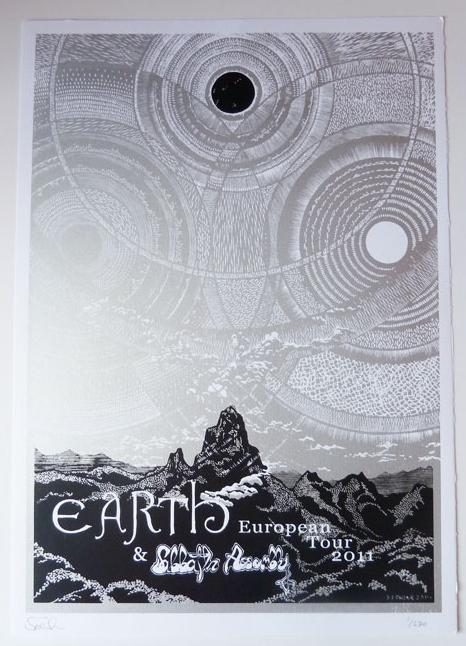 And before then?
"I lived in Tokyo for a year in 2006. I was working with the manager of Boris over there, just helping her out. One day I asked if I could do the artwork for Boris. She said that she'd ask Atsuo (Drummer). I'd met him on numerous occasions and he gave me a brief. It was supposed to be a really organic image with a raven, for a Boris with Merzbow show – but there was no time to produce it in time for the show so he sent it to Stephen (O'Malley, Sun O))). Stephen loved it and decided to use it for the Sun O)))/Boris Japan tour they had  planned, and then decided to reuse it for the Alter performances they did in New York and London.
After Stephen became aware of my work I sent him more stuff, and really since then (I've been) working with Stephen in various guises. He's been a massive influence on giving me a benchmark to try and reach. The Earth stuff and reissue of their first album, that was crazy to be asked to do that. I'd grown up listening to that band so I didn't quite believe that I had been asked. So it became the hardest I'd worked on anything.
After the first drawing of that series, the wing one, that was the birth of this style that I'm working in, developing over the last four or five years.
Going back to the Master Musicians of Bukkake album, the concept was Randall's and was about going so far East that you end up going back west. So that's what Far West means: that long trip back round and in that way the artwork is supposed to be a pastiche of perspectives on Asian art. Which is a fantastic thing for me to be able to be working on as it was really fun to have that deliberate intention, since that was exactly what I do anyway.
For example, for the background I have woodblock washes on washi and printed those by hand and scanned those, then composed them digitally and then cut away and coloured (a really laboursome process) in Photoshop as if it was a woodblock print. So technically it's a digital simulation of the Ukiyo-e image with the key line being the illustration over the top.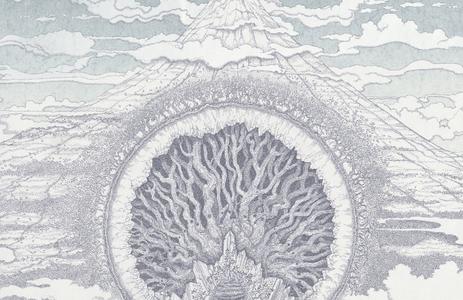 That's really what I like doing with illustration, creating subtlety and depth through layering images.
I think the advent of computer technology distracts people from the processes underlying things and there's a risk that the younger generation won't understand the craftsmanship that goes into those processes. I want to work in a different way to this.
For instance at the moment I've been working towards an exhibition in Osaka in July 2013 with my friend Kohei from the band Bo Ningen. It's quite last minute but he's asked me to collaborate on about ten pieces together. He's studied illustration (although he plays guitar in Bo Ningen full time) and his stuff is a lot more abstract than mine so it's an interesting mix.
We're exchanging half finished pieces of work back and forth as the project progresses though we're still working on how the collaboration will work/evolve, whether I will work over the top or around his work.
He's given me about five or six drawings done on sugar paper, that are very three dimensional, layered, multicoloured and very open. At the moment I'm just drawing over those with white ink and changing the depth and layering. It's quite nice to work in a more automatic fashion and not think about it too heavily. I like the idea how it's going to progress; of letting it develop over time, to let it arch naturally over time, and to deepen the nature of the collaboration over time.
We think it might be nice to do multiple exhibitions around the world and creating work together just to see where it goes. I can't show anything yet but I can tell you that the it's already going in a pretty interesting direction!
Stay tuned."
[button link="http://www.cataract-operation.com/" newwindow="yes"] Simon Fowler Homepage[/button]
Portrait: Kailas Elmer
Read the Trebuchet Magazine interview with Randall Dunn about Far West here.