[dropcap style="font-size:100px; color:#992211;"]G[/dropcap]iven the current situation of music and its industry, it's not surprising that many music fans look forward to a new album by the tried and trusted music legends they love.
For rock stalwarts, Sebastian Bach is one of those legends. His distinctive voice is one of the most cherished in the history of Rock, and although some legends seem to lose their energy over time, he has never lost his (and is still a very naughty boy. With very good hair straighteners.)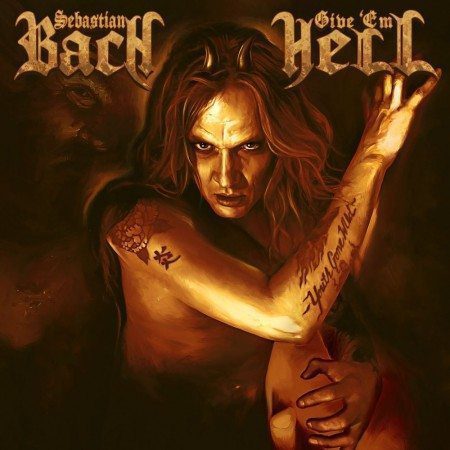 Appearing resplendent on the album cover as Satan/Lucifer, his androgynous allure seeming almost as pretty as a girl (the main reason why so many girls fall for him? – wink wink), does the fact that he is now a devil mean something in particular?
The image finally coincides with the music he has been producing. Since he started his solo career, his switch from the style that everyone recognized into a 'darker' sound of his own has been a consistent trajectory. It prevails on this album, and hence, there is no escape from the dark riffs. At least it provides opportunity for muchness headbanging.
Creepy vibe
On the other hand, the riffs and melodies have a mysterious and creepy vibe. But his screams and the high notes he hits build a contrast to the down-tuned heavy guitars. This contrast seems to be the what defines Sebastian Bach's solo career.
Compared to previous Sebastian Bach albums, there is an increase in vocal harmonies, and some of the effects used give a sense of an alternative or electronic sound at times. But this is done very nicely as a highlighting or switching point in the song structures – they stand out as a flavour rather changing the overall whomping riffage.
Messing about with song structures
'The Temptation', starts with a Sabbath-esque kind of darkness, gains an alternative Dave Navarro-ish edge, then becomes almost oldschool metal later on. It's on and off. The whole album follows this newfangled pattern of messing about with song structures. In addition, those structures are richer and more complicated compared to previous albums. Harumph?
A developing personal/musical maturity perhaps, or maybe the inevitable pay-off from the line-up on this album and the very different backgrounds they come from. As Sebastian Bach himself has also pointed out, the musicianship on this album is top-notch, featuring Steve Stevens, John 5, Duff McKagan, Devin Bronson and Bobby Jarzombek.
Out 18th April 2014 (Europe) 22nd April 2014 (USA)

Meltem is a London-based 'wanderer above the mist', whose biggest passion – a flame that never burns out – is Rock 'n' Roll. She contributes to the magical (for some!) world of Rock 'n' Roll by being a rock singer, a rock musician, and a rock songwriter. She has worked with great rock musicians from all over Europe. Her history as a rock musician consists of multiple rock covers, originals (rock), rock tribute bands and professional recording sessions. Where she dwelleth rock resides.