S.C.U.M weave noise and wonder.
S.C.U.M. have built something that few bands ever manage, mystery. Dazzling the UK press isn't as easy as one imagines and in many cases is dependant on winning some high profile recommendations that suggest; 'you diss this band at your peril'. While this isn't quite the case with S.C.U.M. having to cut through the crowd of hype to the actual music heats the cassoulet of hate.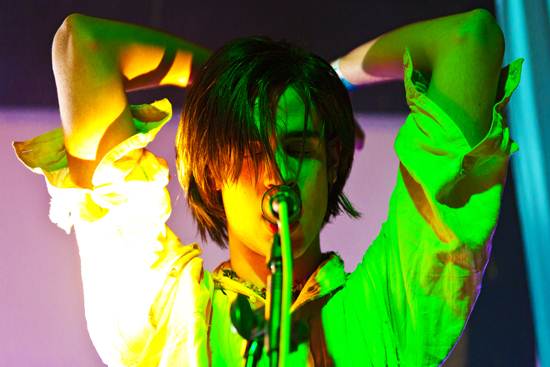 A hipster wanders around the stage, testing guitars, plugging in a bass, and adjusting a fan that intermittently teases a large bolt of vermillion cloth. Fixed to the ceiling, this visual centerpiece, inflated and projected upon, sums up S.C.U.M; A simple device, elegant, perhaps a bit pretentious, effective and unusual enough to be remarkable.

With little fanfare the band are suddenly onstage. They look young, underfed, and very ready for success. Twin keyboards pushing great washes of melody while kraut-beat beacons attention. S.C.U.M's androgynous glam take on Krautrock, otherwise known as hipster pay dirt, is focussed and formed. Frontman Thomas Cohen swoons around the stage, emoting with his thin wrists, and swaying into the billowing cloth. His vocals are barely legible on the night but when they come through the mix they have a New Romantic timbre over vaguely misanthropic musings. Self involved stuff but entertaining and visually arresting, S.C.U.M. are performers.
S.C.U.M – Amber Hands (Sonic Boom Remix) by Mute UK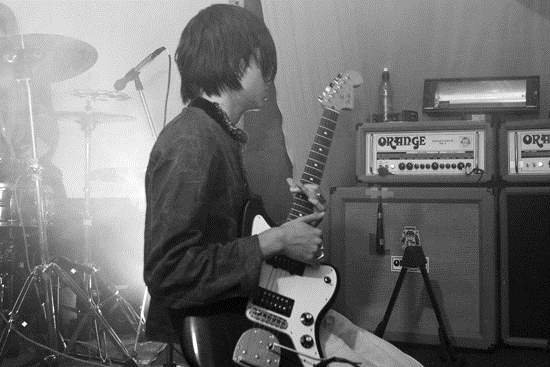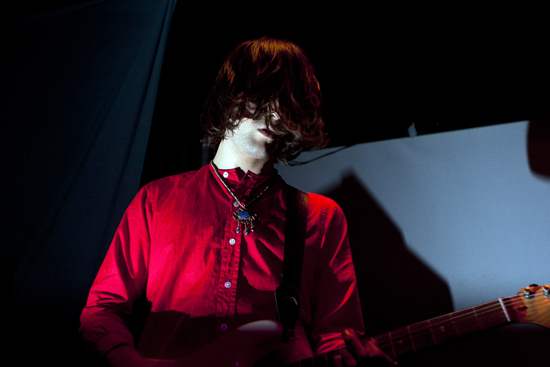 It would be easy to denigrate them on the details of their presentation however the fact is that they are a great band. A band that really translates live, creating a sound and presence that is absolutely theirs. Having toured Europe for a number of years, buoyed by a nod from Portishead, and working with the great alternative producers Ken and Joylon Thomas (David Bowie, P.I.L. Psychic TV amongst others) gives the S.C.U.M. the tangible confidence to be great. This in turn allows them to pull off some stage antics that border on comically cabaret, for instance wrapping yourself in bolt of red cloth has much less impact than one imagines Cohen conceived, but in context comes close to working.
S.C.U.M – Amber Hands (Silver Apples Remix) by Mute UK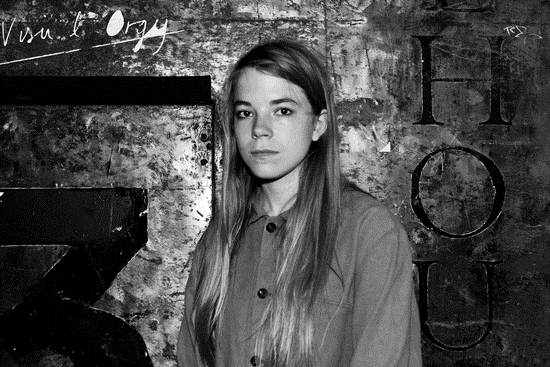 The PR machine has already picked up on the band and wandering around the crowd you rub shoulders with other up and coming bands, fruit named celebrity daughters, industry faces and the velvet crushes of camp followers. More than the music, the vision, the youthful appeal of the band and the overriding energy of this band is powered by the knowledge that they already big, they're just waiting for the world to catch up.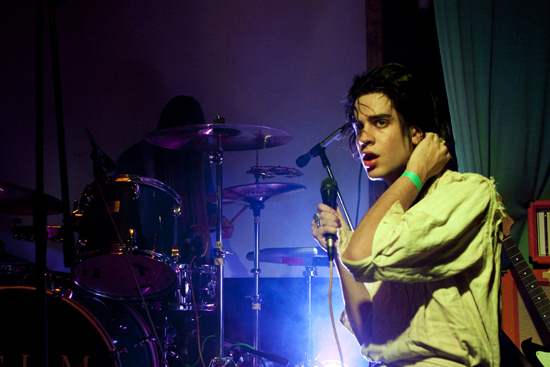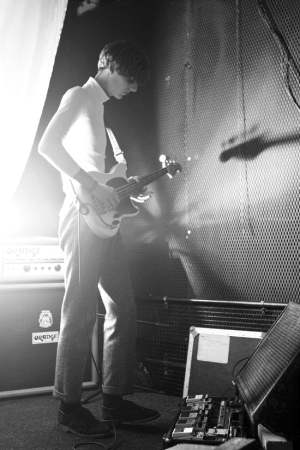 All this is great, true and deserving and by mid-set the band has found its groove and is getting the crowd closer and closer to oneness with whatever indiscernible point they're trying to make. The sound on the night sadly pushes much of the differentiation between songs aside for achievements in volume. Does their song writing stand up? Is each perspective on their fey world ensconced in the counterpoint between guitars, keyboards, bass and vocals? It's hard to judge and perhaps we'll have to wait till their album Again into Eyes is released in September to find how much they have in the bag.
Containing melody, punch, drive and emotion the single Amber Hands is a fantastic piece of noise pop and promises a lot from the group, demonstrating all the dynamics that got lost on the night. Already a crowd favourite, the 90s shoegaze tag is truly earned with this piece of guitar noise, that recalls Lush, My Bloody Valentine and Adorable. The latter perhaps most of all and one can hope that S.C.U.M. fortunes fare better than the much underrated Coventry group.
The one musician unaffected by sonic woes is drummer Melissa Rigby whose fantastic rhythms and beats create enough variance and drive that the abstract expressionist wall of noise becomes complementary. S.C.U.M. are a band to watch, they have the requisite originality and charm to raise them above many of their contemporaries. Ignore them at the chiffon peril of your hipster credentials.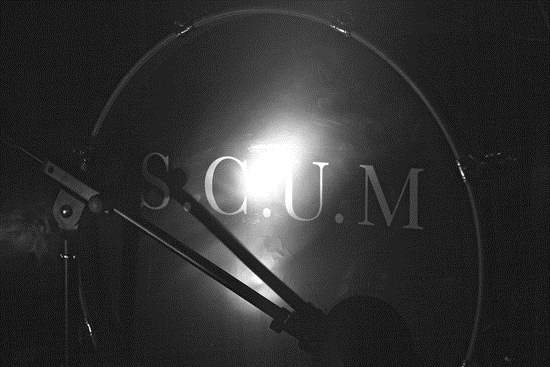 S.C.U.M. played 13th July for the release of their single Amber Hands out now

Dates:
6 AUG – LONDON, FIELD DAY
21 AUG – LONDON, SHOREDITCH STUDIOS (with MALE BONDING, MAZES, THE HISTORY OF APPLE PIE , MOB RULES)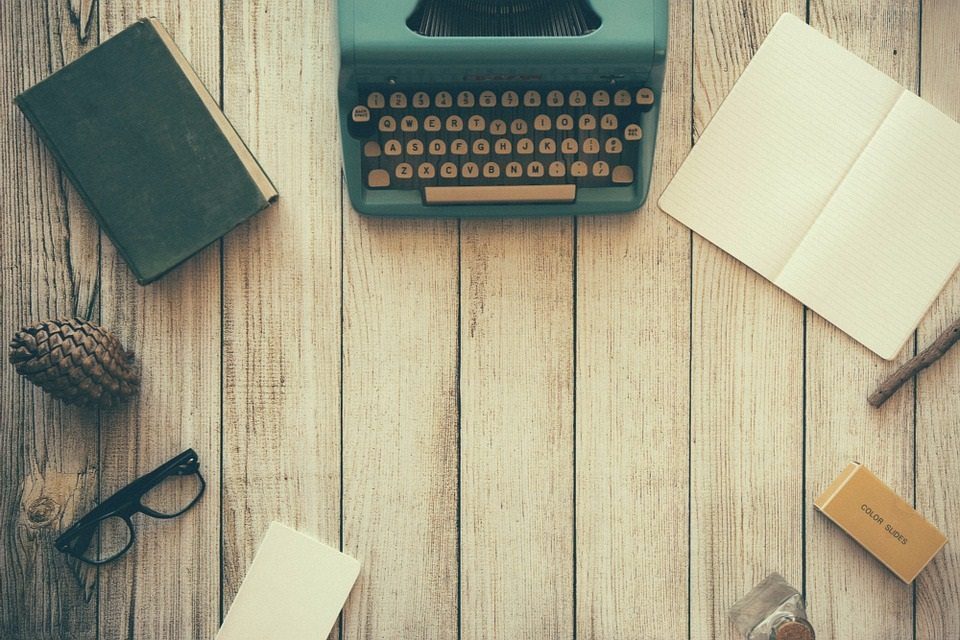 The aim of art is to represent not the outward appearance of things, but their inward significance. – Aristotle