[dropcap style="font-size:100px; color:#992211;"]W[/dropcap]hile Gyaru fashion has made its way into the mainstream over the years, girls of the living doll culture do more than extend their eyelashes and bejewel their fingernails.
Rather, they transform most every aspect of themselves from head to toe in an attempt to appear completely doll-like. While such efforts may seem excessive, the dedication that "living dolls" sustain isn't much different than the lengths that I and many others of my generation, for example, upheld throughout our youth in order to attain a certain punk rock aesthetic.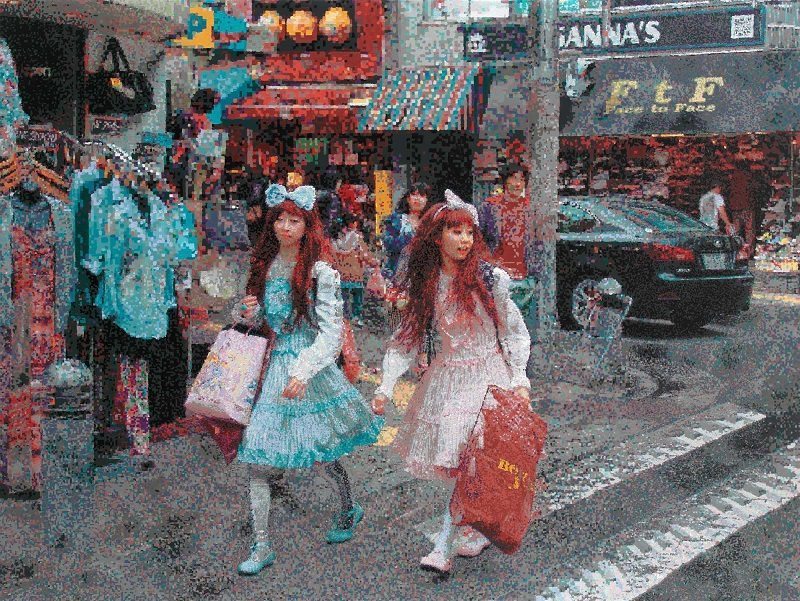 Römer + Römer – Face to Face, oil on canvas, 200 x 265 cm, 2010
Some see this type of behavior as self-indulgent when often it's more "a celebration of the human spirit breaking free from the dullness of the day-to-day," as explained in the press release for Party-Löwe, a recent solo show of the Berlin-based artist duo, Nina Römer and Torsten Römer. The duo will be exhibiting in the group show Time Machine at Berlin's Kunsthalle am Hamburgerplatz from June 9th, before featuring in the UK in September.
The works in the Party Lowe show consist of approximately fifteen paintings that the couple created together. The images were sourced from some 10,000 photographs that Römer and Römer took while traveling the world in search of "situations where strict constraints have been lifted [and] liberated and excited people [were] celebrating, dancing, interacting and embracing," according to the couple themselves. "Face to Face" is a prime example of the exact spirit Römer + Römer work so hard to portray in their work. Dressed as "living dolls," the two girls in this painting were captured celebrating their individuality in spite of the status quo.
More recent collections continue in the pointillist mode, focussing on festivals, cosplay, party and protest events as subject matter for a painting technique which references digital photography and the CMYK printing process of large-scale advertising hoardings, as well as the pure-colour experimentation of Seurat or Signac.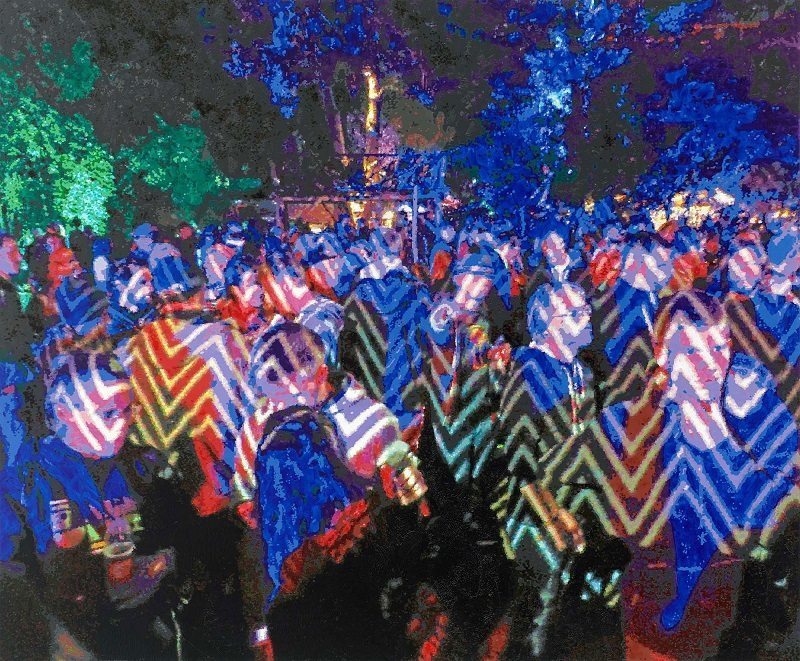 Römer + Römer – Party-Sträflinge, 200 x 240 cm, oil on canvas, 2014
In addition to the artistic couple's message, their use of pointillism to create larger than life scenes with oils on canvas that, from afar, appear pixelated is truly ingenious. By "cleverly merging the modern aesthetic of pixel art with classic impressionism," as described on The Absolute, Römer and Römer invoke an energetic if not electrifying vibrancy that is almost impossible to ignore.
Works by Römer and Römer will feature in the group show A NEW LANGUAGE, at ROOT 1066 CONTEMPORARY ARTS FESTIVAL, Hastings. 10th September – 25th September 2016