[dropcap style="font-size:100px; color:#992211;"]W[/dropcap]hen is a band ready for the wide world?
When are they too big for the local pub and must venture onward? Beforehand – Nobody Knows! Afterwards – it's set in stone.
Releasing their 'Fight The People' EP to some notice in 2009 Riot:Noise have spent the last four years sharing stages with Duff McKagan, and Motorhead; getting it right, crowd testing their dynamic and having the proverbial tonne o' fun.
But the questions remains can you wait too long between early promise and putting it on the record?
Riot:Noise frontman Marty says "we had planned to record the album on a couple of occasions, but the timings weren't ever right.  Those 3 years went by so fast and at the start of 2012 we decided that we'd been playing a similar live set for so long that, rather than record those songs for the album, we would take some time off from playing live and concentrate on writing brand new material.  As a band we had grown, and when we began writing the new songs the evolution was clearly evident in the stuff that was coming out of those sessions".
So, live and direct, at the London Borderline we're being treated here to new stuff, not old stuff but the fresh new issue of guys who've travelled the world and are ready to show us how thine will be done on the road as it is on the record.
Being first on a bill is never the best place to be but the small crowd moved happily enough and the band played an admirable set of classic rock with some creative contemporary flourishes.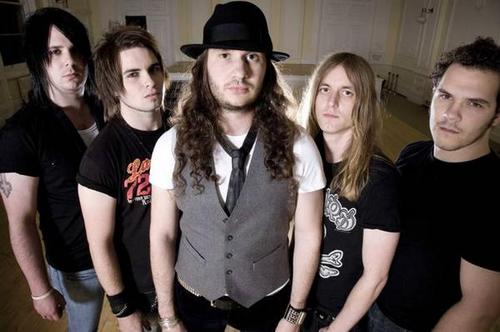 It's unpretentious anthems for a generation of people that want to think with their feet and a drink in their hand.
Sounds righteous enough but as good as Riot:Noise was on this night's performance, to be placed higher than the many other bands on the circuit would require a sprinkle more magic. Heavy Rock is extremely healthy and  bands need to do more to capture audience attention at every juncture. Bands have to think about how they can make their channelling of the musical experience more unexpected and lasting for those blessed few that paid money to see them.
To their credit, the point when Riot:Noise guitarists Scott Stubbs and Ashley Pocock stood up and took the crowd by the throat pushing the set into overdrive with some original fretwork was a big 'A HA!' moment for everyone. If Riot:Noise can take their fearsome technical chops and use more contrast in their set it'll allow an appreciation of the depth and colour in their songs which currently gets a bit lost.
In the final estimation it was a faultless performance from a rock solid band of anthem technicians, but what was missing on the night was the gut-bucket heart that Riot:Noise have built their reputation on.  Playing at 8pm to a room of first pinters shouldn't make a difference to these seasoned road dogs, and true enough by the end of the show there were new fans aplenty. I'll reserve judgement for another night.
Riot:Noise one to listen out for – but try before you buy.
Debut album Stand For Something – June 3rd 2013
Riot:Noise played on May 14th at the Borderline, London (with Idiom and The Mercy House).