[dropcap style="font-size:100px; color:#992211;"]I[/dropcap]t's 439km from Bulawayo to Victoria Falls.
Takes about seven hours, give or take, by car. A slow bush taxi might add another couple hours.
Then there's a train.
The train takes 14 hours. It's crammed like a cattle car full of people, each with their own accompanying food, children, and varying levels of hygiene. The cars are decades old, and it's been years since they've seen anything other than the most basic of maintenance.
So why take the train? First class, baby!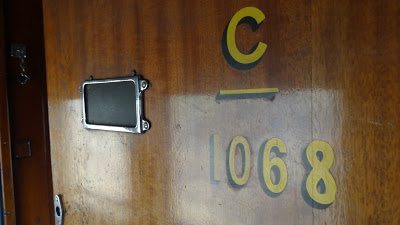 Those train cars that haven't been updated in decades? That's part of their charm. The first class sleepers on the line from Bulawayo to Vic Falls are something out of another era. Richly varnished wood lines both compartments and cabins. Dark green interiors are offset by brass coat hooks and silver mirrors inscribed with twin, interwoven Rs – Rhodesian Railways.
Inside these luxury digs, you're transported back to an earlier era, but one that still exists in Zimbabwe today. The train crawls through small towns and villages, stopping occasionally at former railway stations, overgrown with grass and weeds, before picking up steam again to race through the bushveld. At night, you can stick your head out into a warm, evening wind and pick out every star in the sky.
Rhodesian Railways
Your porter for this evening is David. He's been working the rails for 34 years now. David is in his late fifties, five years away from retirement and a pension. He's was working in the yard until five years ago, when they made him a porter, riding the evening train every night up to one of the seven natural wonders of the world. His skin is tight, pulling his lips over bright, symmetrical teeth in a perpetual smile. A newsboy cap sits atop his head, and you wish he were your grandfather – a sprightly, happy chap who will give you a toffee "just as long as you don't tell your grandmother."
Your train manager is right next door. A man named Chegworth. You're eternally grateful to him for working it all out for you – giving you the private coupé because you didn't get to the station early enough to book a first-class seat. He's a big man, but one of few words. He'll neglect to charge you for the ticket upgrade, but say he was coming all along when you stick your head out the window as the train stops for coffee and tea at 6:30 in the morning.
The beds are comfortable, even if they're leaking stuffing from several large holes. The fold-down sink has been chained to the wall. You don't think these cars have had water in years. The toilets empty right out on the track, so be careful with your phone. If it goes, you're never getting it back.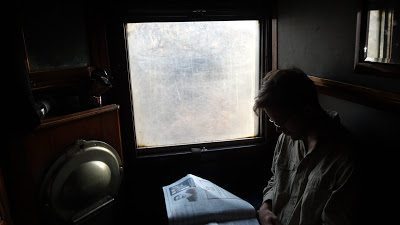 British Empire
The window closes all the way and latches, the intertwined Rs reminding you that even though you're in Zimbabwe, this country isn't everything it seems. We used to call it Rhodesia, after a mythomaniacal man who dreamt of one world, a union of people and states under the benevolent colonialism of the British Empire.
It had a past, but even those dark days created some beauty. The engraved window closes, but not the shade. There isn't anything but starlight out here to keep you awake. It's just you and the night.[quote]Maybe a cow on the
track, or an elephant.
We're certainly far enough
out to see some[/quote]
The train stops occasionally. You stick your head out. Meet the people in the next cabin, but no matter what, you can't figure out why we're stopped. It never lasts long, and on we go. Maybe a cow on the track, or an elephant. We're certainly far enough out to see some. Every once in a while, there are people standing alongside the rails, waiting with large bundles on their heads, a child in tow. You look around, cannot for the life of you tell where they came from – there's no sign of human settlement in sight, but you know that somewhere, in the tall grass or beyond the acacias, there's a village, and in that remote community, they need something, so they've come to the closest mode of transport they can get.
They know the train will stop. No one on it has any particular time constraints. If they did, they wouldn't have taken the train.
Instead, they ride for the rails. For the ka-ka-chink, ka-ka-chink of steel rolling over steel. For the rush of air from a door that's just been carelessly left open, so watch your child. If she goes, she's gone. For the attempt to pee while rocking both forward, backwards, and side to side. Standing up probably wasn't a great idea. It really fucks with your aim.
For the $1 cheese sandwiches with a mug of tea in the morning. For David, your porter, who's going to check in on you throughout the night, making sure everything is going smooth. For Chegworth, the train manager, even if it seems like David's doing all the work.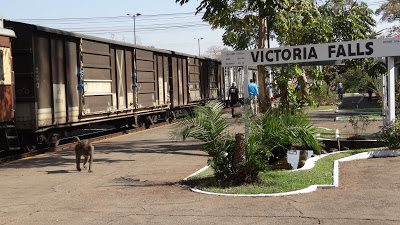 For the romance of the rails and a time gone by, looking at the stars as they streak on by, reading your newspaper by the light of a dim incandescent, and waking up to a morning sun rising over the plains. You hear the world wake with you: a door sliding open, then closed again, a voice in the hall, and the clack of wheels.
And as you pull in to the station, you can see the mist above the falls, 'the smoke that thunders' and masks the gorge cut over millenia by the steadily flowing waters of the Zambezi. You hear the train hiss, spy a few baboons creeping over the cars, waiting for the porters to drop their guard so they can raid the train for anything left behind.
You walk through the ticket hall and underneath an arch, the same as passengers did a century ago to greet the warthogs and the storks mulling about the grounds. This is Victoria Falls. Your train ride is over. Welcome back to today. Enjoy your stay.

Sterling Carter writes on the intersection of political economy, arts and culture, and human rights. He has over five years' experience on African development, violence and conflict with organizations including Human Rights Watch, Global Witness, and Search for Common Ground. He is originally from Flora, Indiana but pulled up stakes long ago.