[dropcap style="font-size:100px; color:#992211;"]F[/dropcap]or the first time in 25 years the public have a chance to witness the breadth of Lance Ribeiro's (1933-2010) work first-hand.
A leading painter during the 60s and 70s, he was
considered THE leading Indian artist resident in the UK until he was overshadowed by changing tastes and the epic rise of Anish Kapoor. Even so, taking a look at Kapoor's early paintings one might be forgiven for seeing a little of Ribeiro's expressionist influence floating across the canvas.
Elevated into popular consciousness equally by his advocates and detractors Ribeiro produced a large number of works quickly over a wide field of schools and influences. Kandinsky, Braque, Abstract Expressionism all figure across the gamut of his work, but one sees that, like the post-colonial experience itself, these signposts were tools in Ribeiro's more personal expression to tropes of home, Catholicism, agency  and most probably – his artistic family.
Ribeiro's elder brother was the acclaimed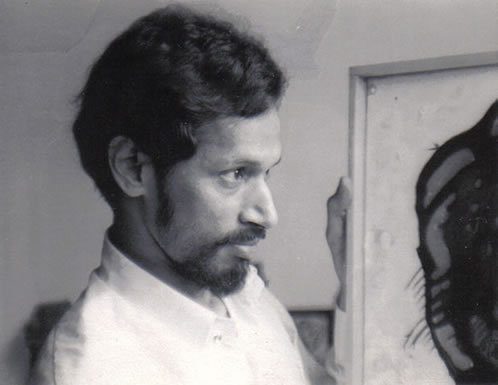 artist F.N.Souza, whose angst-ridden odes to sex and chaos played out the joyful side of morality that Ribeiro was to publically investigate in contrasting ways. Was the shadow of his brother's work the drive that made Ribeiro so restless in his pursuit for new vistas? In the Times obituary it was noted that Ribeiro's time as his brother's work-finishing assistant  laid out a path and stylistic topography and accounted for some similarity between the two's output during Ribeiro's early career. Perhaps these stylistic ghosts in his hand's muscle memory gave his explorations their vigour and innovations in colour as well as their shared history.
Ribeiro is noted for being the first major artist to use polyvinyl paints and played an important role in liaising with paint manufacturers to make these quick-drying and colourful tools available to a wider market of artists. In his own work these paints are used to strong effect and his use of alternating lines of fluid colour are some of his most expressive.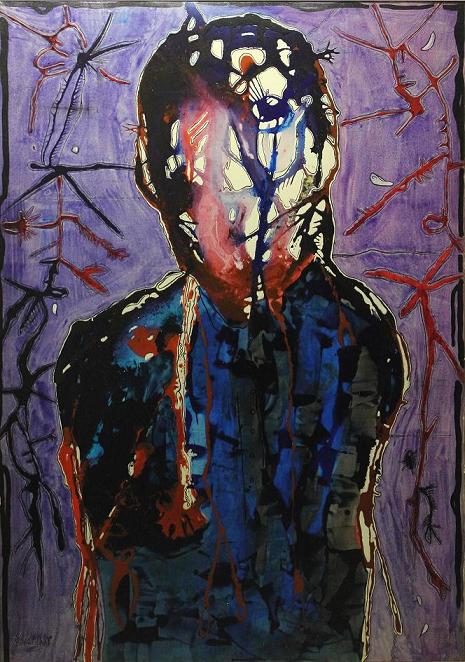 Stricken Monk with Cat O'Nine Tails. 1968
In particular the abstracted colours and topography of 'Curvilinear Directions and Accented Landscape' accentuate the emotional connections between humanity and nature in two-dimensional forms that are essentially unnatural to both. This in turn impresses a supernatural optical map in the lines' relationship to each other, suggesting an equally pop-art and pre-colonial sensibility.
The exhibition at Asia House features a good selection of his work from all major periods of the artist's career and with painting again finding a more central place in the 2013 Art zeitgeist this exhibition offers viewers a rare opportunity to engage with an artist prominent in UK art history.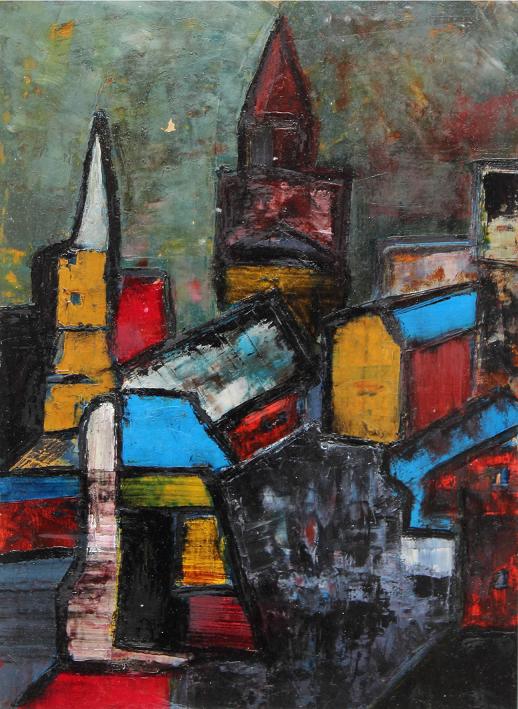 Untitled. Oil on paper. 1958
---
Friday  24th – Saturday 29th June. Asia House.
Tickets
Exhibition: Free admission
Asia House
63 New Cavendish Street
London W1G 7LP
www.asiahouse.org
Tel +44(0)20 7307 5454
Email: enquiries@asiahouse.co.uk
Opening hours: Monday-Saturday 10:00 – 18:00
First painting featured above: Untitled. Lance Ribeiro. Watercolour and metallic ink on paper