[dropcap style="font-size:100px; color:#992211;"]R[/dropcap]amblin' Man Festival returns for a fourth incarnation this year, bringing another multi-generic and genial/oddball throng of noises to Kent.
This announcement adds the Glam-infused stylings of Mott The Hoople to an already stellar lineup for the 30th June/1st July event including The Cult, Steel Panther, Halestorm and Blackberry Smoke. Take a peek at their updated lineup poster!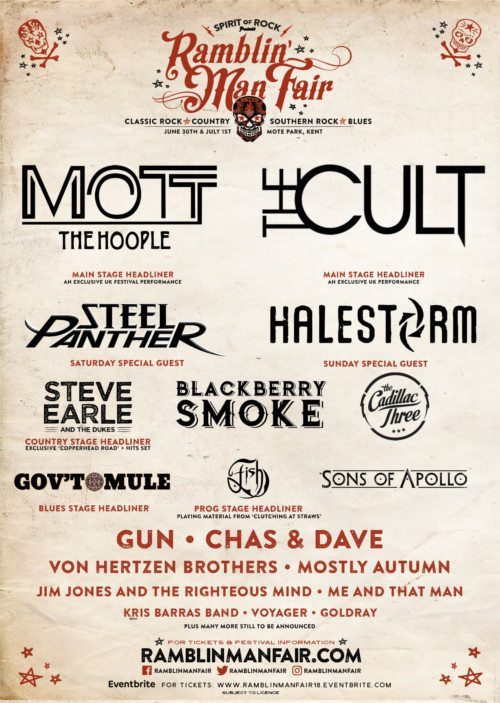 [quote] Ramblin' Man Fair are delighted to announce the inimitable Mott The Hoople as their second headliner for this year's festival – a 2018 UK festival exclusive performance with the classic 1973/1974 lineup. The band will feature Ian Hunter (Vocals, Guitars), Ariel Bender (Lead Guitars) and Morgan Fisher (Keyboards), and will be augmented by James Mastro (Guitars, Mandolin), Mark Bosch (Guitars), Dennis Dibrizzi (Keyboards), Paul Page (Bass) and Steve Holley (Drums) – The Ramblin' Man Team[/quote]
Last year's award-winning instalment featured headliners ZZ Top and Extreme alongside Kansas and (my new favourite band name) Whiskey Dick, amonst others. While we've probably all been through that phase of listening to nothing but Kansas's 'Carry On My Wayward Son' on repeat, it's probably for the best that Ramblin' Man branched out again this time round given they were forced to drop out after pulling their entire European run. Carry on, indeed.
Tickets are now on-sale for Ramblin' Man 2018:
VIP Admission Saturday & Sunday – £256 plus booking fee
General Admission Saturday & Sunday – £156 plus booking fee
Camping – starts at £49
Tickets available from: http://ramblinmanfair18.eventbrite.co.uk

Jed the Music Ed. is a Music Promoter/Booking Agent and general fixer with Rawkus Events. Jed's interests include a constant and reckless over-caffeination, irrationally spontaneous travel plans and maintaining an over-expensive (borderline hoarder) PC/retro gaming habit.