[dropcap style="font-size:100px; color:#992211;"]F[/dropcap]rom Tiger's Milk Records, itself a side project of Ceviche (a London-based Peruvian restaurant), Peru Maravilloso is a quirky collection of popular music from 1960s/70s Peru.
The compilation is not one of those worthier-than-thou obscurist world music efforts at the nose-flutey end of the grit-teethed unlistenability spectrum. Nowhere does, say, Bill Laswell appear surrounded by a platoon of leather-faced nonagenarians doggedly beating out polyrhythms with spoons on rumbottles (listen to Laswell's Imaginary Cuba if the image seems contrived).
If anything, the records showcased on Peru Marvilloso go out of their way to be jaunty and accessible. Too far on occasion. A guitar-led instrumental cumbia rework of The Beatles' 'I Feel Fine' by Los Ecos might prove too sickly sweet an offering for many palettes, but is saved from the 'skip' button by the tocking claves and hand-percussion that offer an ear-catching quirk of exotica.
[quote]If the material is jaunty
and lacking in nose-flutes
it is because this is a reflection
of Peruvian popular music in
the 60s/70s, not some
anthropological/musicological
quest for an imposed indigenous
authenticity[/quote]
That populist approach, whilst it does make for an entertaining and upbeat collection, does little to present a musical vision of Peru that coheres as particularly Peruvian. As is often the case with cultural imaginings of South America, particularly west of the Andes, the impact of Central America tends to be pervasive.
Western Peru (the region of the country where the population, administration and economy are concentrated) largely consists of grey desert flanked by fishing towns and deep sea oil platforms. It is arid and unforgiving country, more equatorial than tropical, and outside of a handful of middle-class resort towns (Mancora, Huanchaco), a very different cultural breeding ground than the sultry Carribean coastlines of Cuba, Columbia or Costa Rica.
Mambo, Salsa, Son and Surf
Which is not to suggest that Peru has not developed its own musical styles, just that Peru Maravilloso, for the most part, presents a series of recordings that whilst Peruvian in origin, echo the Latin and tropical sounds of Columbia and Cuba more than they adhere to a strict retelling of Peru's musical legacy. There are Andean rhythms discernable in the big band Mambo of Lucho Neves y Su Orquestra's 'Mambo de Machaguay', as there are in the aforementioned Beatles cover, but the West-of-the-Andes flavour is just that – a flavour.
Chango y Su Conjunto's 'Salsa 73' does what it says on the tin, bringing Cuban influence unashamedly to the fore, just as later on Pedro Miguel y sus Maraciabos bring the Cuban son tradition to the compilation with 'Pirana'.
Surf guitar on Juaneco y Su Combo's 'La Cumbia del Pacurro' gives evidence to the (North American/European) influence of the electric guitar on bands and band leaders of the time (although an insistent cowbell 2/4 rhythm roots the track in the local cumbia mileu). More surf guitar, in a Dick Dale-meets-The Shadows style crops up on Los Zhero's 'Para Chachita', set onto another beguiling Latin rhythm.
That surf influence has a history in Peruvian music, on which more later. It reaches its peak (on this collection at any rate) in 'El Chacarero' by Los Gatos Blancos. The track's starting point may well be the guitar instrumentals of, say, Link Wray, but goes above and beyond simple imitation as it gathers its stride and explores deep and dark Latin melodies/rhythms.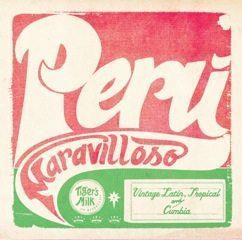 Remastered Vinyls
The collection is eclectic, existing to catalogue a period rather than a genre of Peruvian recordings. Taken from labels such as Sono Radio and the local giant Infopesa, the compilers have collected and re-mastered the tracks from original vinyl releases, none of which have since been reissued. If the material is jaunty and lacking in nose-flutes it is because this is a reflection of Peruvian popular music in the 60s/70s, not some anthropological/musicological quest for an imposed indigenous authenticity.
None of which should be taken as negative. The album is a faithful snapshot of pre-electronic Peruvian popular music, which acknowledges the stylistic influence of more dominant neighbours. The profusion of cheaply recorded female-vocal canciones dramaticas underlayed by tinny Bontempi-style keyboard presets (which dominated Peru's musical output in the 80s and 90s) may have more in the way of national pedigree, but is mercifully absent on this suite of recordings.
Mention must be made of those aforementioned middle-class resorts of Mancora and Huanchaco when listening to Ancieto y sus Fabulosos' 'Los Fabulosos en Onda'. Coastal Peru has been the focus of a small surf culture since the mid 1960s (from pioneer Peruvian surfer Felipe Pomar through to recent women's world champion Sofia Mulanovich). Petroglyphs near Huanchaco depicting fishermen riding reed-boats on ocean waves give the country, some Peruvians proudly claim, a legacy of waveriding that precedes the Hawai'ians.
The connection becomes relevant to anyone who knows the theme tune to Bruce Brown's 1964 film Endless Summer. What we have here, in 'Los Fabulosos en Onda' is a chicha re-imagining of The Sandals' theme to Brown's film. And very pleasant it is too, bringing a Latin flavour to the freewheeling Californian instrumental that is in keeping with the film's globetrotting theme. There's clearly a story behind this one.
Those stories may be lost now, but Peru Maravilloso does what every good compilation should do, giving a flavour of a scene, transporting the listener to an evocative sonic locale. It's not a 'challenging' record; the Western influences on the chosen tracks make them accessible to all but the most conservative of listeners. Nor though is it a series of wallpaper tracks without sufficient character to be worthy of notice. A thoroughly enjoyable dip into the Latin and tropical scenes of the 60s/70s. In this case, Peru's.
Out on November 11th
Album Launch Event
Tiger's Milk and Strut present
Saturday 30th November 2013 at Notting Hill Arts Club
Gran Peña de Navidad
DJs
MARTIN MORALES (Tiger's Milk / Ceviche)
DUNCAN BROOKER (Strut)
DJ TYNE (Tiger's Milk)
QUINTON SCOTT (Strut)
+ exclusive Peruvian films screenings start at 7.15pm
7.00pm – 2.00am
Free before 8pm / £6 before 11pm / £8 after 11pm
Notting Hill Arts Club, 21 Notting Hill Gate, London W11 3JQ
Tiger's Milk present PERU MARAVILLOSO
Vintage Latin, Tropical & Cumbia
20 Copies given away to the first 20 people on the night!
[button link="http://www.tigersmilkrecords.com" newwindow="yes"] Tiger's Milk Records[/button]

Sean Keenan used to write. Now he edits, and gets very annoyed about the word 'ethereal'. Likely to bite anyone using the form 'I'm loving….'. Don't start him on the misuse of three-dot ellipses.
Divides his time between mid-Spain and South-West France, like one of those bucktoothed, fur-clad minor-aristocracy ogresses you see in Hello magazine, only without the naff chandeliers.
Twitter: @seaninspain