[dropcap style="font-size:100px; color:#992211;"]M[/dropcap]ention Gogol Bordello, steampunk, carnivalesque or Calexico all you like when describing The Absolute Elsewhere – they each have their relevance.
Better though is to go back to source, or an earlier source at the very least, and cite Borodin's Polovtsian Dances – that gathered and curated suite of middle-Europe folk melodies and rhythms that does for music what the brothers Grimm did for story – making palatable for a wider audience the narratives and individualities of local folk expression. It is through these initial filters (Borodin, Grimm) that the quirks and cadences, narrative dead ends and mythic illogicalities can be ironed out and the remaining ethnic accents (just distinct enough to add a memorable flourish to song structures or narrative tropes which are decidedly quotidian otherwise) added or discarded according to just how outre the artist wishes to push his or her oeuvre.
Without the profligate scattering of eclectic fleamarket instrumentation (the list includes accordion, musical saw, concertina, piano, Taiko drum, adungu, dan bau a handful of violins and sundry brass elements, toaster oven rack/pan and lapsteel guitar – presumably the Indiegogo campaign which helped fund the album had a donation-per-instrument sidebar) The Absolute Elsewhere might pass for an album of earnest haranguing at the mercy of an overwrought female vocalist aiming for Piaf and landing somewhere on the squawkier side of Van Etten. As is, there is at least the novelty of listening out for the advertised toaster rack amongst the melee.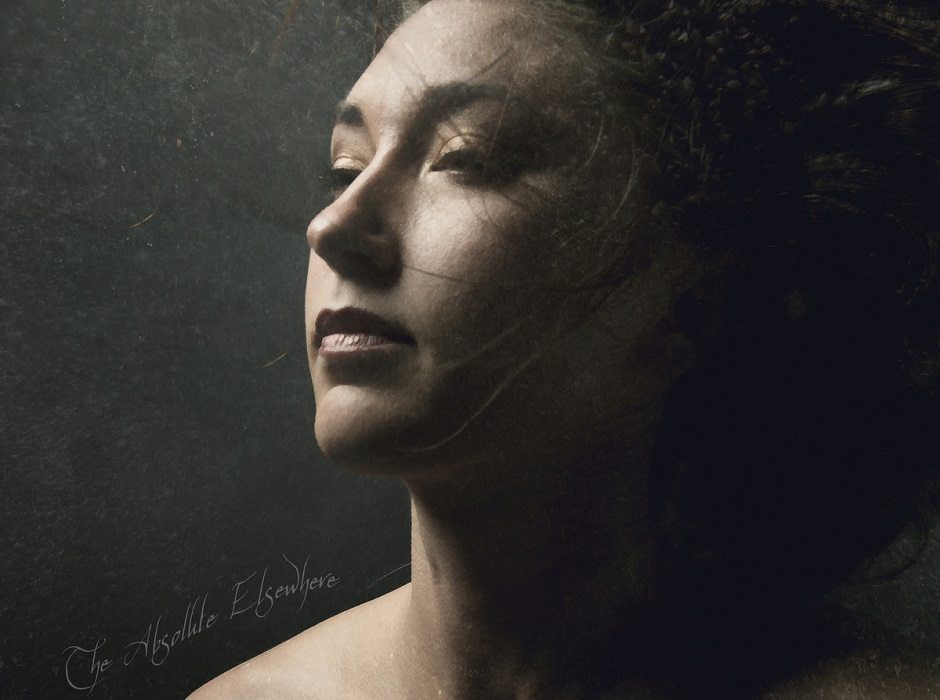 Steamgoth, gypsypunk, crinoline-emo, choose your subgenre. You get the idea. Readers familiar with Gail Carriger's corsets and espionage suite of novels (set on a dirigible school of etiquette and espionage for young ladies of quality) might imagine this record as something the ever-loyal but somewhat-fubsy Dimity might spin on a Crosley gramophone between classes (for those unfamiliar with the novels – think Mary Poppins with werewolves). Conceptually, the album's songs are inspired by/based upon a series of images by photographer/imagist Rusty McDonald. The album comes with a booklet of atmospheric tableaux featuring dry ice, lace, robust tailoring, Photoshop's antique lithograph effects setting and a visual sensibility informed by a cross between Taschen's Jan Saudek collection and those studenty posters featuring topless native American ladies, moons and wolves.
Fans will be delighted by the seamless link between content, mood, presentation and theme – The Absolute Elsewhere is nothing if not an immersive experience (the same may be said of a dark ages ducking stool).
Clearly, this ticks all the crowdfunding boxes. These are grands chansons of the sort you might get if you combined elements of Apples and Eve, All About Eve, Patrick Wolf's Sundark/Riverlight, Sharon Van Etten and one of those moustachioed gypsy dance bands that were doing the wedding rounds a decade ago. And then threw in a rugby team's worth of jobbing session players armed with spoons and kazoos. If you pledged, you certainly get your money's worth. Because who'd bother fronting a tenner for restrained a capella lyricism, eh? Lay on, layer it up, and don't spare the horses.
It is accomplished though, if a touch exhausting over the course of thirteen strongly-emoted arias of sylvanian fantasy, astral torment and strained foundation garments. Bright's voice, if a touch brittle, is faultless in pitch, soaring in keening arabesques through what must (surely) be the entire range of anguish, whilst a chamber's worth of strings and piano lends drama and harmony to the portentious passages, and the whole kitchenful of folk instrumentation adds an edgy ethnicism to the quirky bits (without which the album might veer toward the territory of overlayered femme-fronted europrog). Imagine Echo and the Bunnymen's 'Nocturnal Me' reinterpreted for klemzer, repeatedly, and you get some idea of the mood.
Or perhaps it would be simpler to quote the sleevenotes:
Parting the veil [Ooh, matron! – Ed.] between the here and now, a glint of light,
a soft gentle hush and the image is captured.
The Muses dance, the Earth trembles.
Breathing, the moment fades, and time begins it's [sic] count
– the glimpse of the absolute elsewhere is gone.
Quite.
[button link="https://crystalbrightandthesilverhands.bandcamp.com/album/the-absolute-elsewhere" newwindow="yes"] Pre-Order (Release: 19/05/2015)[/button]

Sean Keenan used to write. Now he edits, and gets very annoyed about the word 'ethereal'. Likely to bite anyone using the form 'I'm loving….'. Don't start him on the misuse of three-dot ellipses.
Divides his time between mid-Spain and South-West France, like one of those bucktoothed, fur-clad minor-aristocracy ogresses you see in Hello magazine, only without the naff chandeliers.
Twitter: @seaninspain