One Mile an Hour's Scandanavian inspired folk-rock draws profusely from the freewheeling acoustic goodtime harmonies of Crosby, Stills and Nash's eponymous, and ubiquitous album of 1969.
A CS&N album which, in the interests of fair comparison, was neither wholly acoustic nor exclusively goodtimes in its themes. The call-response subject matter of 'Wooden Ships' drops the listener into a post-apocalyptic futurescape far removed from the quaint escapist longings voiced in 'Marrakech Express' (the latter written whilst Graham Nash was still based in Manchester, frustrated with the artistic limitations placed upon him by The Hollies, and equally irked by the dank atmosphere of the city).

Nor is the decidedly self-satisfied lyrical tone of 'You Don't Have to Cry' wholly worthy of the spiritually-awakened, love and peace, Laurel Canyon reputation that has stuck to that album more through received assumption than attentive listening:
In the morning, when you rise
Do you think of me and how you left me crying?
Are you thinking, of telephones, and managers, and where you've got to be at noon?
You are living a reality, I left years ago.
It quite nearly killed me.
In the long run it will make you cry,
Make you crazy and old before your time.
Sometimes, the drugs don't work.
So, if the initial Pavlovian response on hearing One Mile an Hour's One Mile an Hour is to embark upon a flashback of alpha-brainwaves, prompted by those oh-so-Stills-esque string-chucks that pepper the album, well and good.
But if those weed-infused mellows, based on mental images  of skinny chicks with big guitars and centrepartings; roachpins; draftcards and Wednesday nights at Whiskey A Go-Go seem unduly harshed by the occasional tones of gloom and destruction that haunt parts of One Mile an Hour, well, sucks to be you. You didn't listen to CS&N properly.
'…you smoked a big one, took the shrinkwrap off, you put the record on the record player, and you were GONE'
– Graham Nash, L.A. From The Byrds To The Eagles, BBC TV
If though, your disappointment at the album stems from expecting to hear some primo vocal harmonies and lyrics capable of transporting you to some fleeting idyll of the purest aesthetic value, a place where a dysphasic conjunction of sound, touch and vision renders discrete sensory inputs invalid in the face of an unsullied positive vibulatory headrush comprehensible to, and only capable of being articulated by, the awestruck mutterings and facial gestures of the truly stoned (as happens with CS&N) then, sucks to be One Mile an Hour.
[box] an unsullied positive vibulatory headrush[/box]
Because they've set themselves up for the comparison, and that's a loser right there. Even Crosby, Stills and Nash aren't as good as Crosby, Stills and Nash.
But Tom Neely's artwork on the cover of One Mile an Hour is beautiful. A heck of a lot more beautiful than a triad of scraggy hippies lounging on a scrofulous couch. Not only that, but the artwork is a significant visual signpost to the turbulence of the album held within. Once the obvious comparison with CS&N is well and truly dredged for all comic value (which by now, it certainly is), the album strives to impress its own characteristics upon the listener.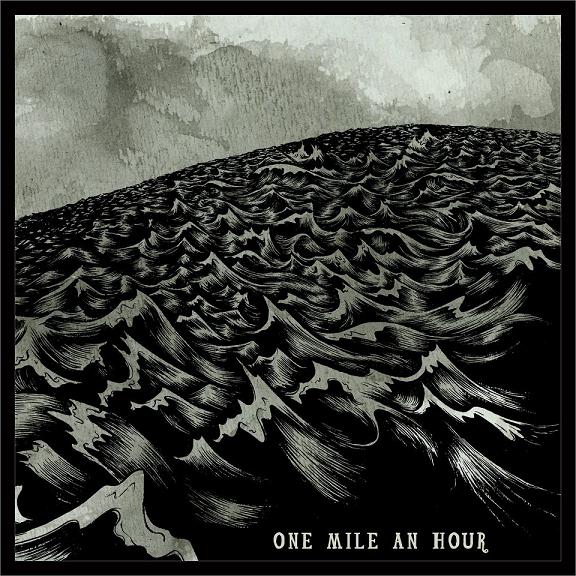 Solid vocals, even solider guitars, and a muscular folk-rock approach that, truth be told, owes as much to the Canterbury progressive folk scene of the Caravan era as it does to  Sunset Strip. The songs are, if one is being charitable, loosely knit. Putting this down to the Scandinavian landscape that inspired it (Tove Jansson is cited as an influence on 'Trouble's Roots' but, alas, no mention of Moomins) is plausible enough. 'In Return' was influenced by Finnish folk tales.
[box] cod heads, limpets and puffin broth[/box]
And perhaps the music should be taken in the context of entertainment to fill six months of darkness with little more than cod heads, limpets and puffin broth for sensual pleasures. If not, the tracks seem a little too sedate. Space for a song to breathe is one thing, giving it a duvet and a hot water bottle is another approach entirely.
Jeff Kightly's falsetto delivery never overwhelms the skillful acoustic guitar work however, and the percussion throughout does that most rare and alluring thing – playing with the band rather than leading it. Lyrically, the album is ambitious: 'Magpie is faking that my ink is running dry when the black dog calls' ('Magpie'), if a touch trite when quoted out of context. Opening track 'Sunken Ships' introduces the themes of outdoor life, oceanic vistas, harsh nature and embracing human warmth that recur throughout 'Come inside, you know what it's like, there's no more room for sunken ships tonight'.
For a patient listener who can appreciate a song with a slow build , unfussy, languid arrangements and unhurried grooves, there is much to commend on this album. The understated Rhodes piano work on 'Trouble's Roots' for example. For those who need a touch more dynamism to a song's, well, dynamic, there is the ten-minute closing track 'Nine Eight'.
'Nine Eight' draws comparison with legendary proponents of the think-piece guitar epic such as The Grateful Dead or The Band. Which is certainly on-message for One Mile an Hour. Less so is the fact that the song has a remarkable similarity to the extended live jams The Edge builds around U2's 'Bullet in the Blue Sky' and 'The Electric Co.'. That will turn cred-seeking rock bores' noses up, but for those who evaluate music by the quaint technique of 'using' their 'ears', it might well be high praise.
Ambition, langour, axe-hero antics, Scandinavian imagery, overblown lyrics and righteous grooves. One Mile an Hour is a definite grower. Alas though, no Moomins.
[button link="http://www.onemileanhour.com/" newwindow="yes"] One Mile an Hour Official[/button]

Sean Keenan used to write. Now he edits, and gets very annoyed about the word 'ethereal'. Likely to bite anyone using the form 'I'm loving….'. Don't start him on the misuse of three-dot ellipses.
Divides his time between mid-Spain and South-West France, like one of those bucktoothed, fur-clad minor-aristocracy ogresses you see in Hello magazine, only without the naff chandeliers.
Twitter: @seaninspain