A quick response to Laurie Penny's article about prostitution in the New Statesman, ['In reality, sex work isn't stigmatised because it is dangerous. Sex work is dangerous because it is stigmatised']
The climate has changed and I think the debate about prostitution is fundamentally changing. Escort agencies currently have waiting lists, and the poverty in last few years mean people want to evaluate sex industry as it is, not as it should be.
[quote]social policy has assumed their bodies as commodities[/quote]
While the broadsheets seem to be spending a lot of time almost normalising the sex industry for young middle class white students, there are sections of women in our population where social policy has assumed their bodies as commodities to be exchanged for money.
By marriage or whoredom or within the context of poverty and its effects, it doesn't get mentioned. Lord Freud wants lone parents as entrepreneurs, and Iain Duncan Smith is ignoring warnings that reform will push women into prostitution.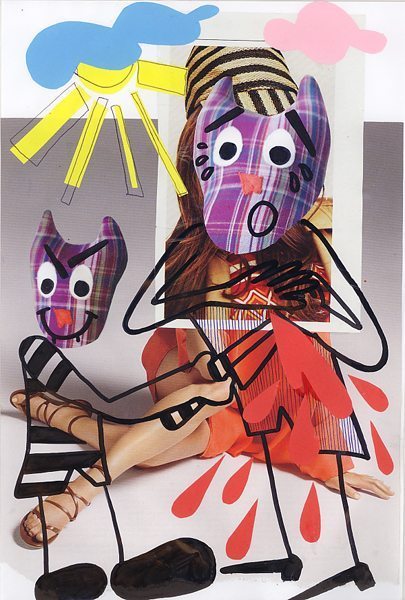 Artwork by Claudio Parentela
At the moment, the sex industry is a really dangerous place, from the girls being exploited at local level, to very highly-paid sex work. This is not just because of the law, but because it is men buying women who don't have much choice, to do things that they won't do to 'real women'.
Frankly, there is a lot of dishonesty by a lot of people for a lot of reasons (good and bad) about what happens in a room with a man who has bought you, and an industry and culture formed around the market of men's 'needs'. I think feelings are high on the issue and I think over the course of 2012 the year unfolded with the realisation of how dangerous patriarchy is to women.
We are also now in a Britain where poverty as violence is being used to coerce women into the sex industry and discussion about choice is difficult in these circumstances, with the issue as it is.
[quote]The welfare cuts meant a market in women's bodies[/quote]
The market in education meant a market in women's bodies. The welfare cuts meant a market in women's bodies. The social work cuts meant an expansion to the market for young men's, women's, and children's bodies.
As Penny puts it in the New Statesman, lampooning the New Victorianism that skilfully downplays the economic pressures which push sex workers into prostitution:
'If sex workers are victimised by the police and the public, if sex workers face higher levels of violence and assault at work, then it can only be because of their dirty moral choice to have sex for money'.
Responsibility deftly avoided.
---
Condom Image by FreeDigitalPhotos.net/Podpad