[dropcap style="font-size:100px; color:#992211;"]A[/dropcap]ll creative eyes were on a snow-drenched New York City for the 2013 Armory Show.
This year marked the 100th anniversary of the original Armory showing, founded as an event to expose Americans to modern art. In 1913 the American art institution was rattled as it first set its eyes on Impressionism, Cubism, Futurism – ideas and visions that had never been seen before on American soil.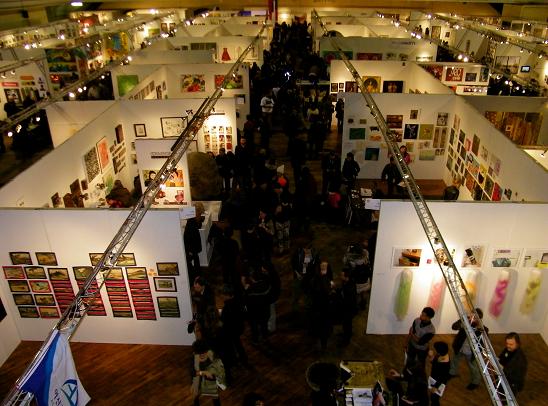 Attendees of the first Armory Show witnessed a milestone they couldn't have believed would still be pushing the forefront of art culture 100 years later. At the very least, the mood was confusion. An art critic referred to Marcel Duchamp's 'Nude Descending a Staircase' as "an explosion in a shingle factory". Some looked at the works in absolute terror. Teddy Roosevelt famously shouted, "That's not art!".
But a few brave artists used the energy and liberties taken by their European counterparts and turned their backs on the conservative realistic art pervasive in America at the time. The Armory Show changed the course of American artistic vision and freedom, leaving a legacy that is still being built upon today.
[quote]drink. Drink hard and fast[/quote]
Fountain Art Fair was one of many events to occur during last week's Armory Show, but it was probably the most important. It was held at the original Armory Show site – the 69th Regiment Armory at 26th and Lexington. Parked out on the street, running parallel with the side walls, were Humvees and ammo trucks. They gave off a vibe that said, "this is where the action is". At any point, at least a hundred of the people who were very "in" stood along the armory's front walls smoking cigarettes. It was the hippest New York scene outside of the eastbound L train you'll find until next year.
Inside the armory was a perfect grid of white wall space. The floor-plan was designed to accommodate over 60 galleries and individual artists, with each exhibitor given almost a living room-sized area. On some of these spaces hung paintings, on others were displayed photographs. I remember one space in particular having a blue woman with horns smile at me as I walked by.
Fountain is a name synonymous with "the underground". All genres were presented at eye level, but giant canvases of street art hovered above the showroom floor. No matter where you stood, street art was somewhere in the periphery.
The high rule of the evening seemed to be: drink. Drink hard and fast. An open bar was in every corner. The floor was the perfect amount of space to order a drink, and then head for the opposite end of the room for a refill.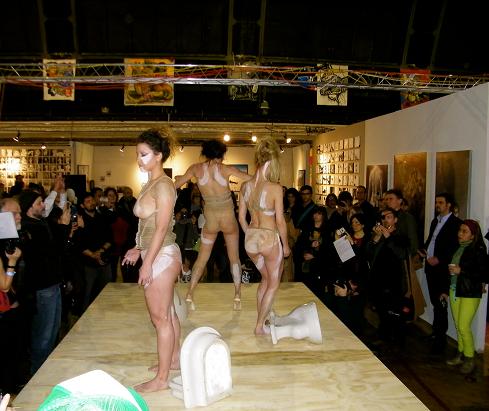 The madness came from all directions. A discussion with an artist was followed with a drunk knocking over an installation. Before you made it to the next bar, three performance artists in white paint halted traffic and crawled past, headed for display toilets. A lady on a mattress under bare wall space made some kind of statement on sex.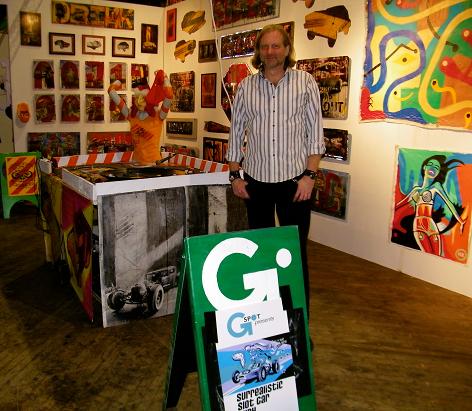 Artist Karl Kotas being represented by GSpot (Greenpoint, Brooklyn)
Fountain's reputation is "progressive". "DIY". "No holds barred". "Experimental". In 2006 David Kesting, Lincoln Capla, and John Leo organized the fair to give independent galleries and artists a chance to be seen by a larger audience.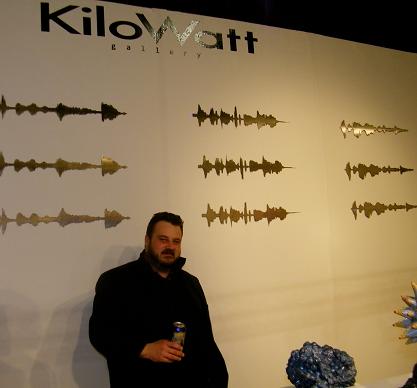 Josh Knoblick of KiloWatt Gallery (Newark, NJ)
Fountain has its roots buried in the Brooklyn art scene, but over the last decade has grown to be the bridge for future generations of artists and collectors. As stated in the Fountain Art Fair press release, "Fountain comes together to define an accessible alternative vision for the future of contemporary art."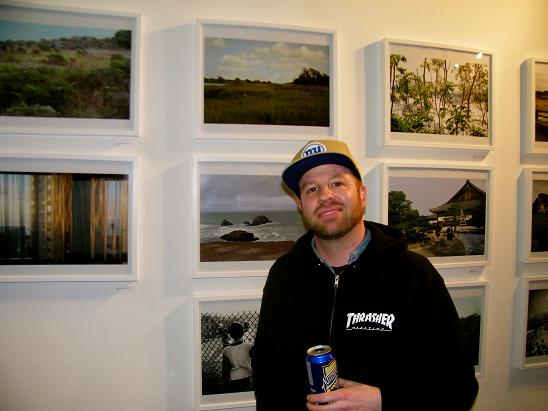 Stephen Lipuma (Brooklyn)
All images: Scott Laudati

Scott Laudati lives in New York with his Boxer, Satine. His collection of poems "Hawaiian Shirts in the Electric Chair" has been published by Kuboa Press. Visit www.ScottLaudati.com for less professionalism and angrier essays.