[dropcap style="font-size:100px; color:#992211;"]B[/dropcap]
erlin-based American producer and DJ Avalon Emmerson may live in exile but her music constantly returns to the deserts of her native Arizona.
Yet she largely resists the clichés of hackneyed Americana. Instead of the typical, assertively faked "authenticity" Emmerson offers forward-looking innovation. This is music that's rooted in a landscape but which doesn't feel any need to disguise its synthetic nature or invent gritty narratives to make it more "real".
The main track 'The Frontier' and its video is a charming epic depicting a twilit journey around the desert landscape and its unremarkable yet strange suburban fringes. It's propelled by expansive, urgently rolling beats and handclaps that give it instant momentum. The other distinctive element is the charmingly serene and pointedly optimistic synth line that seems to nod slightly towards Kraftwerk's evocative 'Europe Endless'. It may not necessarily be a realistic depiction of its landscape but it's a fresh and original tribute to it.
'2000 Species of Cacti' continues the desert theme in slightly sweeter and more kitsch vein. It's a slower groove illuminated by a crystalline, romantic lead synth.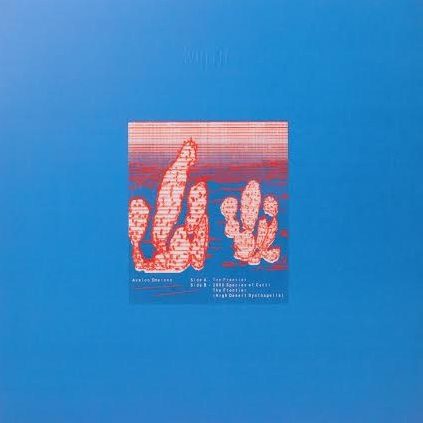 In the final section this drops away to leave space for an extended minimal percussive coda that acquires a life of its own before reaching a dead stop.
Either out of fascination with her own creation or in anticipation of listeners' requests for a rewind, Emmerson concludes this short EP by briefly revisiting 'The Frontier' in its 'High Desert Synthapella' incarnation. The shimmering main theme appears alone, without bass or beats, allowing it to breathe more freely but in no way overshadowing the original.
In an age of desertification, habitat destruction and water shortages this work could be seen as escapist, but it certainly seems sincere and if nothing else it's a refreshing contrast to the current glut of doom-laden industrial techno. It will be interesting to see how Emmerson's style evolves over the course of an album or a longer EP, but even this brief release leaves a lasting impression.
Artist: Avalon Emerson
Title: Whities 006
Label: Whities
Format: Vinyl & Digital
Cat: WHYT006