[dropcap style="font-size:100px; color:#992211;"]T[/dropcap]he first concept album in their lengthy career, Dressed in Voices is Mostly Autumn's eleventh studio album, and their third with Olivia Sparnenn on lead vocals.
As Bryan Josh said at the end of last year, it was originally intended as a Josh & Co album, but a dark and intense concept came in from somewhere unknown and took on a life of its own.
That dark concept starts with a random spree killing of the sort which is sadly all over the headlines and social media as I write this. But rather that delving into Steven Wilson territory by trying to divine the motivations of the killer, the album takes the point of view of a victim, whose only crime was to have been in the wrong place at the wrong time.
There are shades of Marillion's "The Invisible Man" with the unnamed narrator as a disembodied spirit, and the middle section covering his growing up and coming of age is more than a little reminiscent of Spock's Beard's "A Flash Before The Eyes". The whole album is full of lyrical references to older songs, reinforced on at least one occasion with a short musical quotation.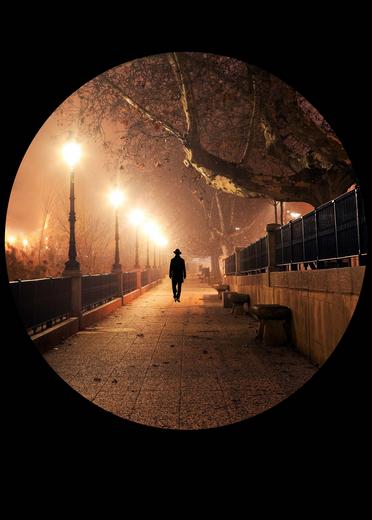 Musically it's a move away from the symphonic metal flavour that characterised parts of The Ghost Moon Orchestra in favour of what's best described as a heavy, somewhat neo-prog approach. There are certainly echoes of parts of Glass Shadows and Go Well Diamond Heart, with some of the expected reference points of Pink Floyd and Deep Purple. There's also some of the vibe of early 90s Marillion. But just when you're not expecting it, the Celtic folk of Mostly Autumn past with flutes and whistles makes an appearance in the second half of the album. There's even a moment of Country & Western with the pedal steel guitar on "The House on the Hill".
This is one of those albums where the whole thing, from the dramatic opener "Saturday Night" to the semi-acoustic coda "Box of Tears" flows as a single work that amounts to far more than the sum of the parts. Indeed, as with many of the best albums of this type, there are songs that don't really work as stand-alone numbers but fit perfectly as part of a larger whole.
Now firmly established as lead vocalist after four years with the band, Olivia Sparnenn delivers another fine performance, if a little more restrained than on parts of the last album. But this time it's Bryan Josh's Stratocaster that's the dominant sound through much of the record.
[quote]full-on rock to passages of delicate
beauty and back again[/quote]
It's a very guitar-driven album, and you're never that far away from one of his soaring overdriven solos. Iain Jennings' keys again provide the perfect instrumental foil, whether it's swirling Hammond or delicate piano work, and new drummer Alex Cromarty impresses a lot. It's his percussion that stands out from the instrumental break on "Skin on Skin". The whole thing has a big wall of sound production that's going to need the band's two guitars and two keyboard players to reproduce live.
The last few Mostly Autumn albums have all contained obvious highlights, but there have also been weaker numbers that let the records down. But there are no 'Pocket Watch'es or mention of 'buggers that go up to eleven' on this album; while it goes from full-on rock to passages of delicate beauty and back again, there is no filler on this record at all.
Many bands have burned out or lost their way by the time they get to this stage of their career, but Mostly Autumn have delivered what has to be one of the best albums of their 15 year career.