[dropcap style="font-size:100px; color:#992211;"]T[/dropcap]he spinning swirl of a Thursday night and the possibly addictive Dalston hideout venue Passing Clouds is a perfect combination for those that want to twist and manoeuvre the mid-week away.
On stage we have intO the mOOn: a London based five piece band that holds a stature in its creative persuasiveness to tease the listener with their hyper-monolithic sound. The fabric of this Anglo-French band is that of lead singer and guitarist Leander Lyons, on violin and mandolin Mirabelle Gilis, on drums Gael Carigand, on bass Freddie Stitz, and on keyboard Pierre Bauzerand.
The place is a full to dancing point, enough room to move but not shoulder to shoulder. Banana and mango beer is on the menu, attire is that of a hipster's paradise; all fashion of things are worn around the neck, in the hair and on the body, it's a colourful affair where the room moves and blends as people's charades change and exemplify the culture of Hackney.
The sense of belonging to a particular phase in time ghosts the night, where criss-crossing culture vultures are trying to stand out from the crowd, signalling: 'We have our own thing going on now, this is the twenty tens and things are happening our way, in our own style, in our own place'. It's a time and place for the critic to be silent of people's aspirations to carve out their own being, of their own selves.
The scene is happening, the scene is alive, the beating heart of counter-culture can be felt throughout the venue; there is a different feel to the place, no anger at modern day problems or cultural issues as this is its own: a defined and submerged culture that is hanging out at a brilliantly decorated venue in the heart of London's most hipster-desirable district.
Later chatter at the afterparty would showed that heavy conversation topics can get a decent going over, but the feel of the strongest and most powerful mechanism: the music, doesn't bring much to the fore except tales of loves lost and found, and maybe some post-teenage anguish.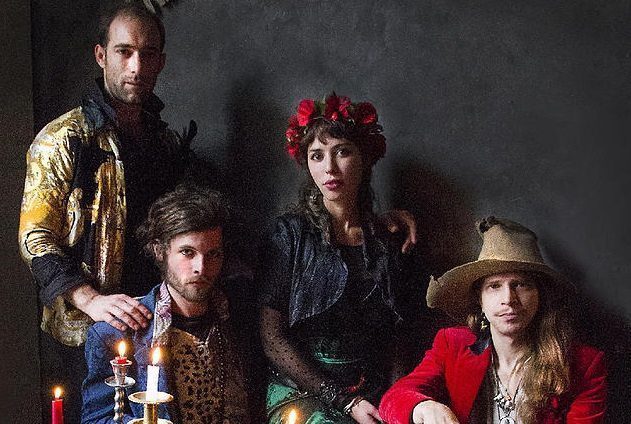 Although lyrically 'Scream' may possess the most potent of lyrics off the album Cable Street, intO the mOOn's approach may be that of a self-possessed alternative gypsy rock band whose lyrics resound with those who want to say something but don't quite know how to say it.
What I mean by this though, is that to say you have something to say isn't quite the same as actually saying it.
IntO the mOOn present you with the sound that has been well choreographed and developed thoroughly through session after session of band practices and recording sessions, and on stage they certainly entwine very successfully. Songs turn into jams and back into songs again. I would recommend a good listen, and if you can get a hold of the CD, do so.
[button link="http://www.intothemoon.com/" newwindow="yes"] IntO the mOOn[/button]

NAP & Nico. is a writer, a painter, a poet, a illustrator and writer of a disabled squirrels children's storybook . An academic yet to set the world on fire, but who is holding a Zippo beneath the Zepplin carrying modern society's scene that will wonder why they hadn't heard of NAP & Nico before.