[dropcap style="font-size:100px; color:#992211;"]O[/dropcap]n Tuesday 3rd June, Tate achieved its first live broadcast to cinemas across the country with Tate Modern's Henri Matisse: The Cut-Outs exhibition.
This was definitely an evening of experimentation and the start of a new way of experiencing art at the Tate. There were high expectations, excitement and some nerves for those participating in the event and members of the public eagerly awaiting it in the cinemas.
Virtually led through sections of the exhibition, the audience was taken on an intimate private view. The exhibition rooms seemed uncanny without their normal heaving crowds, and the format was an ideal way to take in the cut-outs – artworks that demand lots of space in which to be viewed, as well as inviting movements from the spectator within that space. Neither the art nor the film encourages you to stay still.
[quote]Here art is about joy, tranquillity and hope.
Not all art can be like this, but when it is, it is often
at its most beautiful and poignant[/quote]
This virtual tour was interspersed with interviews by Francine Stock, who began by engaging Tate Director Nicholas Serota in discussion. Serota spoke particularly eloquently about 'The Snail', whilst Assistant Curator Flavia Frigeri, (wearing a Matisse-inspired outfit that emphasised his famous blue and green hues) and Curator of the Metropolitan Nicholas Cullinan, also appeared in interviews.
Of the many others involved in displaying Matisse's art featured through film footage as well as live interviews, one of the conservationists particularly stood out. Her job was to painstakingly explore, record and describe any peeling of paper, revealing of glue, pinpricks or other blemishes that appeared on the artwork from its transportation and natural ageing. An interesting speaker, partly because she is literally the closest to Matisse's work, she gave voice to a role that is not often heard.
However, most engaging speaker was the novelist Howard Jacobson, who spoke about Matisse's 'The Parakeet and the Mermaid' cut-out, the largest in the exhibition. He described how each panel making up this work became increasingly energetic (moving from left to right of the artwork), starting with a calm oasis where Matisse's classic colourful fronds hung almost limply downwards and part to reveal the outline of a parakeet's back.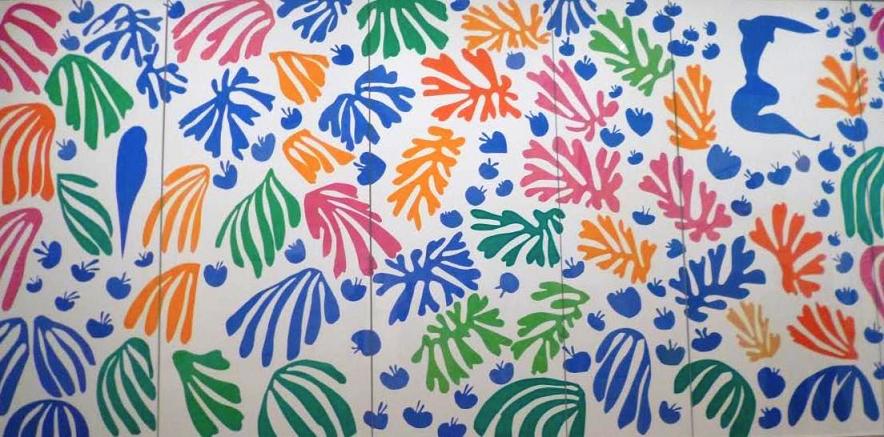 The fronds become more agitated, moving in all directions until they almost explode around the mermaid who leaps for joy out of this forest of fronds.
There was more than just interviews and footage with those working behind the scenes on the exhibition – and this is what made the live film so engaging and unusual. Indeed, it was well balanced throughout with interviews, film footage of Matisse and his assistants working, as well as dance and live music by Jazz musician Courtney Pine. It was certainly a celebration of joy, skill, and colour.
Principal dancer Zenaida Yanowsky and choreographer Will Tuckett from the Royal Ballet described the inspiration they had taken from Matisse's cut-outs before expressing their engagement through dance. It was a clever performance structured around the feelings absorbed from the pure colour and form of the works, and focused on the overall impression of Yanowsky's moving body rather than on visual details. It certainly brought to life the movement of the fronds and figures in the cut-outs.
Unfortunately, the live event did have some issues. Firstly, the camera moved too fast through the rooms and between individual works, which meant many of the exhibition shots were slightly blurred. This conveyed an anxiety about trying to fit the whole exhibition into the live screening. It also meant the film verged on being too generalised by adhering to – or being dictated by – this sweeping presentation, although the speakers were encouraged to pick out a few of their favourite pieces.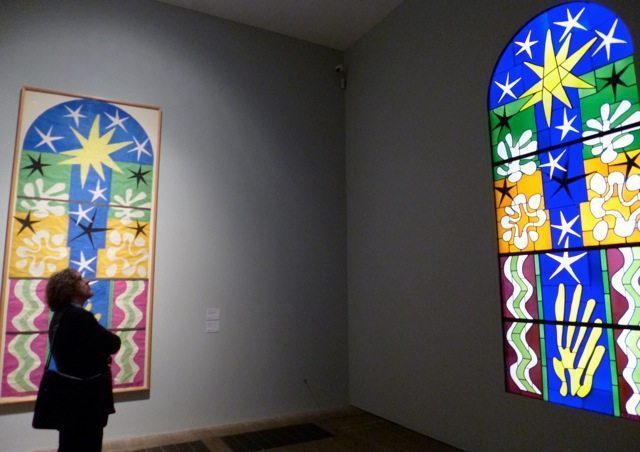 Also surprising was that there was not more of an introduction to each of the rooms. One highlight of the curatorial decisions in the actual Tate exhibitio was the placement of Matisse's works in a largely chronological order. Although not apt for all exhibitions,  this was an appropriate choice for Henri Matisse because it gave rare insight into Matisse's working methods, increasingly bold experimentation and defiant belief in the cut-outs as artworks in themselves.
The lack of introduction or sustained sense of cohesion to the rooms and the progression through them ultimately meant this insight was diluted in the film. It also reduced the impact of the largest works, which truly inspire and overwhelm the viewer once the smaller and arguably more cluttered works have been absorbed.
Overall, it was a moving live film. The emotion was obviously felt by all those interviewed and taking part in the screening. Participants also came across as unassuming and humble. It was though, Matisse's pure joy, defiant energy and overwhelming need to make art that was most affecting, as well as the legacy of exquisite artworks he left behind.
Matisse's need to create a calm, peaceful world for himself that he could leave to be shared by all was the lasting note of this film. Here art is about joy, tranquillity and hope. Not all art can be like this, but when it is, it is often at its most beautiful and poignant – and we largely have Matisse to thank for this.

Helen is an independent art critic and curator with an MA in The History of Art from UCL. Her research interests include nineteenth-century French art and ephemeral objects, Rodin's sculpture and his developments in photography, and contemporary studio craft. She also keeps a blog – helencobby.wordpress.com and a Twitter account: @HelenCobby