[dropcap style="font-size:100px; color:#992211;"]A[/dropcap]nne-Marie Helder and Jon Edwards of Panic Room launched their acoustic side-project Luna Rossa in 2013 with the release of their début album Sleeping Pills and Lullabies.
They made their first live appearances earlier in the year as a duo, playing support slots and acoustic stages at festivals. To mark the release of their second album Secrets & Lies Luna Rossa have embarked on their first short headline tour. For these dates they're performing as an expanded four-piece band, with Andy Coughlan on double bass and Sarah Dean on celtic harp and backing vocals, both of whom also appeared on the album.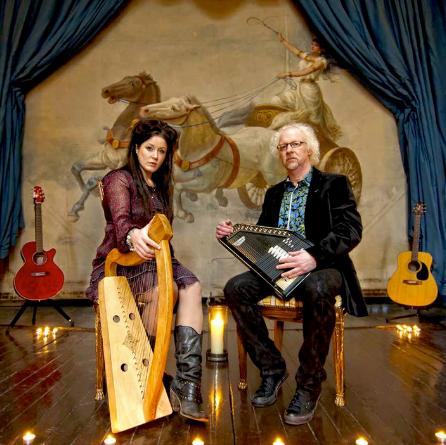 For Saturday's gig in Cardiff, Sarah Dean played a short solo set of harp-driven folk-prog, which at times made her Celtic harp sound like the folk equivalent of a Chapman Stick. In contrast the opening act at The Borderline on Sunday was the four-piece Sky of Green, playing semi-acoustic west-coast rock (featuring Anne-Marie's brother Robert Helder playing some superb psychedelic lead guitar).
Luna Rossa's eclectic influences make their music difficult to classify. Without drums or electric guitars it's not quite rock as such, and through there are elements of jazz, folk, and even classical music, none are strong enough to be defining. There are moments that echo Led Zeppelin's acoustic side, but that's just one aspect of many. [quote]synchronised whistling, clucking, and
a few bars of "Entry of the Gladiators"[/quote] But though the presentation is different, much of the music still comes from the same place as Panic Room, with an emphasis on Anne-Marie Helder's distinctive approach to melody.
In contrast to the Cardiff show, where the band battled with technical gremlins and Sarah Dean's harp sometimes got lost in the mix, Sunday night's show at The Borderline benefited from a much better sound and a far more confident performance. The headline-length set took in most of both albums, including covers of The Magnetic Fields' "Book of Love" and Todd Rundgren's "Tiny Demons" alongside original numbers that went from hauntingly beautiful to bizarrely quirky.
Jon's piano and Anne-Marie's always remarkable voice are still the heart of the sound, but the two additional musicians add an extra richness. Some arrangements are interestingly different from the studio recordings, with Andy Coughlan's bass replacing violin or electric guitar parts (for example his bowed double bass parts on "Heart on my Sleeve" or soloing on "Dark Room"). "Mad About You"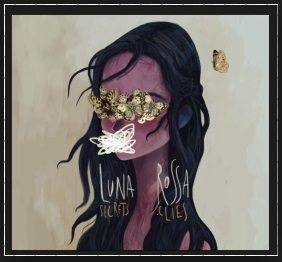 took on a jazz flavour with Andy Coughlan on electric bass and Jon Edwards cutting loose with an extended piano solo. Only "Gasp", towards the end of the set, resorted to a backing iPod for the strings and layered vocal harmonies, an essential part of the song that couldn't otherwise be reproduced live.
The gig ended with what might be the strangest song Anne-Marie Helder has ever written, surpassing even Panic Room's "I Am A Cat". "Happy Little Song", featuring synchronised whistling, clucking, and a few bars of "Entry of the Gladiators", sounded like the theme song from a surreal 1970s Czech children's TV programme. It was a light-hearted and entertaining way to end a superb and varied set.
While it was initially disappointing that Panic Room were unable to play any live shows in the second half of the year because of drummer Gavin Griffiths' commitments with Fish, this short Luna Rossa tour certainly makes up for it. But it's not so much a lesser version of Panic Room as completely different project with its own distinctive strengths. Stripped-down intimacy rather than full-on rock.
There is one remaining date, at Bilston Robin 2 on 9th November, not to be missed.
Photo by Jason Parnell-Brookes
[button link="http://www.lunarossa.co/secrets–lies–pre-order.html" newwindow="yes"] Luna Rossa[/button] [button link="https://www.trebuchet-magazine.com/luna-rossa-interview/"] Luna Rossa Interview[/button]