[dropcap style="font-size:100px;color:#992211;"]S[/dropcap]ince roughly the start of the decade, Techno has taken an ever-darker and colder turn.
The trend signs no signs of abating, synchronised almost perfectly as it is with ever-bleaker political trends. The dominant mood of the less dancefloor-oriented variants has been foreboding and a sense of imminent danger.
Yet there's another, more subtle tendency at work, which has found one of its clearest expressions to date in this new release by Liziuz, the alter ego of Berlin-based producer Tobias Lisius. The dominant mood of 'Geschichten des Lebens', a heavyweight double concept album, is not dystopian aggression or foreboding but melancholia.
Anyone who has spent a winter in Berlin will feel instantly (if not necessarily pleasantly) 'at home' in the sonic spaces that Liziuz conjures. While there are no thematic references to the city, this feels very much like a Berlin album. Supposedly informed by his long experience of clubbing in Berlin, but also of hiking in German forests, it seems to be situated in a grey and wintry interzone: after the club and before the escape into nature.
a deep and weighty journey into Lisius' vivid sonic imagination
At times there's a feeling of sleep deprivation and slight paranoia, conjuring pictures (or memories) of emerging from the euphoria of a Berlin club into the oppressive reality of another bleak, grey, sub-zero dawn.
The album is formed of two differing variations on Liziuz's unique combinations of sounds and atmospheres, created from field recordings, a wide range of instruments and sundry 'unidentifiable concrete rubble'.
Perhaps counter-intuitively, it opens with 'Interaction Personnelle (Ambient Version)'. Bleakly alienated and sparse guitar elements gradually illuminate a shimmering, hazy sound-field. As the track develops, watery details and subdued organ chords emerge, filling out a drone that becomes almost symphonic at times.
'Transformation Personnelle (Techno Version)' isn't initially radically different from its predecessor. It also takes its time in staking out its space. Listeners eager for a techno onslaught are forced to be patient. Before that, steady cycles of nervous machinic processes, and effect-laden, Tropic of Cancer-style guitars are gradually sucked into a slow-moving sonic weather front of drones, muffled beats and rippling, delayed keyboards. The 'techno' only arrives after 23 minutes and it's initially in a very dry and restrained form, followed up by several distinct sections or sub-tracks, the most intense of which would definitely work well in a club context.
As before, the instrumentation is varied and unconventional, even featuring traumatised, Arabic-type drums that form a strong synergy with rougher acid textures. The final section effectively disrupts itself with pounding, irregular beats and noisier components, as if the techno motor that powered the track is starting to break down and sure enough, the ending sounds suitably distressed.
Overall, this is a deep and weighty journey into Lisius' vivid sonic imagination.
It seems like a defiant stand against reduced attention spans, recalling the epic durations of ambient releases on the FAX label. It's neither a total descent into darkness nor the escapist formlessness that ambient sometimes implies. Rather it's an intriguing experiment with a strong vision informing it.
'Geschichten des Lebens' is available now as a digital or physical release through Hospital Productions.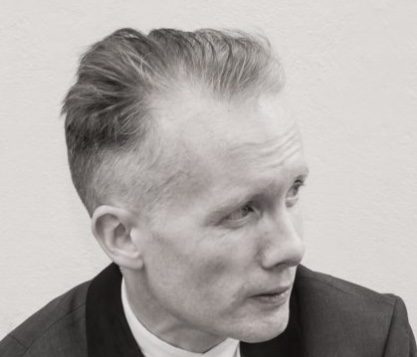 From Speak and Spell to Laibach.