Underground legend Kid Congo Powers headed a night of Nugget's era golden rock and roll.
The 100 club is steeped in musical history, since the 1940s it has been a central point for music where a travelling who's who of musicians have graced the low stage on their way to fame, fortune and death. The spare room still contains a post-war feel and while it wasn't graced by a huge crowd for the Kid Congo and the Pink Monkey Birds event the joint was packed with electricity and heat.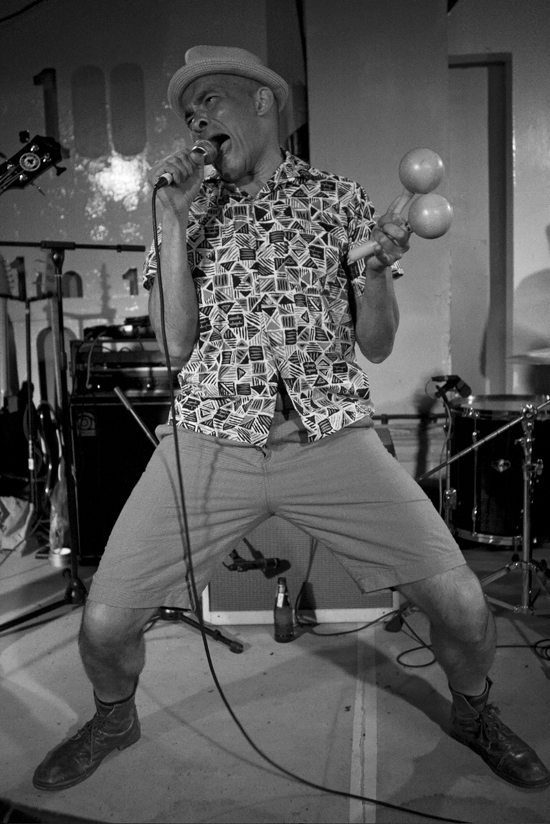 Support act King Salami and the Cumberland Three are freaking awesome. Over the last four years they've steadily built a fearsome reputation for cranking out the tightest most aggressive garage R&B this side of the MC5. Reminiscent of Dr Feelgood in intensity and power, there is a tinge of the Dead Kennedys in King Salami's frenetic delivery  that makes you want to jump and shout.
They play with so much infectious attack it's almost impossible not to become an instant convert, willing or not. I'm not particularly into retro rock of any form but kicking the dust off the floor it didn't occur to me till later that I was listening to music that predated my Dads era.
Where so many bands are attracted to the vintage feel of the 50s King Salami play with the sort of immediacy that takes to task any band on the planet that claims to be contemporary. Without hyperbole, they are my must-see UK band of the hour – they're also obsessed with sausages.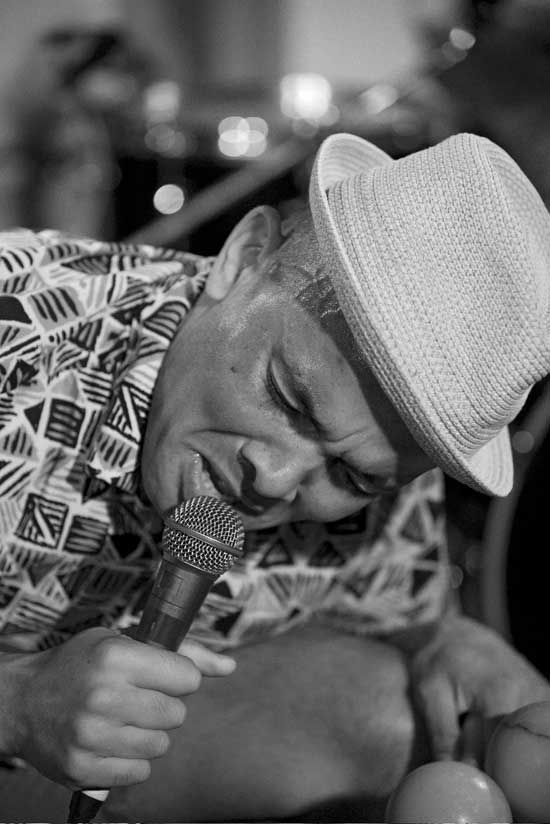 Listening to King Salami it becomes clear why so much punk took its inspiration from the garage rock contained on the famous Nuggets compilation. The hardcore equation of musical economy equalling raw power begs to be matched with fiery rhetoric, reversing Parliament statement 'free your mind and your ass will follow' if you can grab people by the feet you can drag their heads wherever you want.  This, of course, is exactly what previous 100 club acts like The Clash, Sex Pistols, and Dead Kennedy's did.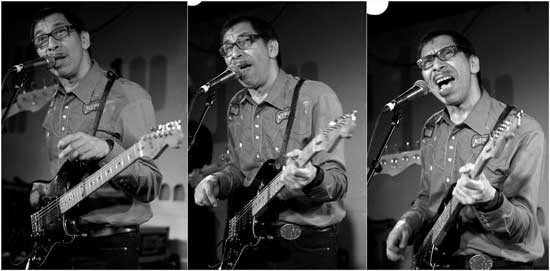 Brian Tristan AKA Kid Congo Power's latest group, Kid Congo and the Pink Monkey Birds, is arguably his most complete effort in the last 25 years. His personal musical journey has seen him remain a central figure in post-punk movement and during the 80s; working with The Cramps, The Gun Club, Nick Cave & the Bad Seeds, and Barry Adamson, arguably when they were at their most visceral, potent and explosive.


The album Gorilla Rose is a dark brooding Krautrock-come-50s-pop-come-country record that contains screaming guitars and analogue tones over the Kid's sleazy abstractions, urban observations and threatening entreaties.  Musically it combines elements of Kid Congo's previous efforts but also conveys his confidence as a front man and his happy, albeit relatively subdued, experiences throughout the 90s and 00s.
The concert was solid exercise in competence. The band played through the album with consummate ease and skill but after the tour de force of King Salami it was hard not to think of the show as being slightly anti-climactic. The roaring power and sparse energy of Gorilla Rose, while represented, didn't really come across on stage.
Admittedly, playing to a participating crowd of less than 50 people* can't have been a massively inspiring event for the Kid, but watching him on stage it's clear why he's been involved with some of the greatest musicians in the last 40 years.
There is a magic to his songs and performance that is truly captivating but in contrast to the dark brooding front men he's worked with in the past, he seems affable and thoroughly enjoying his life. The posturing of a lot of his previous groups has been one of angst, anger and implosion, the Monkey Birds are not that band.
Simply, the main problem might have been one of volume; the dense brooding conveyed on his sublime record got lost in a sea of quiet; delicious but not dangerous.
Kid Congo and The Pink Monkey Birds + King Salami, 100 Club Oxford Street, 2011-04-22
Complete Kind Congo Powers History,

Kid Congo Powers Blog and Tour Info.

King Salami and The Cumberland Three.

Images courtesy of: Carl Byron Batson
* (officially there were 150 people there however it didn't seem that many)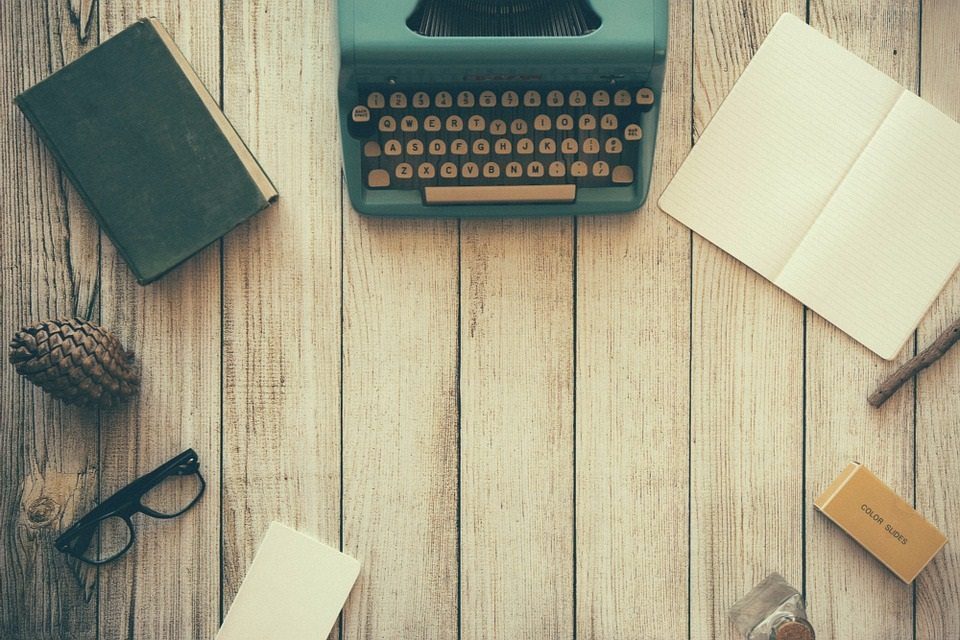 The aim of art is to represent not the outward appearance of things, but their inward significance. – Aristotle