[dropcap style="font-size:100px; color:#992211;"]T[/dropcap]he bells tolled for the festival last year. Again.
Broadsheets declared Glastonbury's condition critical as journalists donned their Hunter wellingtons for a concerned wade through a quagmire of glamping, celebrity spotting and free wifi. Written from decorative straw bales, behind velvet ropes, eloquent missives hinted at fears that their very presence signified the events cultural irrelevance. Column inches chiming along with Wiley's tweets, and speculation that Glastonbury's evolution into a global media event is a symptom of wider cultural stagnation and malaise. Each age is a dream that is dying or a new one coming to birth. While those bells were tolling, I was trying to wangle myself a pass for Kendal Calling.
It is time to fess up, I am no culture writer. I spend my time writing about the effect of a malfunctioning media culture on democracy, looking at the balance of power between people, finance and media. I write about social policy and politics. I really needed a weekend off, and Kendal Calling was guaranteed to provide me with a place to dance, amazing music, nice people to talk to and some very lovely(and not so lovely but endearingly so) people I hadn't seen for a while.
Festivals are an important part of the culture around me, but I am old and boring and if am only going to one festival in a summer, it needs to be the right one. What I realised that weekend, is the fluke of the digital revolution that allows me the vanity of asking for my opinion to be published, was a minor addition to a massive shift that happened under my nose and all around me, years ago.
The last time I went to Kendal Calling, it was 2008. Ben Robinson and the network of people who help him pull off the festival every year were still learning their business after a period of rapid growth. They started with gatherings of hundreds of people and a long running local night called Nine Standards for bands they knew and wanted to hear. In 2008 the festival had a capacity of 5000, which seemed massive even in a culture where people regularly throw parties and festivals attracting surprising numbers of people. All tickets sold out before the weekend kicked off.
Traffic, a small music magazine, sponsored the main tent, and I realised when I got there that Dizzee Rascal had been booked, and that felt like a big deal. Journeys had to be planned on the understanding that a couple of hundred metres in mud can take a while, so I never made it to the Traffic tent.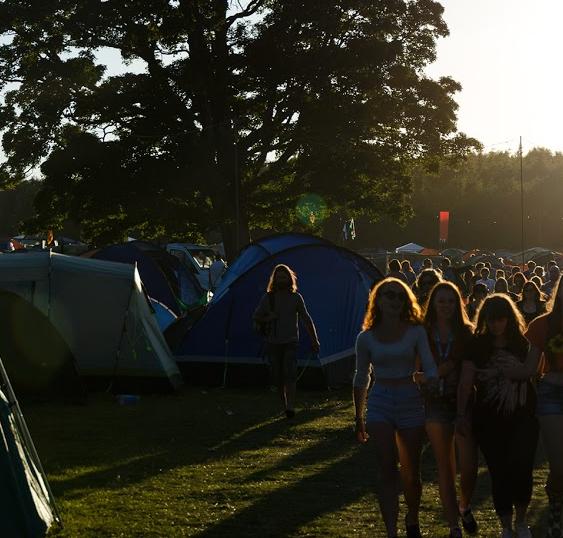 On that occasion, my promised sunny weekend disappeared with the blue sky an hour before I arrived. Noah knocked on our car window to see if he could borrow gopher wood on the way in and I was loaded up with equipment to carry up a collapsing hill in slip-on shoes, my wellies (at least that time) were in my bag. The inflatable nightclub that was the centrepiece of the festival had failed to inflate, and this was the venue my companions were playing in. Matthew Rubrick, creative director of Leeds-based Retweak Records, was sewing it up. The sky turned black.
That weekend, everyone's time was punctuated by shifts on gates and checking toilets and dealing with the festival collapsing into a swamp.
What opened could not be described as the heavens. A raging storm tried to end the Cloud Club's brief life before it could begin. When I try to remember the weekend I recall the scene from Dogma where the shit demon appears. In my version, rows of tents follow the demon to hell with a quad bike. Cumbrian mud made my welly boots look like elephants feet and it took me 95 minutes to get to the place that would sell me my first morning cup of tea.  I am not sure my wellingtons made it home with me.
All was made worth it by six glorious hours on the Saturday night. A fully inflated Cloud Club, a patch of ground solid enough to cope with my feet, and the best house music I have heard in 17 years, as a weekend's line up was squeezed into the time the club could be kept inflated. Howard Session's live set was marked out by the crowd of audio geeks who appeared to study his Ableton use, every time he set foot in the DJ booth. The rest of the weekend was spent huddled in tents with the same people I would end up huddled with on the fewer and fewer occasions I found myself clubbing in Leeds or elsewhere.
Kendal Calling now has a daily capacity of 14 thousand, and has come of age in a country where festivals are not only big business, but a complex media culture of their own, inextricably linked with new forms of media, music, politics, and organisation. Arriving at last year's Kendal Calling left me gobsmacked. Once I was past a fairly efficient events management team(who gave me a lift in a golf buggy and saved me walking miles) I wandered over the fells, through fairy lights, past a pirate ship and a ferris wheel to find the purple bus(with the free wifi and phone if you have the right band…) and 'my photographer'.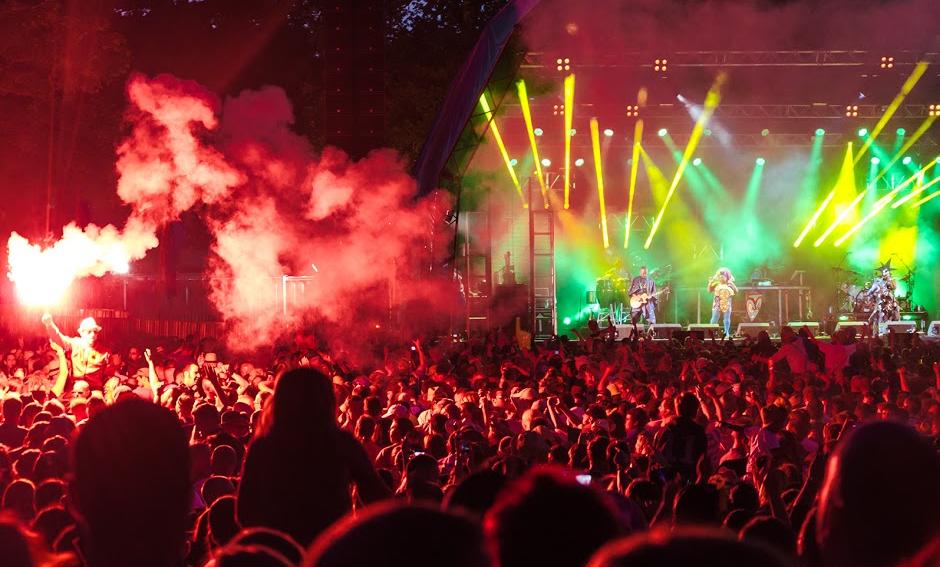 I accidentally scored a gold wristband which put me in a very good mood and annoyed my photographer a lot, which put me in an even better mood. The crowd was dense way before we got to the top of the hill in front of the main stage where Basement Jaxx were blaring it out to an ecstatic hillside of people.
It's at a different site, and it blew me away, but at the core of this festival was exactly the same thing that was there in 2008. It's just come of age  The same people who stood in ponchos in the rain in 2008, still an intrinsic part of this well run machine, their extraordinary work schedules still punctuated by the need to show up en masse and 'give support' to whichever friend or relative was playing or whichever amazing band they had been waiting to see. Amazement that learning year on year has given them the ability to help create this festival where they can get bands they love to come and play near their hometown.
What you have to understand about Kendal Calling, and the media culture it is a product of, is that it's similar to the culture underpinning our mainstream media. This is a media culture underpinned by a strong social network. This is not a culture that stems from two or three Russell Group Universities, or one where waiting around to do an unpaid internship making coffee would seem a normal thing to do.
This is friendships from towns across the north, underpinning creative cultures within cities, record labels, nights, film projects, musicians, djs, producers, designers… all emerging from the club culture that developed behind the curtain of tabloid demonization. A culture who used the tools the digital revolution gave them, to create for themselves, their friends, the people in the places they knew, who liked the stuff they liked and made music too.[quote] It is the right of that tiny
privileged network to act as
intermediary to decide what of
our culture is worthy (and needs
to  be repackaged and sold back
to us) that is over[/quote]
Sustainable businesses and careers have evolved around the need to sustain that ability to create. A media culture spanning music genres that matured behind a wall of demonization and tabloid hysteria. Where losing a chunk of a festival to a swamp and a club that won't inflate is learning.
Ben Robinson draws lessons from the management of commercial festivals like Leeds to feed his original vision of bringing bands to his hometown, and even with the extraordinary level of organisation required, it retains the feel of a much smaller festival. Not dissimilar to Beatherder in the Ribble Valley. Beatherder's organisers started off throwing parties under a windmill in a quarry between Keighley and Hebden Bridge.
The soundtrack from the mainstage was reassuring all weekend, familiar songs brought in from a media age where power lay in the ability to decide what would be repackaged and sold to us as culture. Kendal Calling's strength comes from its ability to tap into and play host to what has emerged since the digital revolution gave bands and artists the ability to promote themselves. That strength comes from artists used to a world where they don't have to wait to be discovered, where collaboration is reflex, not competition.
When the Charlatans played what turned out to be one of their final gigs (before the death of their drummer, Jon Brookes), standing with people who had spent their teens listening to and loving this band, some with their kids, looking down the hill onto that main stage and feeling like they were part of bringing them there, was moving. I am not a bands girl though, and my feet thank the Dub Pistols, and Slamboree (also Ben Robinson).
I hate festival food, and I ate all weekend. Attention has been paid and it was much appreciated. Yellow curries, brown rice or a fish finger butty? I needed a hot shower, I got a hot shower. It wasn't a shower I needed a gold wristband to access. I have been to a lot of festivals, this is one I would take my child to and the people I spoke to with children had a lovely weekend. I stubbed my toe and a well-run little first aid hospital checked me in, and gently put a new plaster on it.  There are worse places than the fells in Cumbria to watch the sun come up.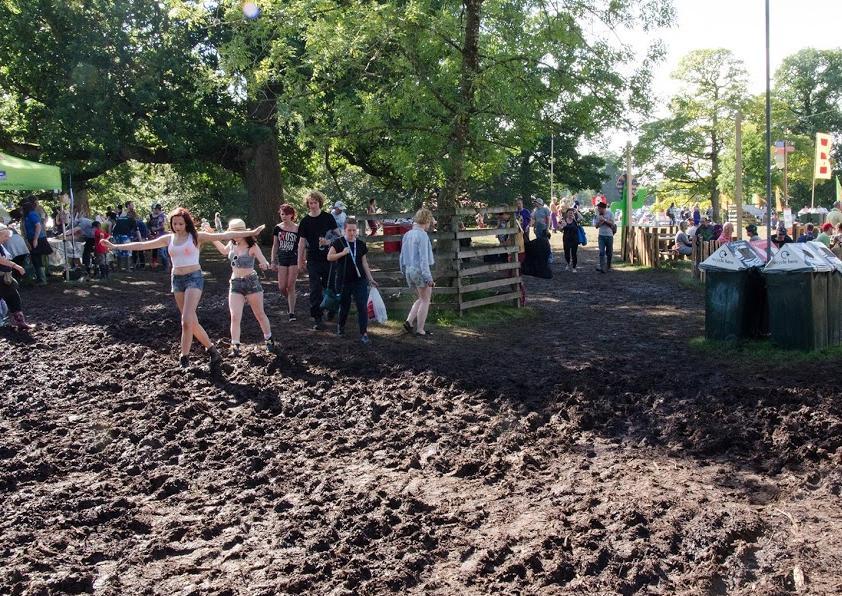 When I read political commentators opining about their imaginary working class and pretending to lament the lack of diversity in their ranks, discussing a homogenous poor who need to be saved, I can't help but wonder if they know how silly they sound. The digital revolution came late to our political press, the cultures it spawned are already maturing to reshape the media landscape. The cultures in enclosures at Glastonbury may be right, that is the smell of insignificance they can detect.
Festivals aren't dying, they're a thriving industry providing new platforms and environments for music lovers and artists all over the country. It is the right of that tiny privileged network to act as intermediary to decide what of our culture is worthy (and needs to  be repackaged and sold back to us) that is over. A media culture rendered stagnant by nepotism, elitism and abuse of power, may now have to step out of its enclosure and engage with British culture on its own terms if it wants to survive.
Photos: Ian Harvey
[button link="http://www.kendalcalling.co.uk/tickets/" newwindow="yes"] 2014 Tickets[/button]